The hours of sunrise and sunset are the most optimal time of day for photographers to capture their photos. Due to the soft warm light and dramatic landscapes and shadows created, photos taken around these times lead to the best possible results!
So you've taken your golden hour photos but now want your edits to take them to the next level – look no further than our list of golden hour and sunset Lightroom presets! Choose from a variety of color treatments and lighting adjustments within these presets to perfect your sunset shots.
Want more preset guides and tips? Check out our several other preset blog posts, and join our mailing list below!
Golden Warmth Presets
Bring a lovely soft golden warmth to your sunset photos with this Golden Warmth Lightroom preset pack. The lighting treatment and color grading on these presets works so effortlessly with all the colors within your sunset photos. Whether they be the greens of trees or the blues of the ocean or the browns of the earth – this is a preset pack to work holistically with your golden hour photos and give them a calming, sophisticated warm look.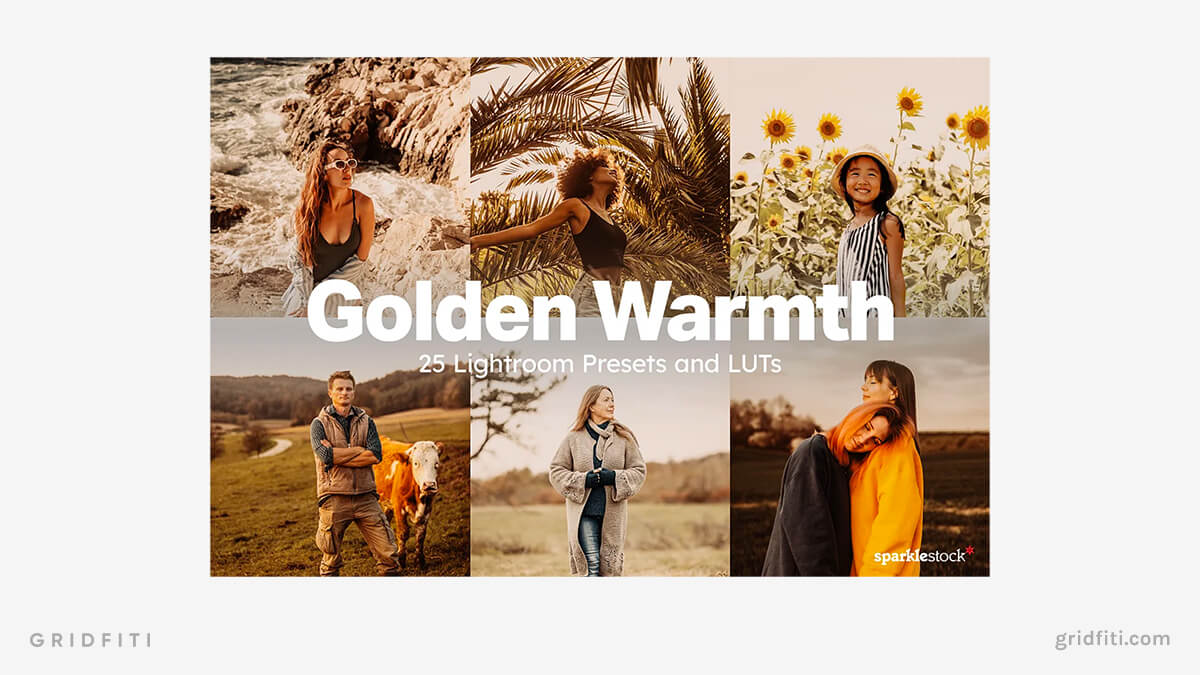 Cinematic Warm Lightroom Presets
Reminiscent of cinematic films like CineStill 800T, this Cinematic Warm Lightroom preset pack recreates the beautiful look of converted cinema film. The tungsten color balancing bringing out the blues while highlighting the warm yellow and red hues creates a calm romanticized look to your golden hour and sunset photos. Give these presets a try!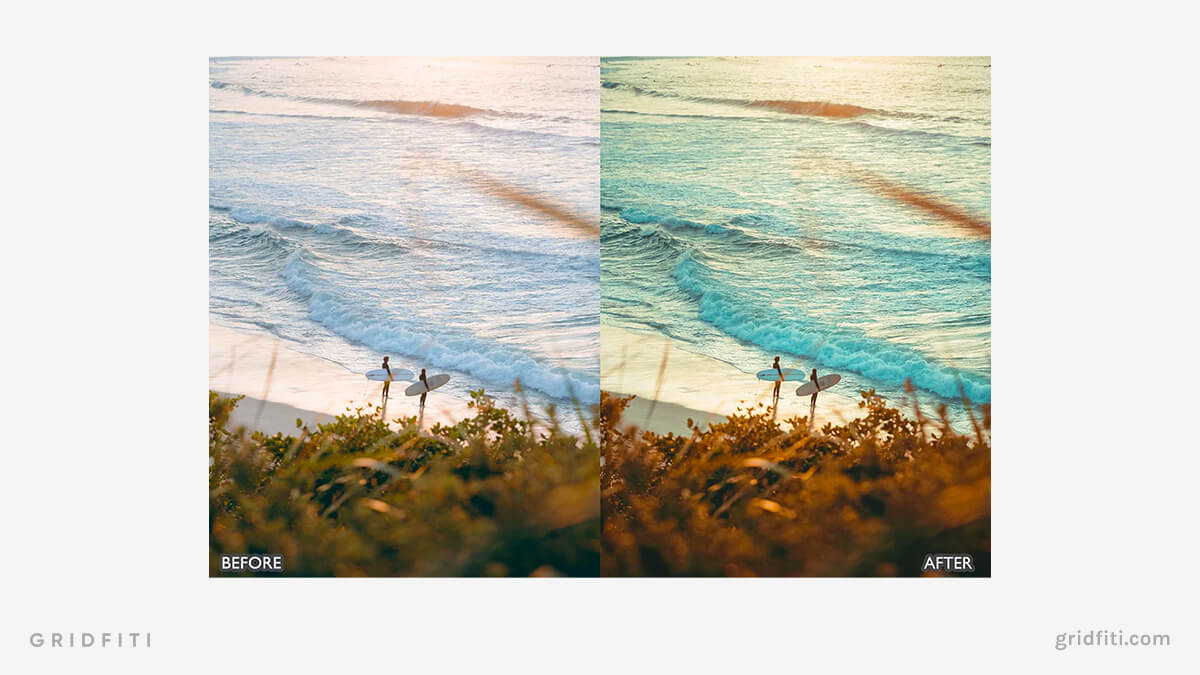 Beach & Sunsets Preset Pack
Give your golden hour beach photos a cotton candy sky look with these beach and sunset presets. Most golden hour presets will focus on enhancing the gold and yellow colors of your photos whereas these presets turn the saturation down a notch on those colors and modify them towards a more warmer magenta and purple. What you get as a result is a dreamscape cotton candy sky – check out the presets!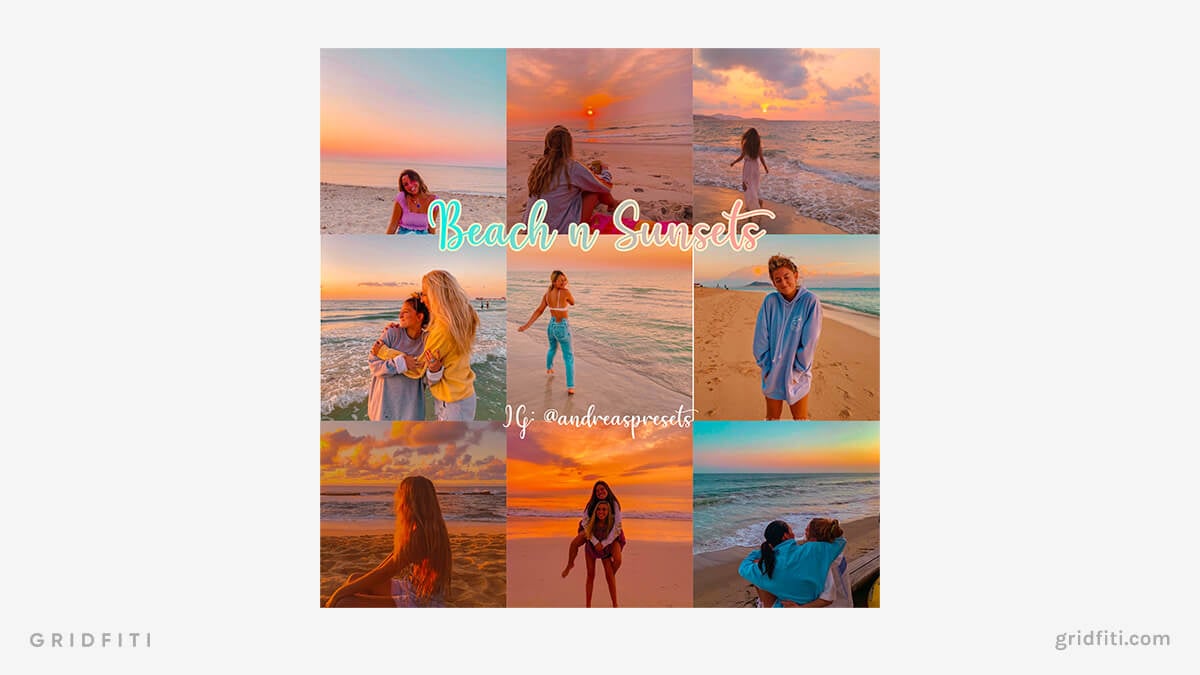 Purple Sunsets Lightroom Preset Bundle
Take the warmth of your golden hour shots and turn them into a symphony of deep blues, purples and magentas. This purple sunsets Lightroom presets bundle will target the warm tones of your sunset photos and tweak them towards the purple end of the spectrum resulting in beautiful contrasted sunsets that you'd see just as the sun passes under the horizon.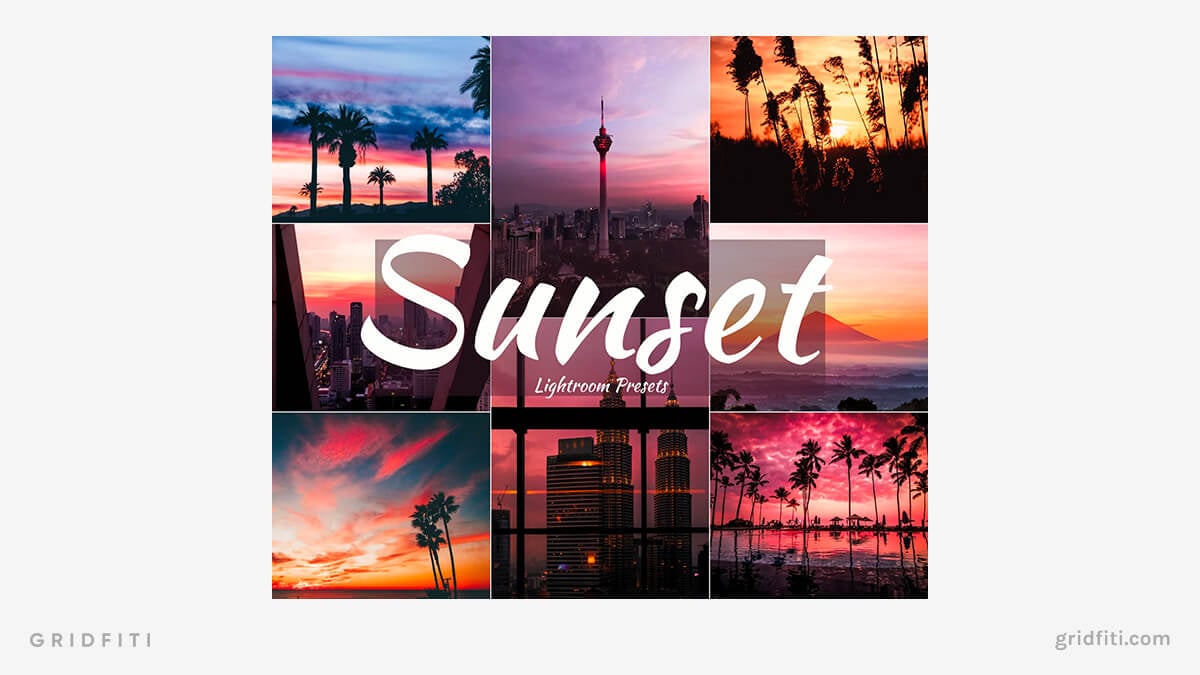 Matte Golden Hour Lightroom Presets
This clean and warm matte look is perfect for your golden hour and sunset photos. We love the subtle approach to color grading this takes while it lets the photo do the work. Beautiful hints of gold-yellow tints accentuate the darker, contrasted areas of your photo making for a beautiful effortless look in your sunset photos. give it a try with this preset pack!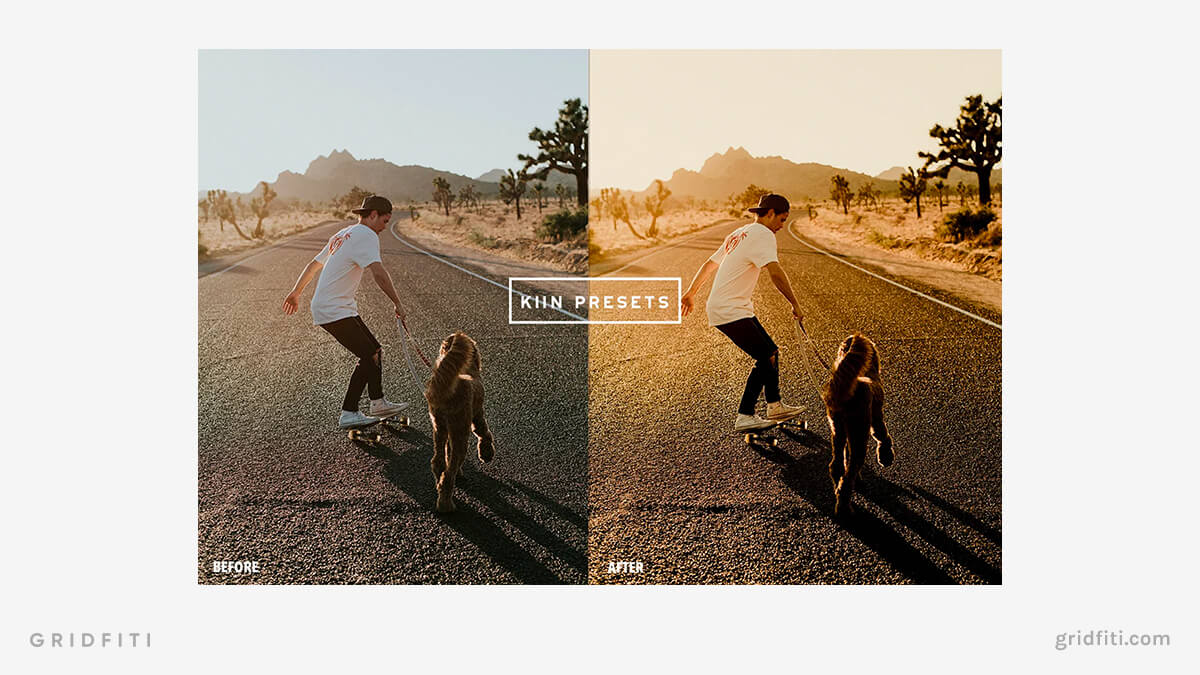 Sunset Lightroom Presets
These Sunset presets brings orange and teal into the mix! With a focus on those two colors, you'll notice a dramatic change to your golden hour and sunset photos. Give these presets a try to create contrast between these colors or warmth and cool to create a beautiful dynamic look with your photos.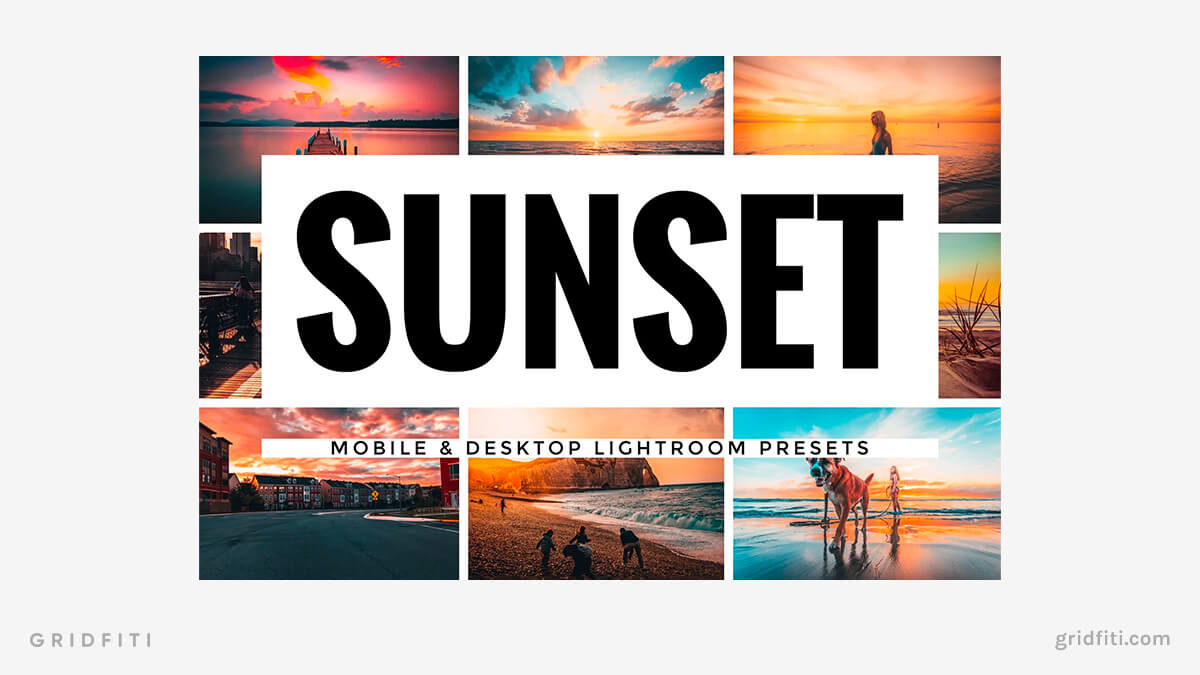 Golden Hour Lightroom Presets
Looking for that perfect golden hour look with deeper blacks and contrast, and minimal detail loss? This Golden Hour Lightroom preset pack will do just that! Your yellow and warm tones will be enhanced while the remaining colors are adjusted along with some subtle grain to create the perfect golden hour edits. Use these to get the perfect edits for your summer photos whether they're at the beach, on a hike or anywhere outdoors!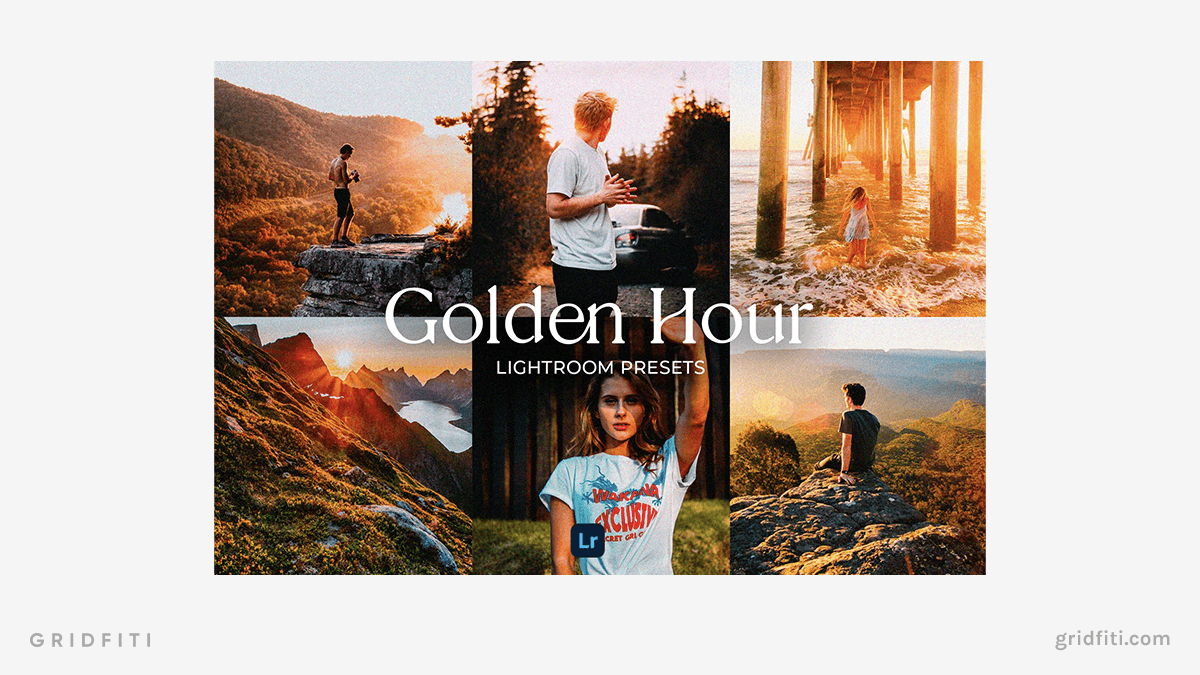 Simple Sunset Presets
This simple preset pack will bring a lovely warmth to your sunset pics. There's almost a natural no-filter-esque look to the edits! What lies in the color editing is added saturation of yellow, orange and red tones which work to bring out the best of your sunset pics. Blues and browns are balanced in well making for a great edit with beach shots!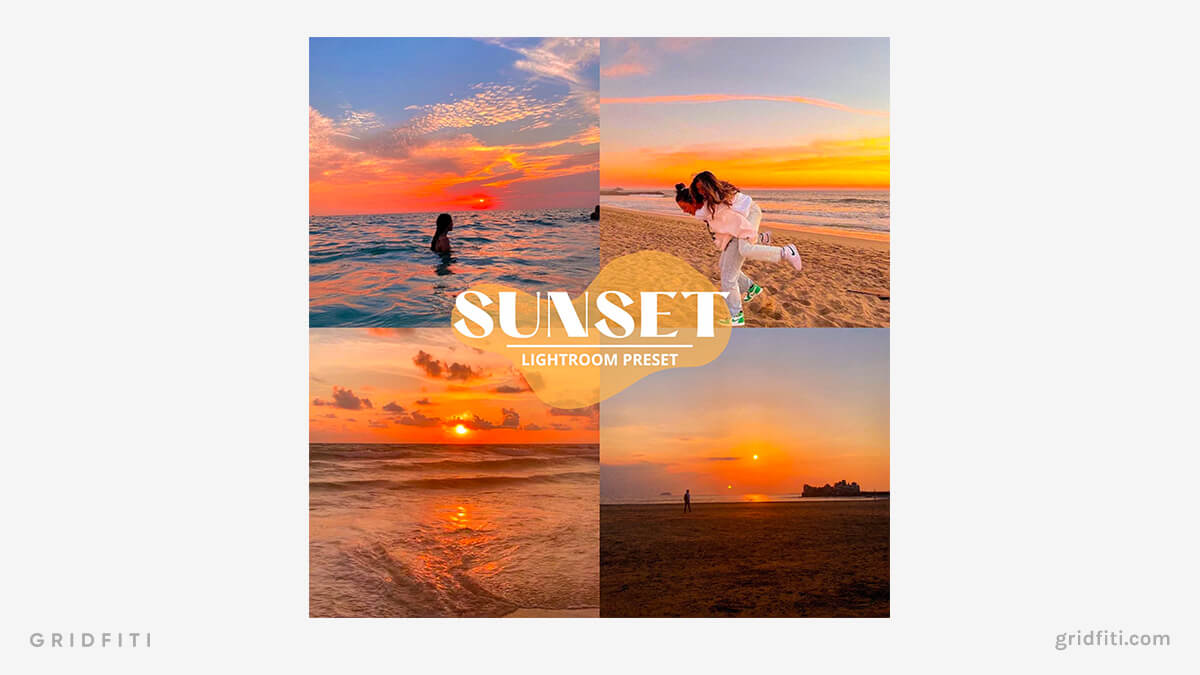 Dreamy Sunset Presets
These 10 dreamy sunset presets are perfect for those dramatic skies, palm trees and cliff sides. A beautiful balance of oranges, blues and blacks make for a minimalistic approach to editing. The exposure is made so that the sunset is the emphasis and everything in the foreground becomes a simple silhouette. Give these presets a try with your sunset photos!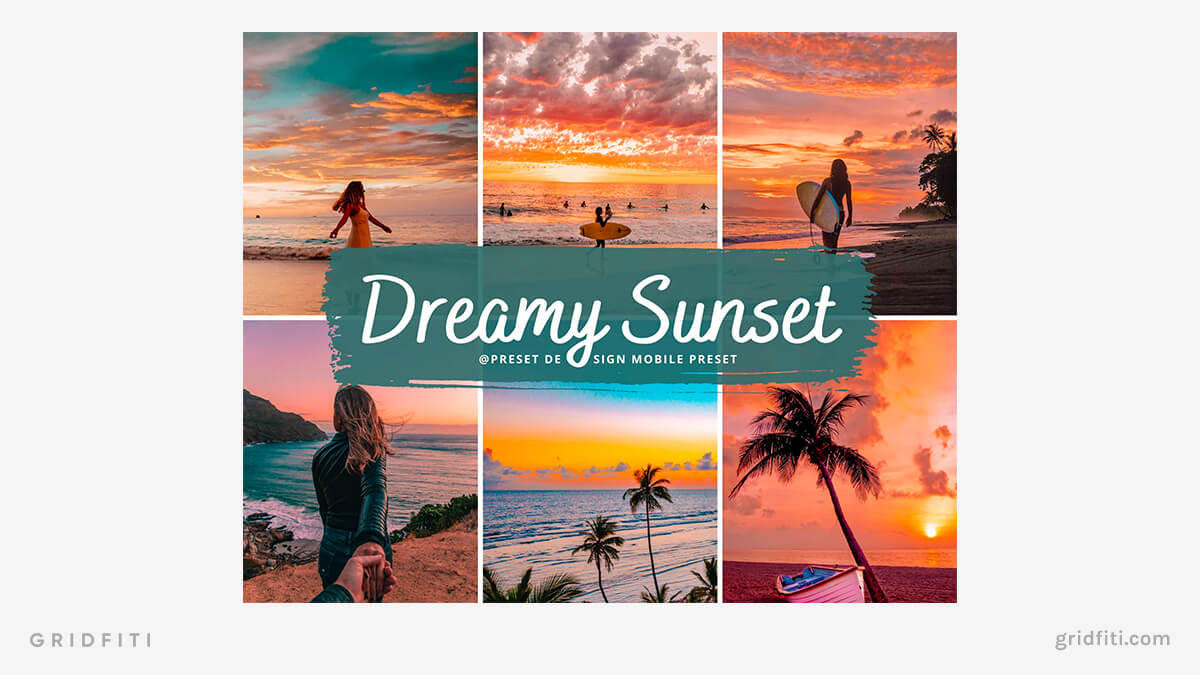 Sunshine Preset Pack
This sunshine preset pack brings a soft and airy vibe to your photos shot in the sun! Choose from the simple 4 presets for desktop and mobile and watch your sunny photos transform with an emphasis on gold and yellow tones, softened textures, and an overall bright aesthetic. Whether the sun is high in the sky or it's close to sunset, this preset pack will bring golden hour to your images.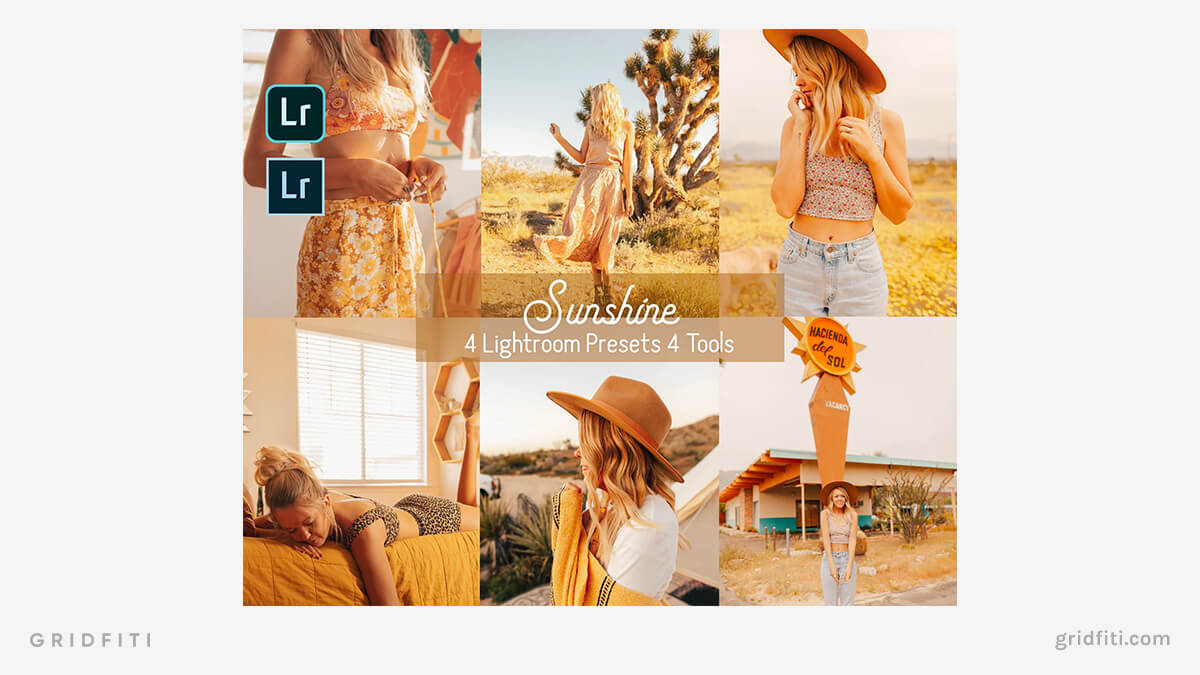 Beach Sunsets Presets
These 10 beach sunset presets make for the perfect solution to creating a dreamscape with your beach sunsets. There's a balanced approach to the color grading which pays respect to all the colors in the photo. Highlights and shadows are adjusted perfectly and there's a subtle soft glow making your pics look like a dream. Try them out with your beach sunset pics!
For more beach-ready presets, head to our full round-up with the best beach Lightroom presets.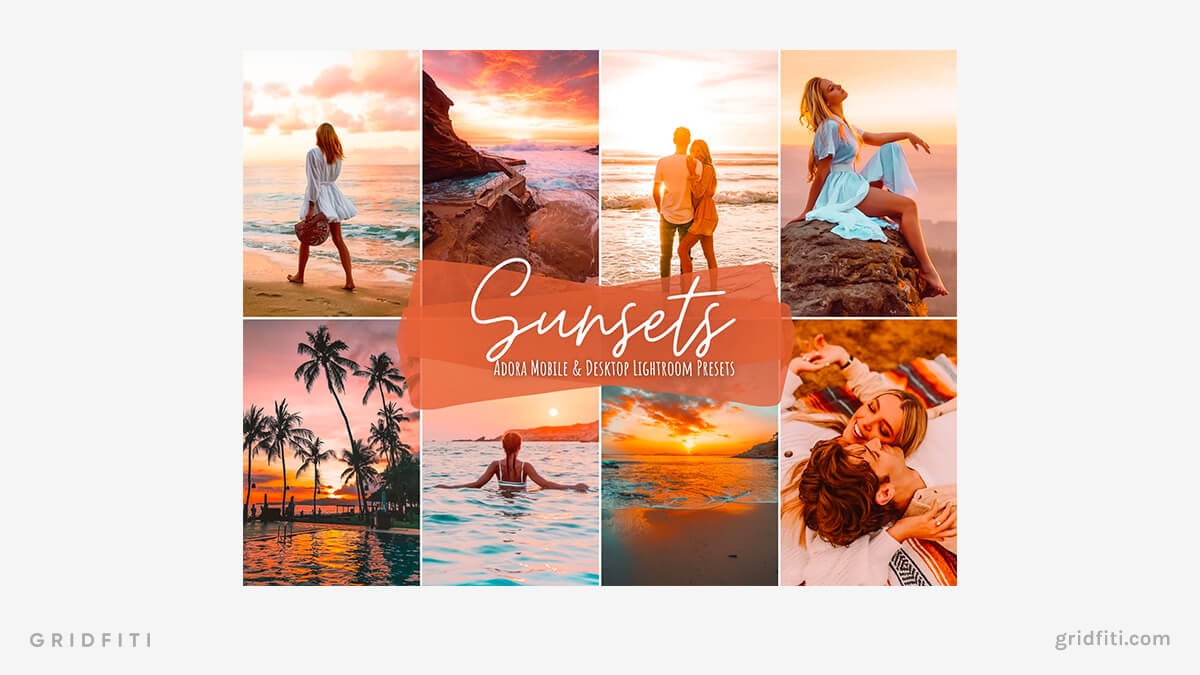 Pink & White Sunset Presets
We love a light and airy look with a sunset! Try out these 10 presets for desktop and mobile – they cast a lovely bright glow to your sunset photos with subtle orange and pink hues. Making sunsets look soft and easy, this pack will help make your sunset photos super dreamy.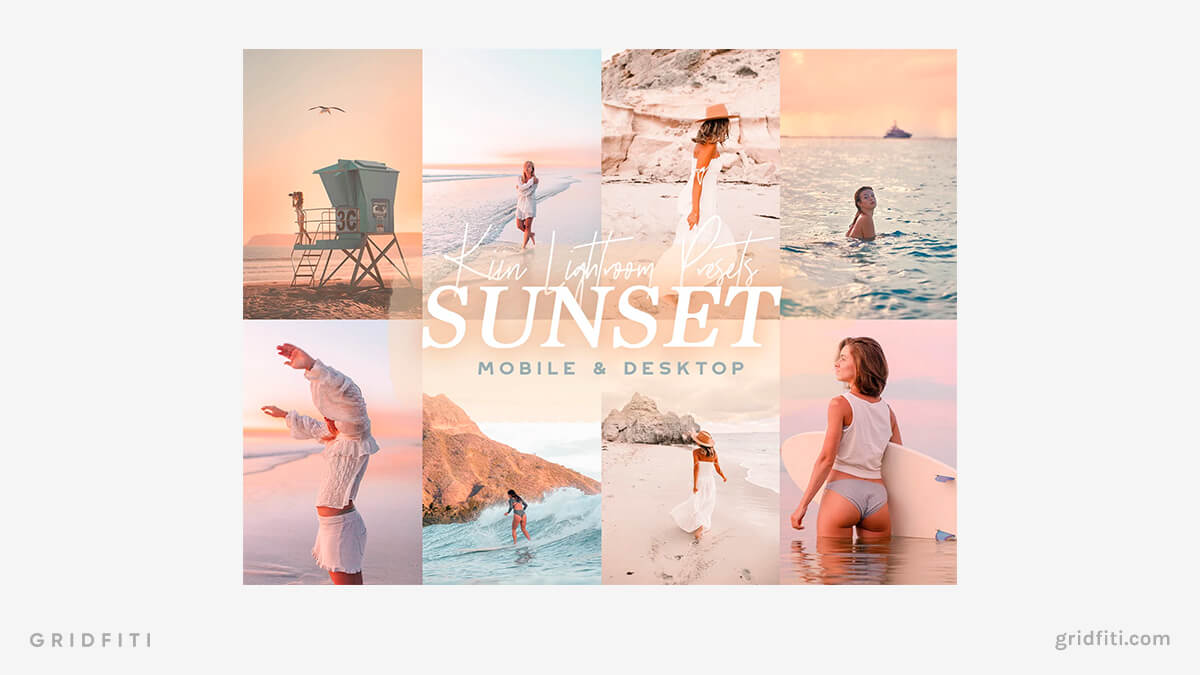 Vibrant Sunset Presets
Up the vibrancy and add a pastel-like look to your sunset photos! This expansive pack of 20 presets for desktop and mobile will work perfectly with any of your landscape, cityscape or portrait photos that are captured during golden hour. Give your photos a cohesive warm and magenta aesthetic – it's a matter of just picking and choosing which of the 20 presets work best with your photos conditions!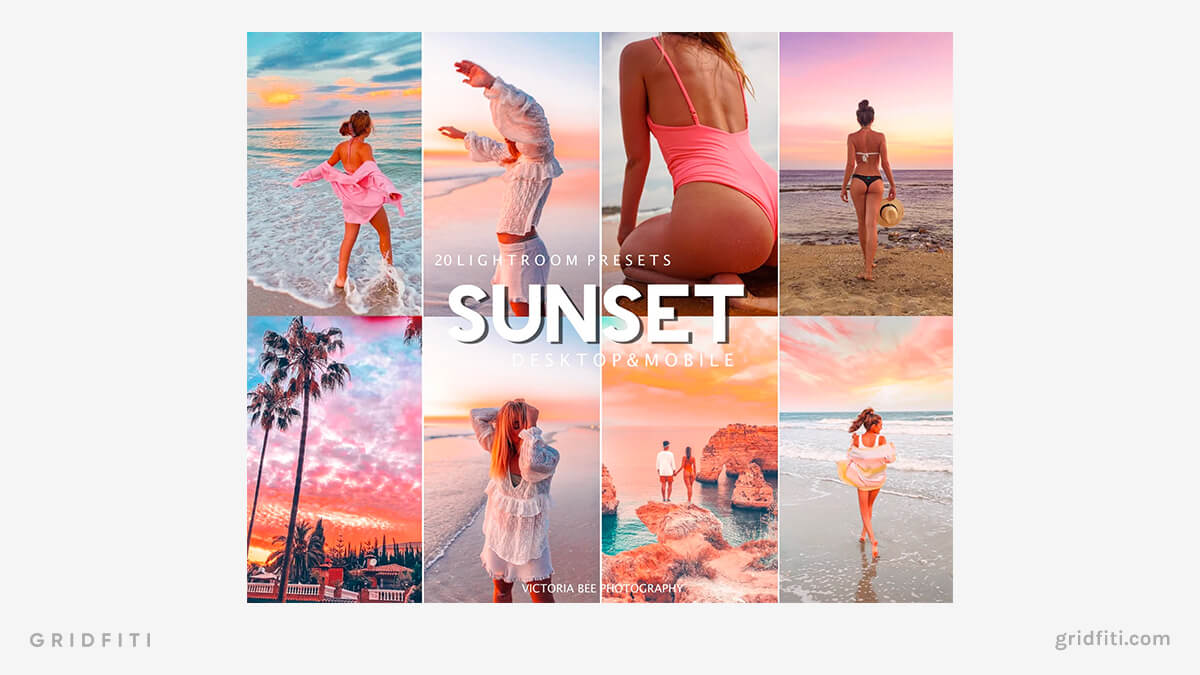 Golden Tones Presets
Enhance those beautiful golden tones at sunset with these 10 presets for desktop and mobile! The edits here are rich with warm tones, balanced highlights, and the perfect amount of contrast with shadows. They're great for portraits or landscape shots taken just at the perfect minutes of sunset or sunrise – bring these golden tones to your pics!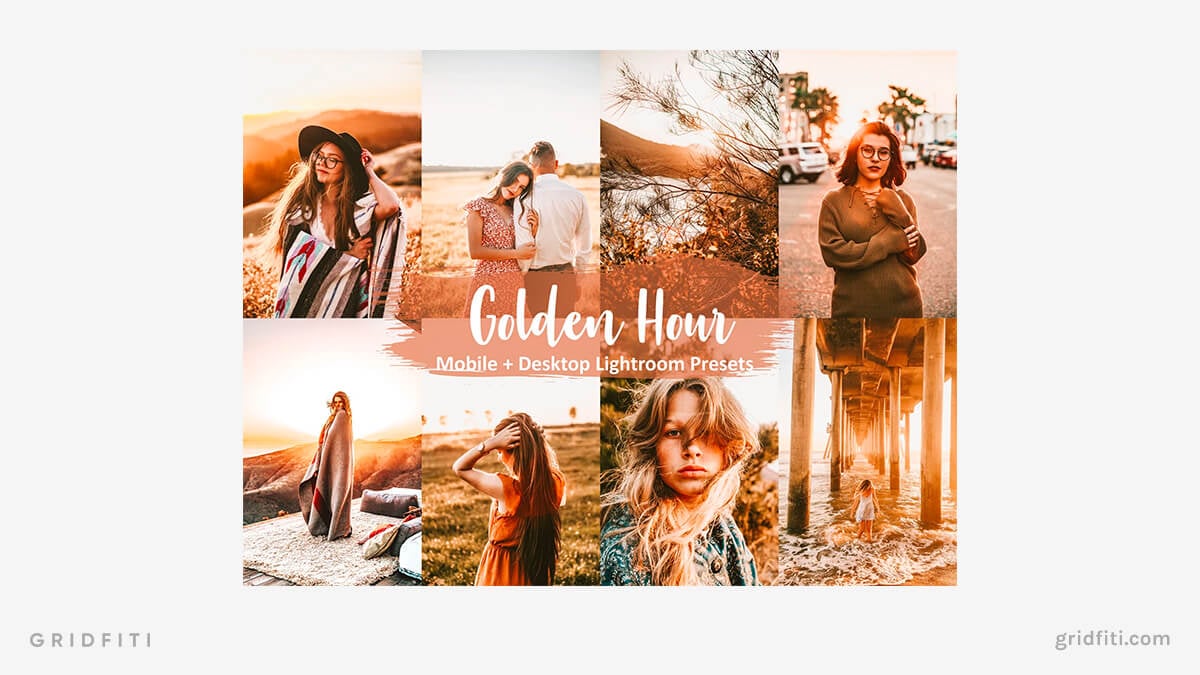 Orange Sunset Presets
Orange is the color most prominent in sunsets so why not focus on orange and its adjacent tones to make the perfect golden hour edit? Choose from these 8 presets for desktop and mobile to enhance those orange and warm tones in your sunset pics. These presets can be used for travel, portraits or or landscapes – anything that involves warm tones!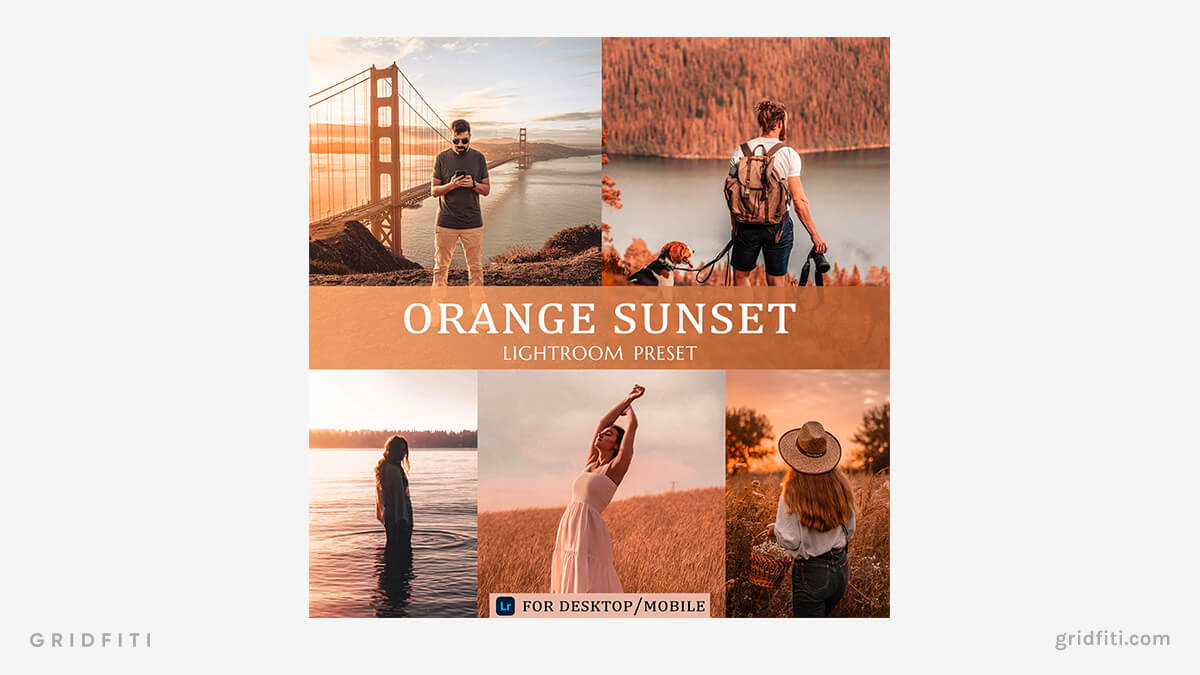 Warm Tones Presets
The tones of your sunset can be muted back to have a consistent warm look across photos. Check out these 15 warm tone presets for Lightroom desktop which recreates photos into a simple warm aesthetic that has some Bohemian vibes. The presets work best just before golden hour where light is abundant. Use it also with photos that feature warm colors like an Autumn field, or a cozy outfit.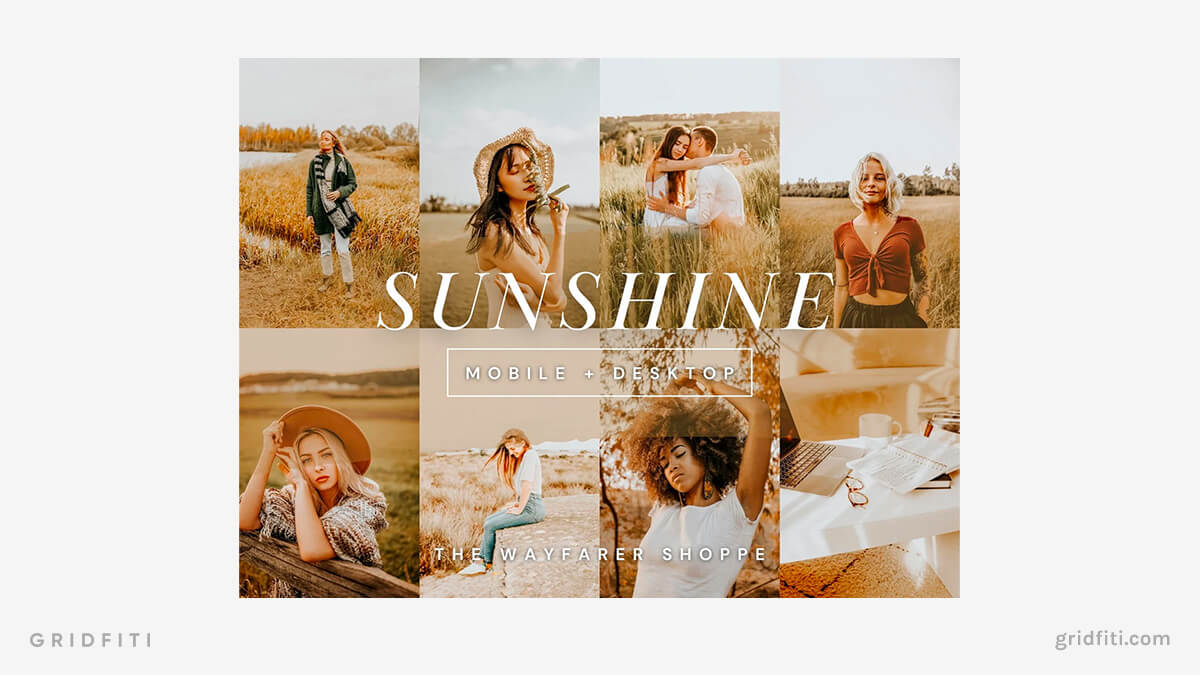 Pink Sunset Lifestyle Presets
Gotta love a summer trip with some pink and purple sunsets squeezed in. Check out these 13 easy to use mobile presets that turn your sunset photos into a pastel dream. The color cast of magenta and blue over your photos will have your skies looking like cotton candy! Try them out with your pics!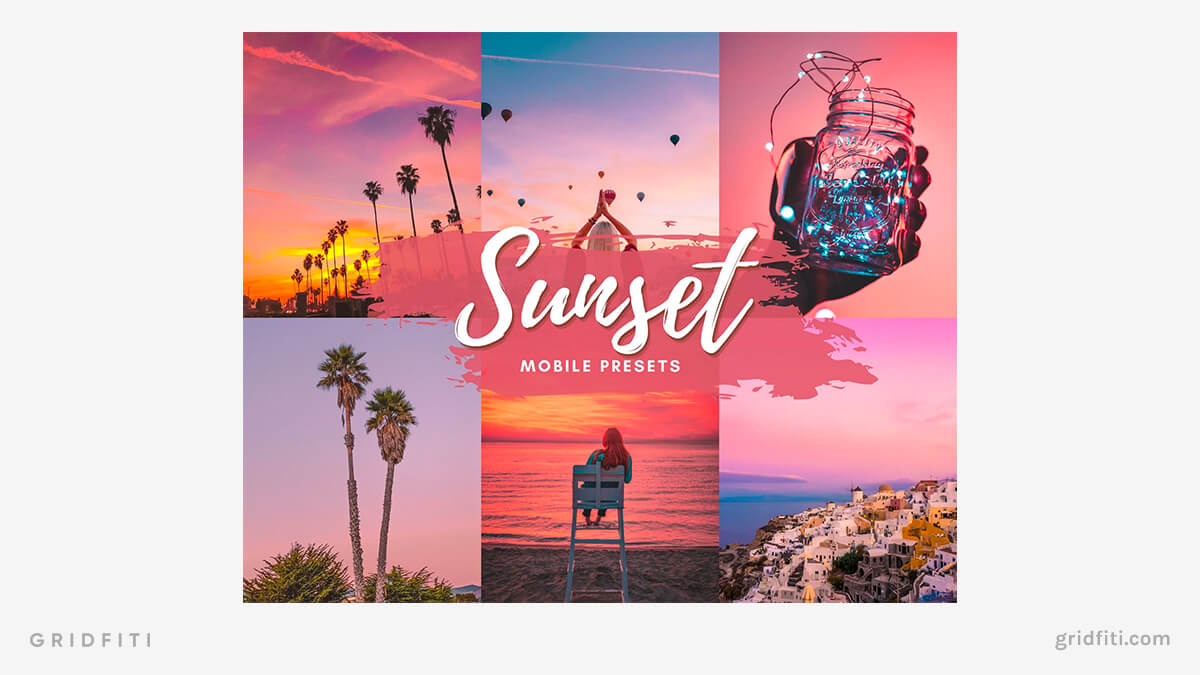 Free Sunset & Golden Hour Lightroom Presets
Not sure where to start? Want to test out some preset options first? Try these free sunset and golden hour Lightroom presets to mix and match with your photos and see what styles you like!
Free Golden Hour Dunes Presets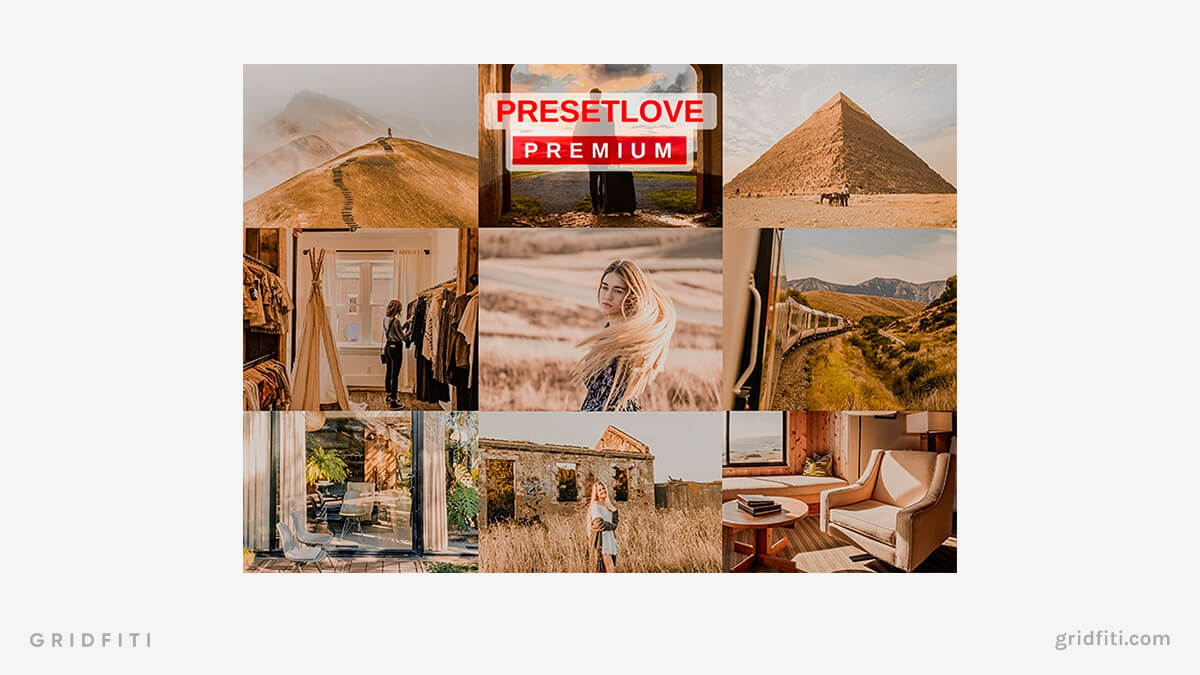 Free Golden Hour Lightroom Preset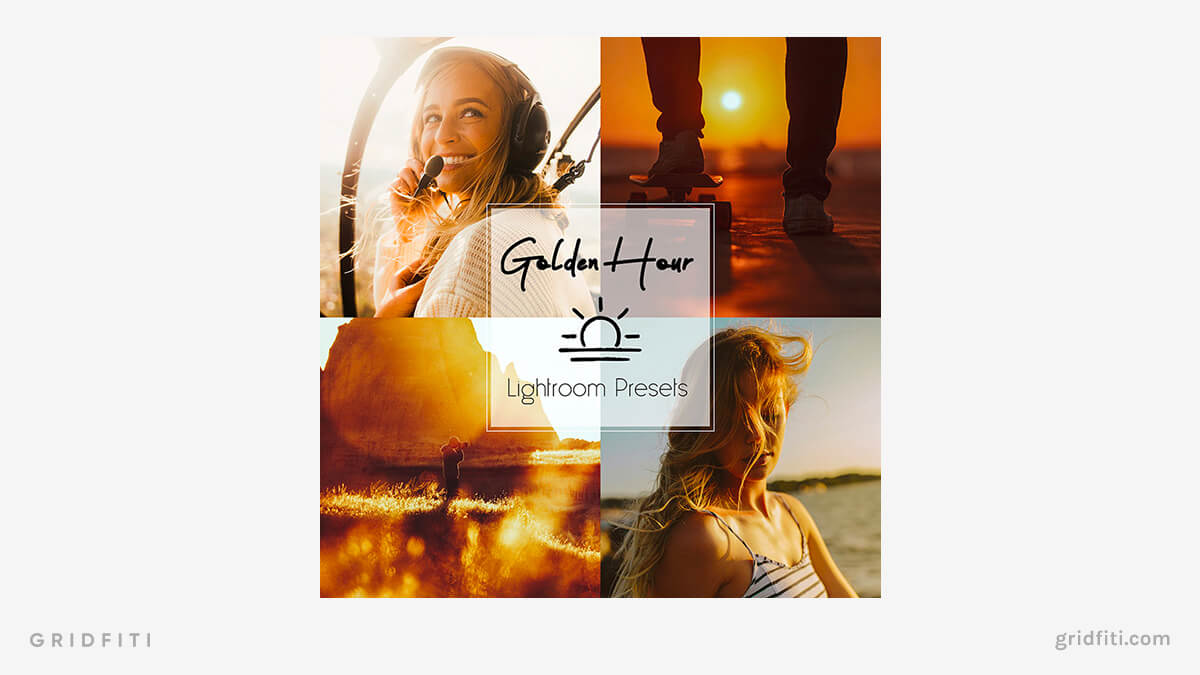 Free Golden Look Presets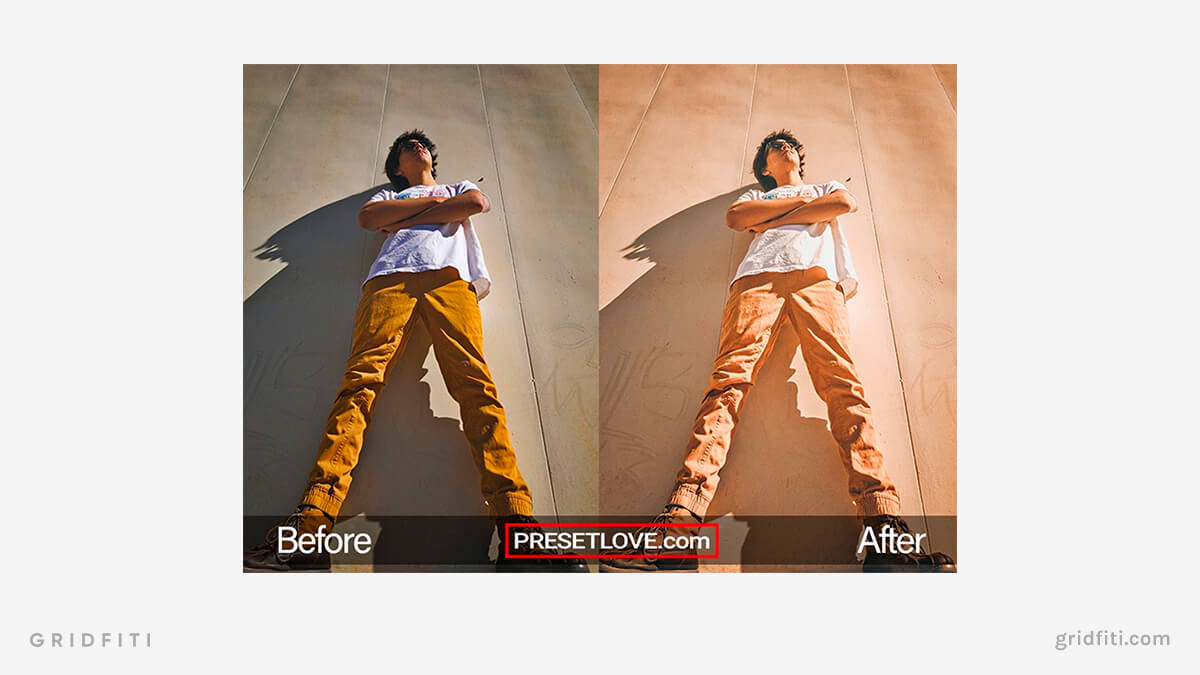 What do you think of these golden hour and sunset presets? Are there any we're missing? Let us know in the comments below!
Gridfiti is supported by its audience – when you buy something using the retail links in our posts, we may earn a small commission at no additional cost to you. Read more about our affiliate disclaimer.