As a photographer travelling to the big apple, I'm always looking for the best New York photography spots. The big apple is an incredible place to be regardless of what season it is. If you're into photography like myself, you will have an amazing time walking around this photogenic city. New York City offers so much and you can achieve some amazing photos both at night and during the day. If you catch golden hour or a sunset by the NYC water, you will be in for some fantastic views of the city.
I just recently took a trip to New York and I compiled a list of some of the best New York photography spots. I did some research to find these locations and they were inexpensive to get to. They are all totally worth it!
I took an urban photography trip to New York recently and visited the same spots mentioned below!
1. Brooklyn Bridge for Golden Hour
Address: Brooklyn Bridge, New York, NY 10038, USA
Might possibly be my favorite photography spot in New York. The 125 year old bridge that connects Manhattan and Brooklyn. It's golden glow makes it the best looking bridge in the city. Usually packed with tourists walking and biking across, but you get an amazing view of Brooklyn on one side and the Manhattan skyline on the other side.
I would highly recommend you go during sunrise since it will have the least amount of people obstructing your photos. Golden hour is also great, but expect a lot more tourists during this time of the day. The lighting off the buildings and the bridge make it a photographer's dream come true. Any direction that I pointed the camera was a hit and I got some great images from the short period of time that I was there. When I go back, Brooklyn bridge will for sure be one of my first photo stops.
2. Manhattan Bridge
Address: Manhattan Bridge, New York, NY 11201, USA
In my opinion, Manhattan bridge itself isn't as special compared to the Brooklyn bridge. But, the view from the Manhattan bridge is pretty great. The bridge connects Manhattan's Canal Street with Downtown Brooklyn. On the bridge, you get to see the Brooklyn bridge in full and you get to see a nice view of Manhattan as well. If you had the choice between the Manhattan bridge and the Brooklyn bridge, I would definitely choose to do the Brooklyn – but do both. The Manhattan is nice because it is not nearly as packed as the Brooklyn.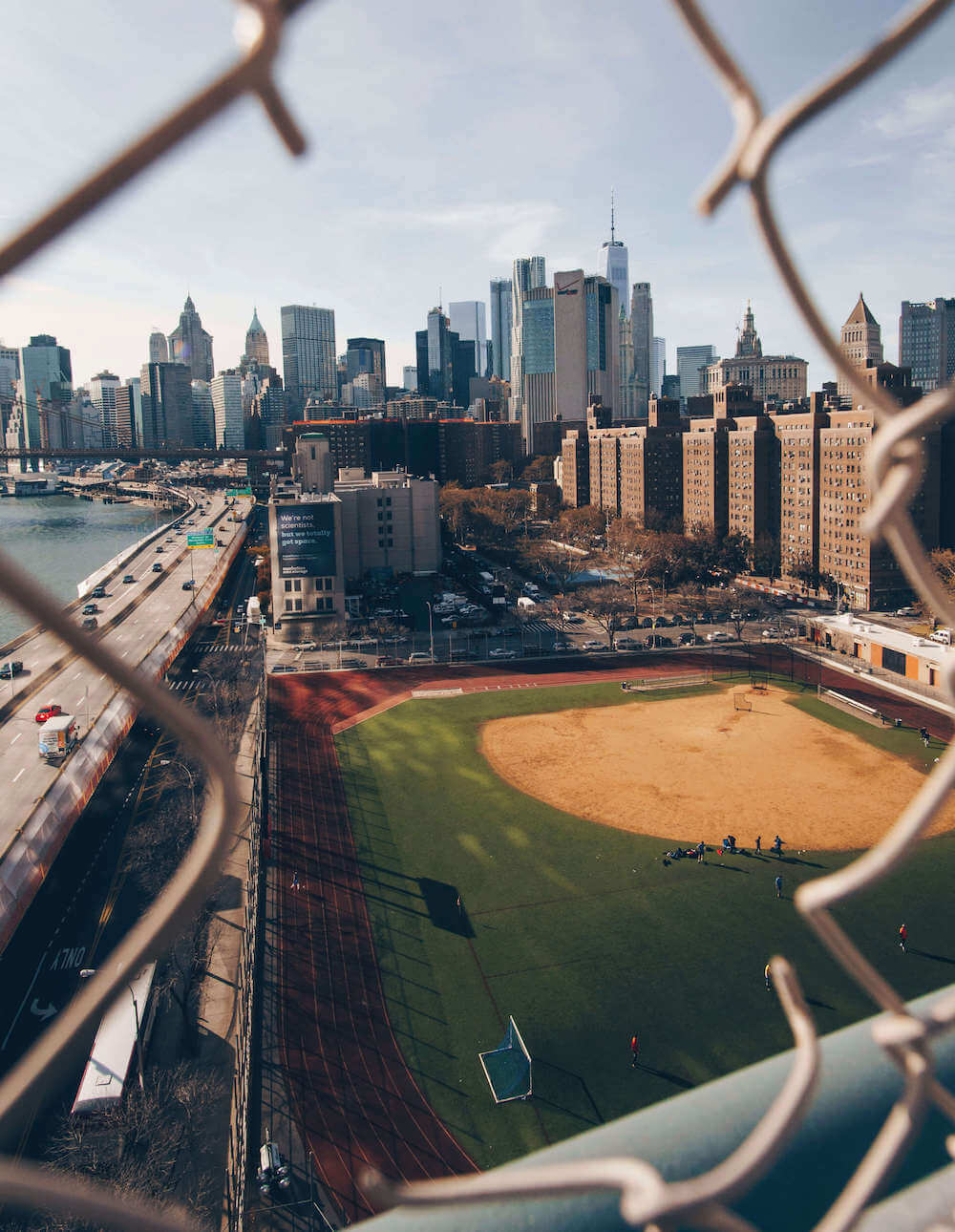 3. D.U.M.B.O Brooklyn, New York
Address: Intersection of Washington Street and Water Street in Brooklyn, New York
You've probably seen this spot floating around your social media feeds. The classic photo between two Brooklyn buildings with a view of the Manhattan bridge. This road is always packed with tourists posing and I don't blame them. I've been to New York quite a few times, but I never checked out D.U.M.B.O. until this trip and I was not disappointed at all. Although the lighting wasn't the best mid day, I still managed to salvage some decent photos.
To achieve a similar photo with a glass ball, check out my post on lensball photography ideas.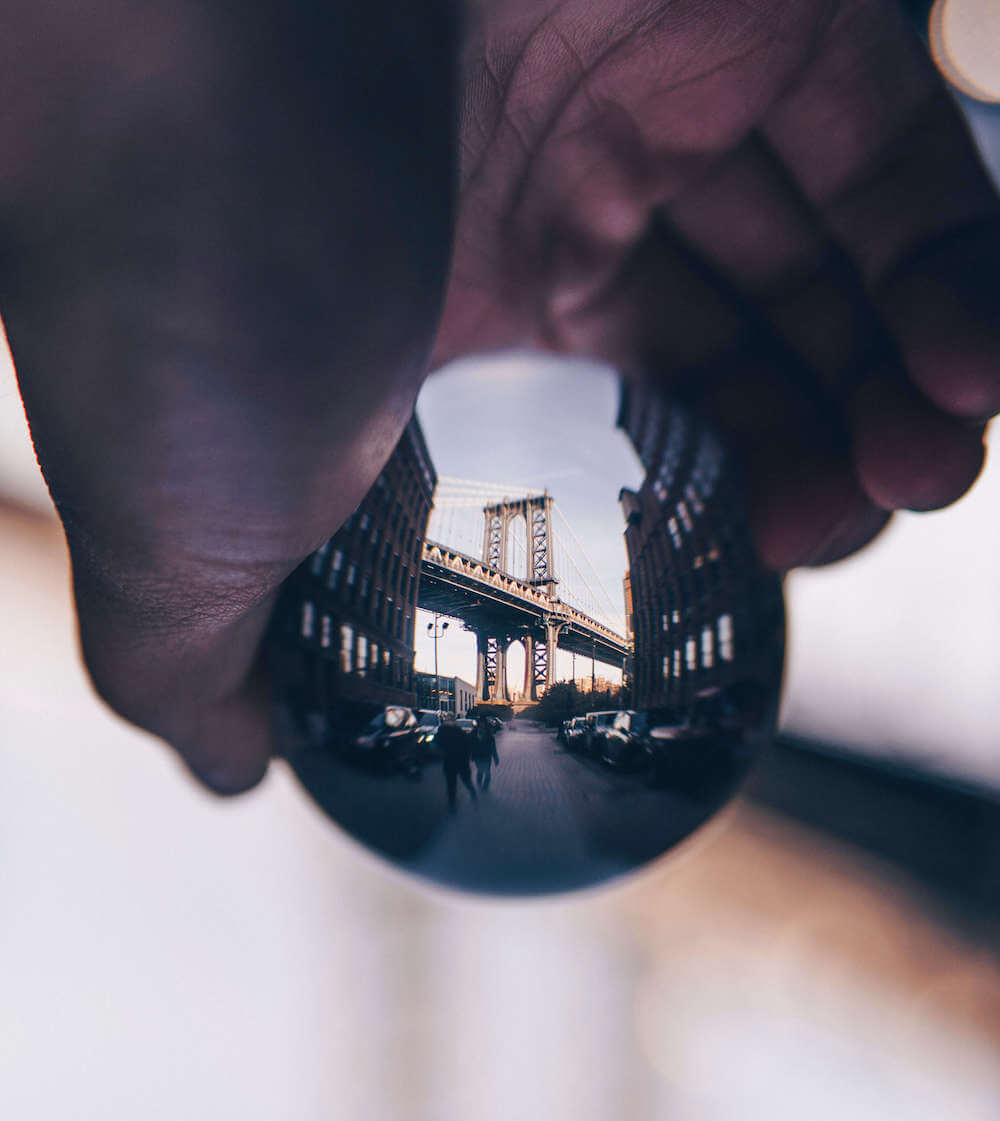 4. Oculus
Address: 33-69 Vesey St, New York, NY 10007, USA
If you're into great architecture, this is a must-see location in New York City. Located beside the World Trade Center, the $4 billion dollar train station is a shopping mall inside a skeleton like structure. All white with an amazing exterior and interior design. Words don't do it enough justice, here are some visuals that I took during my New York trip at the World Trade Center Transportation Hub. A New York photography spot that I highly recommend, located right in the financial district.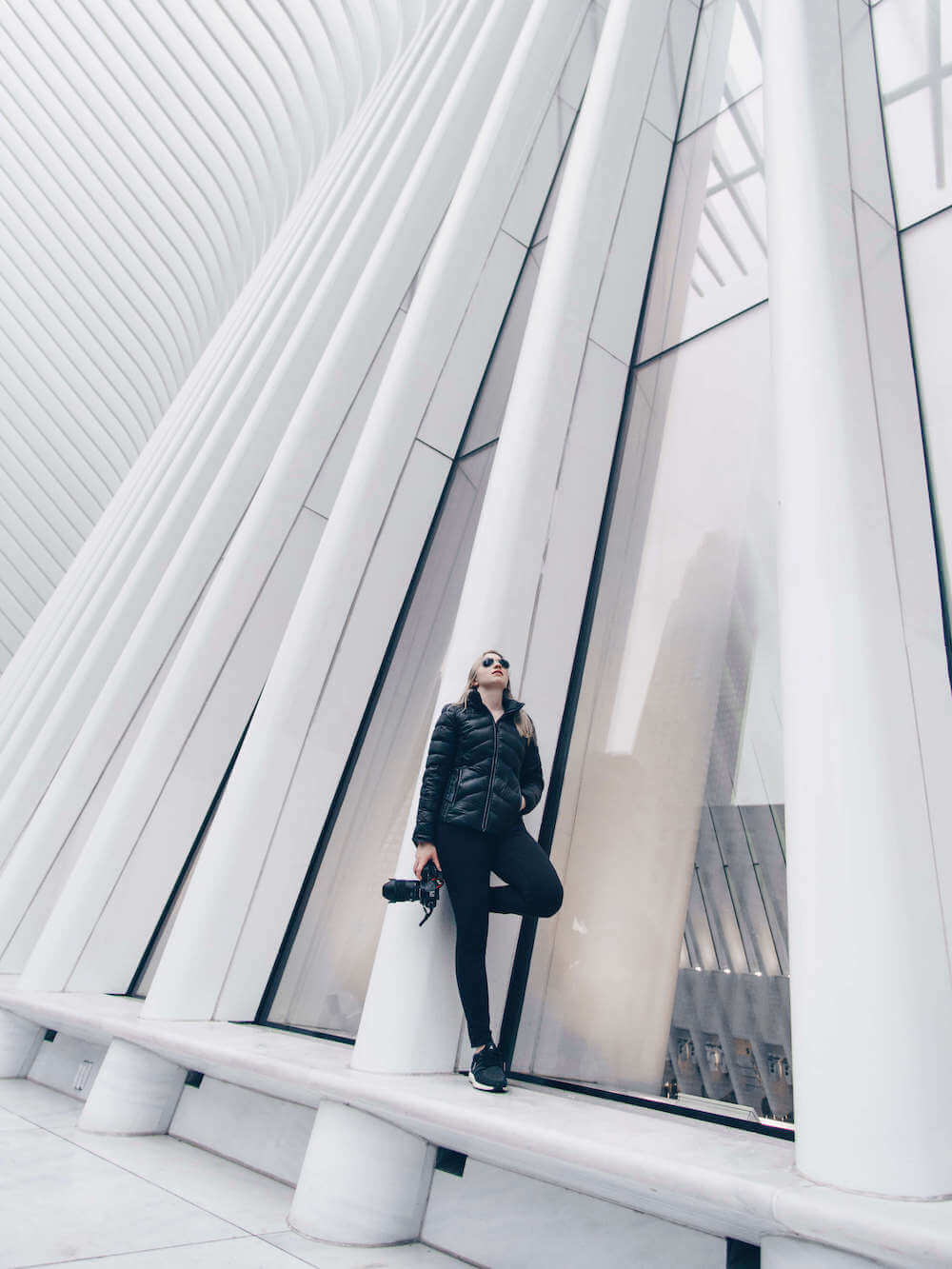 5. PUBLIC Hotel Rooftop and Escalator
Address: 215 Chrystie St, New York, NY 10002, USA
If you're not sick of the VIEWS yet, I still have a few more New York photography spots for you.
Next up is the Public Hotel. When I first stepped in I was pretty amazed. You walk in and you are greeted by a pair of escalators that are lit up by neon orange lights with mirrors on both sides of the railings. I probably spent a solid half an hour standing by the escalators taking my photos and videos. Here are some shots of the infamous escalators at Public hotel.
The escalators are already a good enough reason to visit the hotel, but it definitely doesn't stop there. The Public hotel rooftop is quite the view. Unfortunately, when I arrived at the hotel it was still too early since the Public hotel 18th floor rooftop only opens at a certain time in the evening. I had to settle for the 17th floor (I know… big downgrade).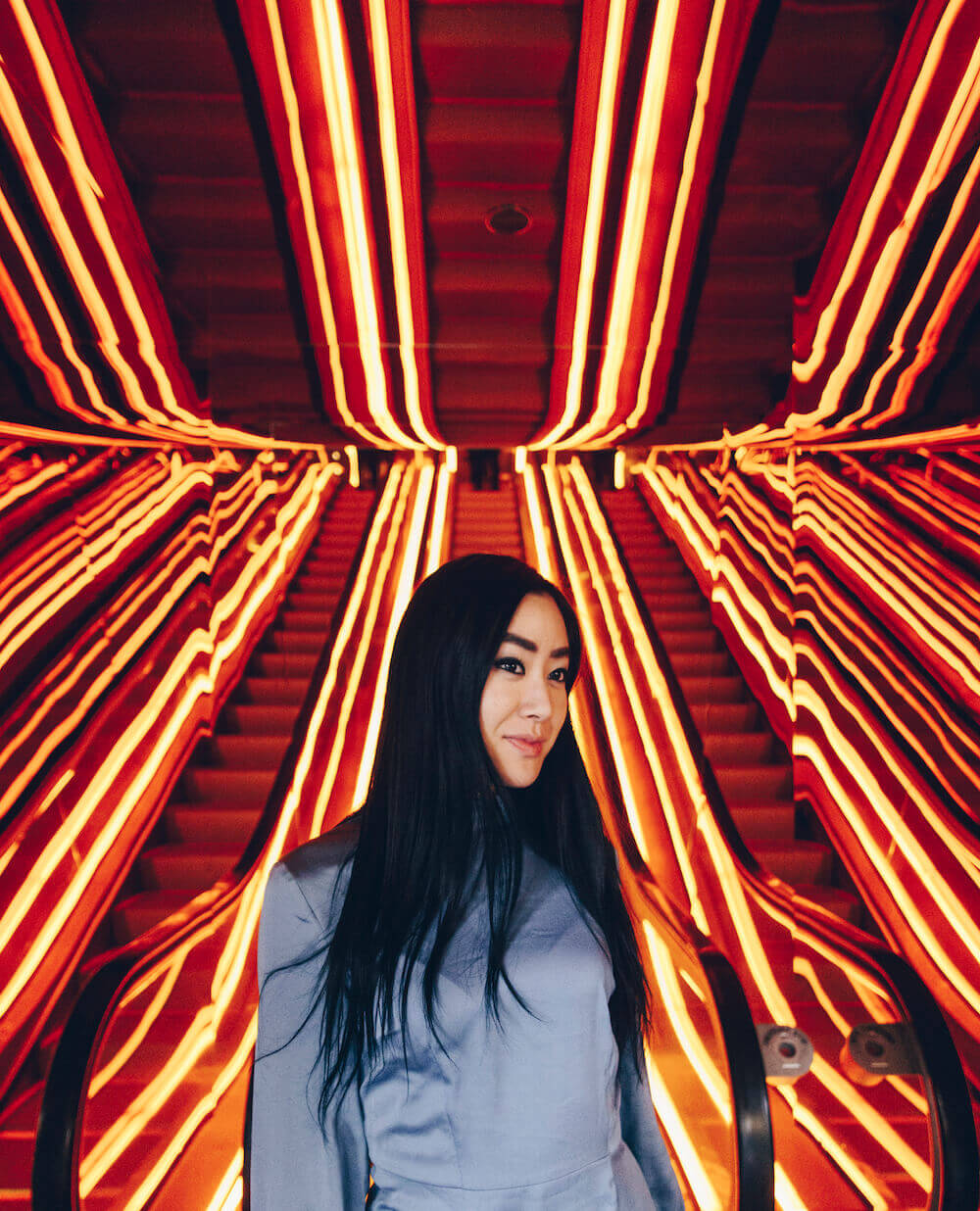 The view was still amazing and there was actually an event that was going on with an open bar and two free drink tickets for their beer garden. Dreams really do come true… From the 17th floor, you still get to see some amazing views from the window. The window view wasn't enough so we walked out to the beer garden where we could actually walk outside and get a legit view from the 17th floor rooftop terrace. I was not disappointed and seriously wish I could've stayed for golden hour that day. You get a different view from the top of New York City. Instead of the high skyscrapers, you get more of a view of the old school New York City buildings.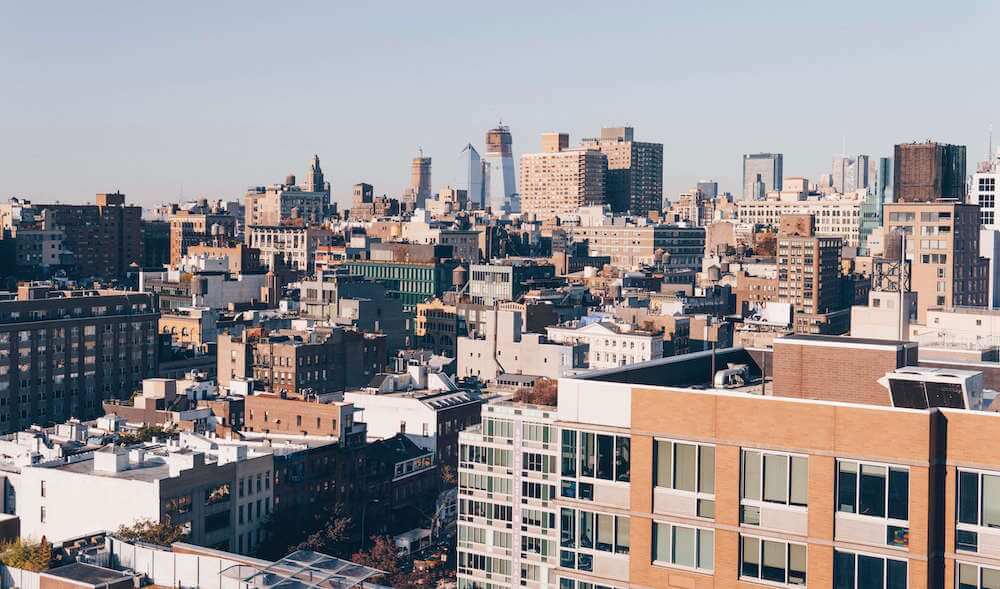 6. Press Lounge for a Skyline View of New York
Address: 653 11th Ave, New York, NY 10036, USA
More skyline views? I got you.
The Press Lounge rooftop is the place to be. Sure, you can go pay for a nice view from the Rockefeller, but the Press Lounge is free. Hard to beat that… Located on the 16th floor of the Ink48 hotel, the Press Lounge offers a sweet 360 degree view and of course, you get a sweet view of New York City.
From the Press Lounge, you can see Times Square light up the skyline and a beautiful view of the water at the same time. Just like the Public hotel rooftop, there is a bar, but the drinks are definitely on the pricer end. You're also getting to the rooftop for free… so might as well treat yourself… Last but not least, the Press Lounge offers a small rooftop pool just to add to the view.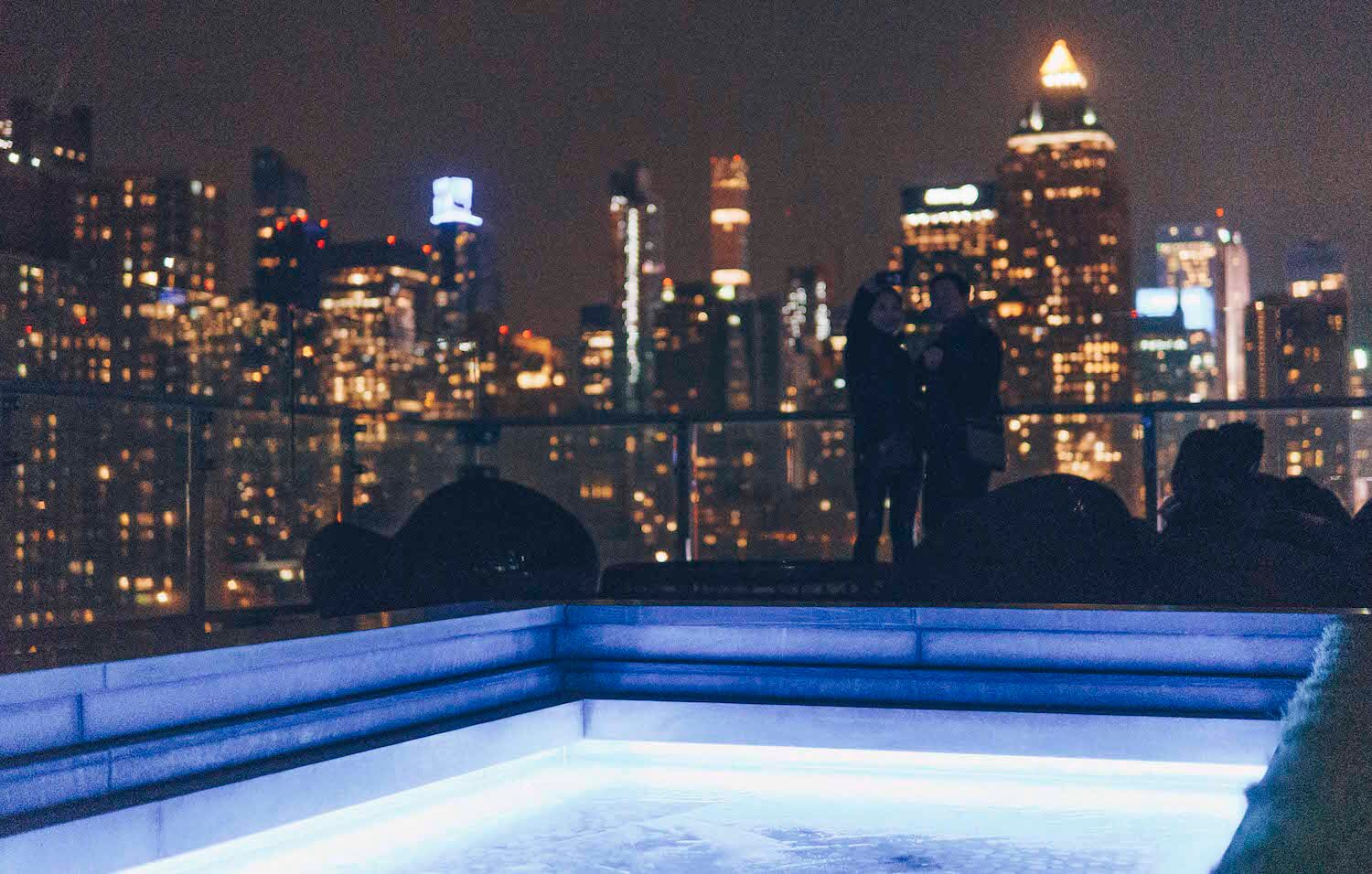 7. Tudor City Overpass on 42nd Street
Address: Tudor City Pl, New York, NY 10017, USA
A very underrated New York photography spot and I don't see it mentioned as often as it should be. The Tudor City Overpass is a little bridge that allows you to see straight down Manhattan and you get a view of the buildings towering over the sides of the street. This is an excellent place to take time lapses of New York City at night or even some nice ones during the day. You get a lot of car movement and some nice lighting off the buildings. One of my favorite New York City photography spots and it's free!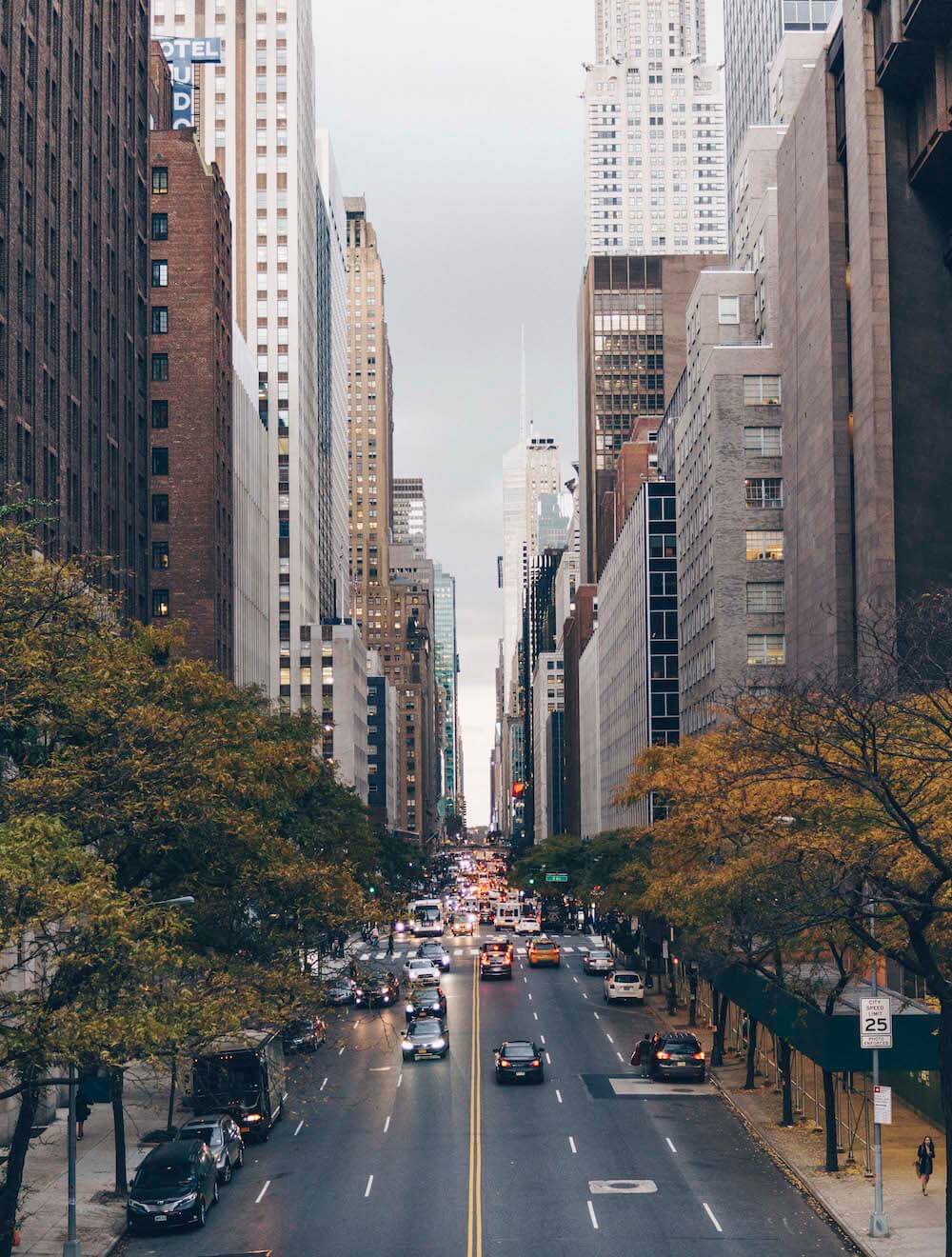 Do you know any New York photography spots that I could add to the list? Leave a comment below and let me know!