Basketball content isn't all just game highlights anymore. On YouTube nowadays you're able to see everything you don't see on ESPN, from NBA commentary, exclusive behind-the-scenes footage, press conferences, NBA player vlogs, and much more!
There's simply way too much choice on YouTube, and finding the right channels can be overwhelming – that's why we've curated a list of the best basketball YouTube channels for you to check out. Discover the top NBA player YouTube channels, your favorite NBA team's channel, and some of the best basketball YouTubers from across North America!
Best Basketball YouTubers
Check out the best basketball YouTubers that discuss everything related to the NBA and the game itself. You'll find basketball commentary, player analysts, team comparisons, and much more from these individual channels.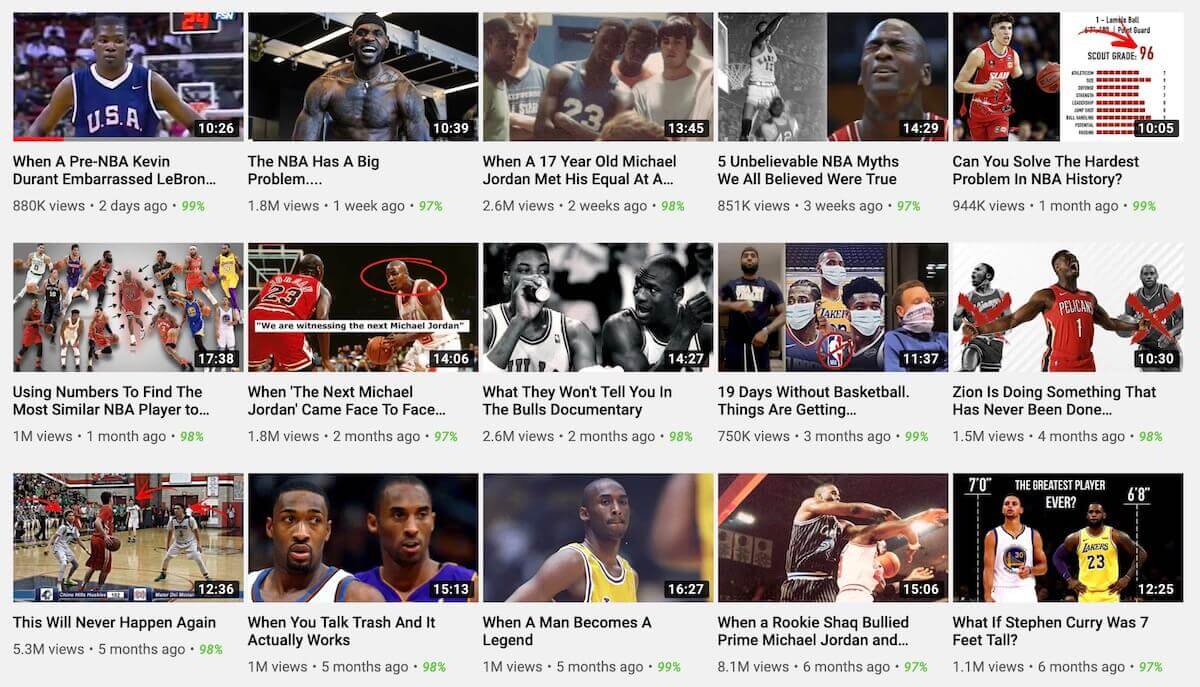 JxmyHighroller
NBA stories, player analysis, and much more! Jimmy puts together great video edits outlining some of the NBA's biggest moments from the past and present!
Visit JxmyHighroller's Channel
Professor Live
Basketball vlogs, highlight mixes, ball tutorials, and everything you need to know about basketball culture. Professor Live is a great channel to follow if you're learning to perfect your game!
Visit Professor Live's Channel
FunkyDiabetic
From NBA trade rumors to team rebuilds, FunkyDiabetic provides some great commentary videos on everything related to professional basketball.
Balludicrous
Described best in the channel description, Balludicrous consists of "entertaining and/or informative videos analyzing the game of basketball itself and the culture around it."
Visit Balludicrous' YouTube Channel
Chris Smoove
NBA news, highlight commentary, and some video game gameplay, Chris' channel offers a little bit of everything.
Mike Korzemba
Weekly videos that consist of NBA conspiracies, NBA what ifs, and all things related to basketball. For basketball vlogs, NBA quizzes, NBA 2k,, and hypothetical NBA comparisons, check out Mike's second channel!
Visit Mike Korzemba's YouTube Channel
Visit Mike's 2nd YouTube Channel
Dom2k
Dom provides short documentary style videos on NBA players, along with news and reviews related to the video game NBA 2K. Dom also has a second basketball channel which talks about historical NBA events and the details that were often overlooked.
Visit Dom2k's YouTube Channel
Visit Dom2k's Second YouTube Channel
The King of the Fourth Quarter
King of the Fourth Quarter's channel mainly consists of videos done on NBA 2K, where he simulates NBA scenarios with what ifs and comparisons.
Visit King of the Fourth Quarter's YouTube Channel
ILoveBasketballTV
If you're looking to improve every aspect of your basketball game, this is the channel for you. ILoveBasketballTV teaches you everything from dribbling to perfecting your jump shot.
Visit ILoveBasketballTV's YouTube Channel
Basketball Breakdown
As the channel username states, this basketball channel breaks down NBA news. If you're looking for more detailed videos on professional basketball events and historical moments, check out the channel.
Visit Basketball Breakdown's YouTube Channel
Game of Zones by Bleacher Report
Game of Zones is a basketball series created by Bleacher Report that parodies the HBO series, Game of Thrones, by animating NBA players and creating storylines based on NBA events and fan discussions.
Visit the Game of Zones YouTube Playlist
Thinking Basketball
"Merging film study with stats," Thinking Basketball is a YouTube channel which uses NBA statistics and creates in-depth analysis on players and teams.
Visit Thinking Basketball's YouTube Channel
Andy Hoops
Andy's channel provides videos on NBA trivia, conspiracies, analysis, stories, and much more. You can expect entertaining videos about historical and modern day players in the NBA.
Visit Andy Hoops' YouTube Channel
Hoops Reference
Player rankings, NBA X-Factors, draft grades, and much more. Hoops Reference is a great channel to see how different events have guided the NBA to where it is today.
Visit Hoops Reference's YouTube Channel
The NBA Storyteller
NBA basketball storytelling is the best way to summarize this channel. The name says it all and with this YouTube channel, you'll be able to find, "stories of the NBA that Illuminate the dark corners,  reveal the lost hidden or misplaced narratives, and shine fresh light on the well known classics."
Visit the NBA Storyteller's YouTube Channel
NBA Players with YouTube Channels
Ever wondered what a day-in-the-life of an NBA player is like? You no longer need to! Check out this list we compiled of NBA players with YouTube channels and see what it's like to play professional basketball through the eyes of your favorite players.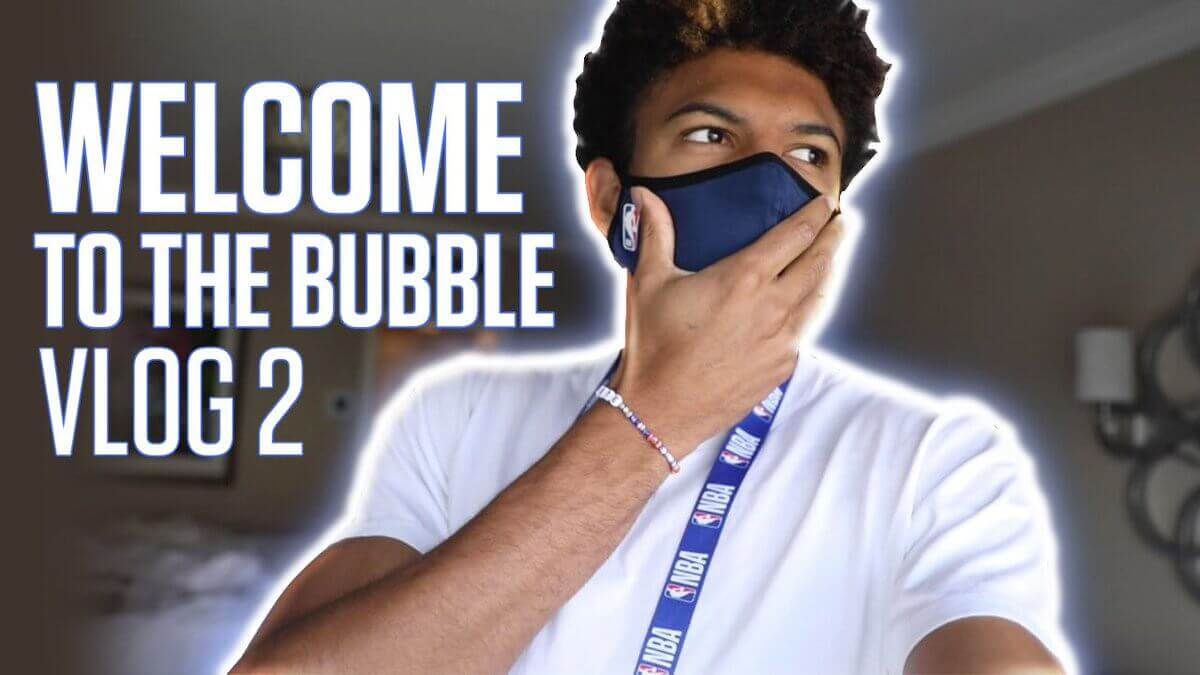 Matisse Thybulle
Visit Matisse Thybulle's YouTube Channel
Dennis Schröder
Visit Denis Schröder's YouTube Channel
JaVale McGee
Visit JaVale McGee's YouTube Channel
Troy Daniels
Visit Troy Daniel's YouTube Channel
Justin Holiday
Visit Justin Holiday's YouTube Channel
Troy Brown Jr.
Visit Troy Brown Jr. YouTube Channel
Carmelo Anthony
Visit Carmelo Anthony's YouTube Channel
Jimmy Butler
Visit Jimmy Butler's YouTube Channel
Serge Ibaka
Visit Serge Ibaka's YouTube Channel
Steph Curry
Visit Steph Curry's YouTube Channel
Jaylen Brown
Visit Jaylen Brown's YouTube Channel
Kevin Durant
Visit Kevin Durant's YouTube Channel
De'Aaron Fox
Visit De'Aaron Fox's YouTube Channel
Jeremy Lin
Visit Jeremy Lin's YouTube Channel
Giannis Antetokounmpo
Visit Giannis Antetokounmpo's YouTube Channel
Visit the AntetokounmpoBros YouTube Channel
Damian Lillard
Visit Damian Lillard's YouTube Channel
Victor Oladipo
Visit Victor Oladipo's YouTube Channel
Karl-Anthony Towns
Visit Karl-Anthony Towns' YouTube Channel
Evan Fournier
Visit Evan Fournier's YouTube Channel
Chris Bosh
Visit Chris Bosh's YouTube Channel
Matthew Dellavedova
Visit Matthew Dellavedova's YouTube Channel
Josh Hart
Visit Josh Hart's YouTube Channel
Dennis Rodman
Visit Dennis Rodman's YouTube Channel
Gilbert Arenas
Visit Gilbert Arenas' YouTube Channel
Andre Drummond
Visit Andre Drummond's YouTube Channel
Kyle Kuzma
Visit Kyle Kuzma's YouTube Channel
Steve Nash
Visit Steve Nash's YouTube Channel
Khris Middleton
Visit Khris Middleton's YouTube Channel
Kosta Koufos
Visit Kosta Koufos' YouTube Channel
Nate Robinson
Visit Nate Robinson's YouTube Channel
Manu Ginobli
Visit Manu Ginobli's YouTube Channel
Dwayne Wade
Visit Dwayne Wade's YouTube Channel
Official NBA Team YouTube Channels
Every NBA team has an official YouTube channel which features different content such as player highlights to team press conferences. We've listed the official YouTube channel of every team in the NBA so that you can stay updated with all video content related to your team!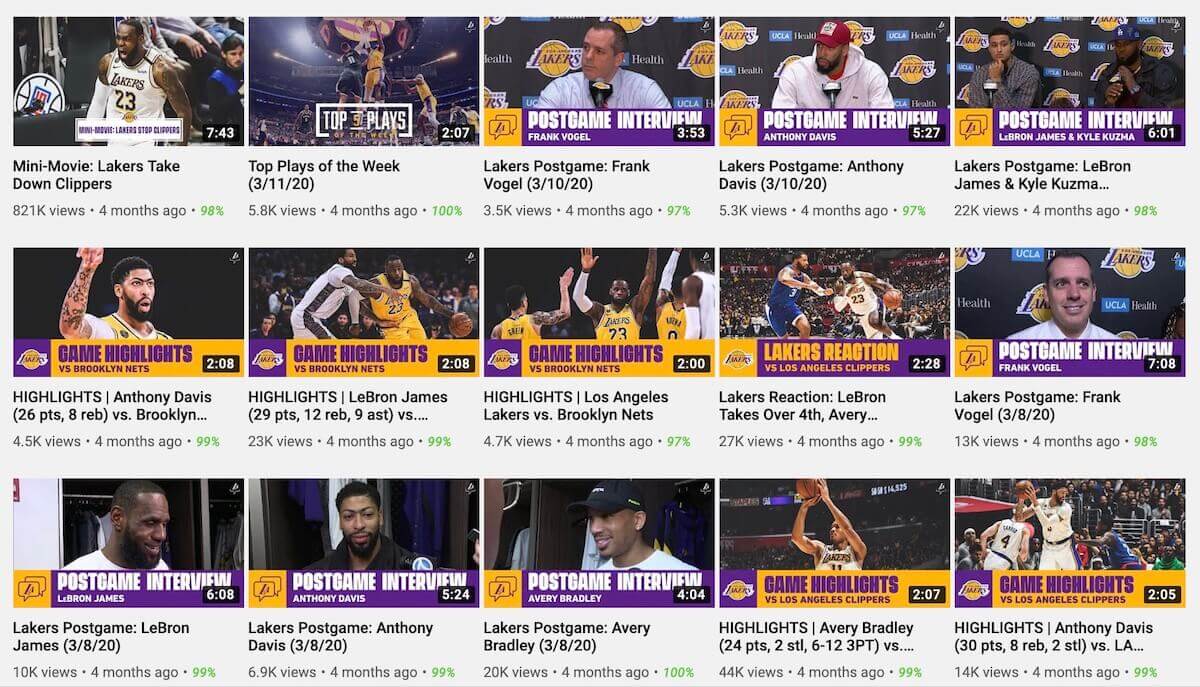 Los Angeles Lakers
Visit the LA Lakers YouTube Channel
Minnesota Timberwolves
Visit the Minnesota Timberwolves YouTube Channel
Milwaukee Bucks
Visit the Milwaukee Bucks YouTube Channel
Washington Wizards
Visit the Washington Wizards YouTube Channel
Golden State Warriors
Visit the Golden State Warriors YouTube Channel
Boston Celtics
Visit the Boston Celtics YouTube Channel
Chicago Bulls
Visit the Chicago Bulls YouTube Channel
Toronto Raptors
Visit the Toronto Raptors YouTube Channel
Houston Rockets
Visit the Houston Rockets YouTube Channel
Miami Heat
Visit the Miami Heat YouTube Channel
Orlando Magic
Visit the Orlando Magic YouTube Channel
New York Knicks
Visit the New York Knicks YouTube Channel
San Antonio Spurs
Visit the San Antonio Spurs YouTube Channel
Cleveland Cavaliers
Visit the Cleveland Cavaliers YouTube Channel
Los Angeles Clippers
Visit the LA Clippers YouTube Channel
Philadelphia 76ers
Visit the Philadelphia 76ers YouTube Channel
Dallas Mavericks
Visit the Dallas Mavericks YouTube Channel
Brooklyn Nets
Visit the Brooklyn Nets YouTube Channel
Oklahoma City Thunder
Visit the Oklahoma City Thunder YouTube Channel
Utah Jazz
Visit the Utah Jazz YouTube Channel
New Orleans Pelicans
Visit the New Orleans Pelicans YouTube Channel
Portland Trail Blazers
Visit the Portland Trail Blazers YouTube Channel
Detroit Pistons
Visit the Detroit Pistons YouTube Channel
Phoenix Suns
Visit the Phoenix Suns YouTube Channel
Sacramento Kings
Visit the Sacramento Kings YouTube Channel
Atlanta Hawks
Visit the Atlanta Hawks YouTube Channel
Indiana Pacers
Visit the Indiana Pacers YouTube Channel
Memphis Grizzlies
Visit the Memphis Grizzlies YouTube Channel
Denver Nuggets
Visit the Denver Nuggets YouTube Channel
Charlotte Hornets
Visit the Charlotte Hornets YouTube Channel
Best YouTube Channels with NBA Highlight Videos
It's hard to keep up with every single NBA game especially if there are multiple games going on at the same time. Here are the best YouTube channels which showcase NBA highlight videos so you can get caught up with everything basketball!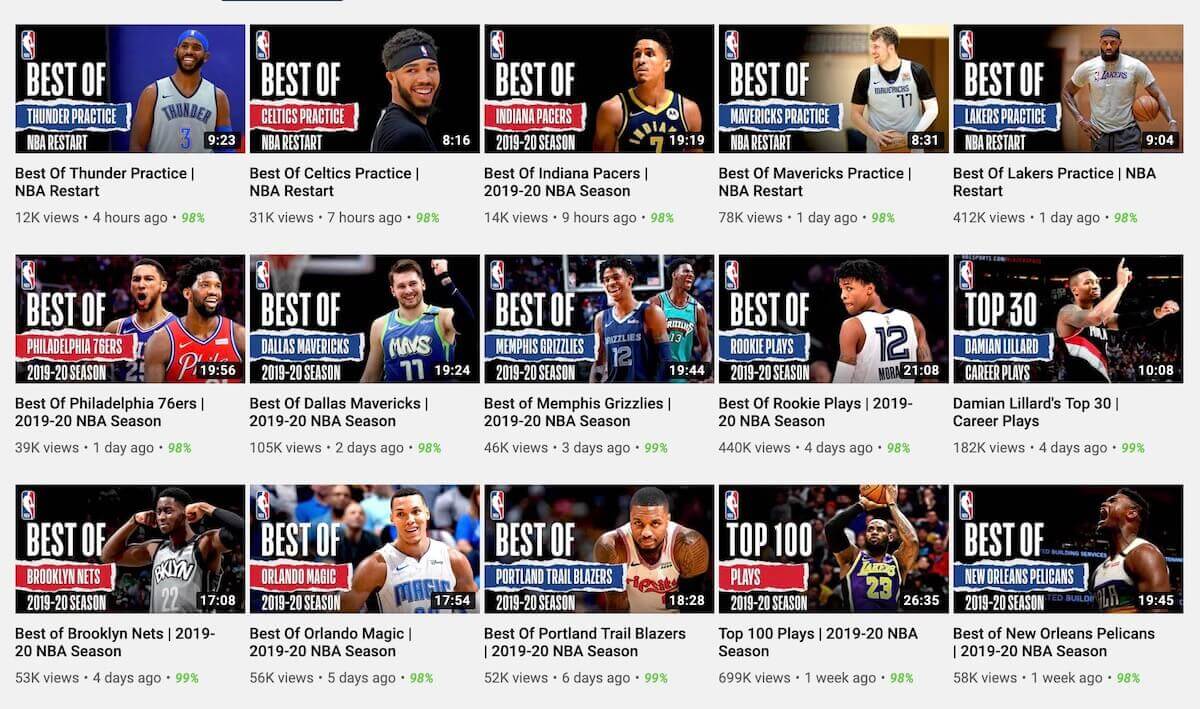 Official NBA YouTube Channel
Visit the Official NBA YouTube Channel
MLG Highlights – HNB Media TV
Visit MLG Highlights' YouTube Channel
House of Highlights
Visit House of Highlight's YouTube Channel
Are we missing any top basketball YouTube channels? Did we forget any NBA players with a YouTube channel? We're going to be keeping this list fresh and updating it frequently, so leave a comment below with any suggestions or recommendations for basketball YouTubers that we may have missed!