Balance is key — and it's nice to have a bit of a cleanse every now and then. If you're really looking to completely change your life and dedicate the next 3 months to transform yourself – the 75 Hard Challenge is the one you'll want.
However, the infamously intense program can be a bit too intense for many. If you're looking to make a balanced change and form better habits, without sacrificing too much of your guilty pleasures, the 75 Soft Challenge is going to be better for you.
To help you get started, we've curated a list of the best 75 Soft Challenge templates — ranging from digital to printable PDF templates that'll keep you on track!
Want more template ideas and inspiration? Join our mailing list!
What is the 75 Soft Challenge?
You probably know what the 75 Hard Challenge is, but you might be wondering how the 75 Soft Challenge differentiates from it.
The two are very similar, but 75 Soft is a less strenuous challenge thanks to its flexibility within the rules. The 75 Soft Challenge is catered to those looking to improve their life without completely changing their full lifestyle and weekly routine.
The 6 daily activities that must be completed every day for 75 days to complete the challenge include:
Reading 10 pages of any book every day
Alcohol consumption only for social occasions
Drinking at least 1 gallon (or 4 litres) of water
Taking a progress photo every day
Maintain a balanced diet daily
1x 45-minute workout a day, with one recovery day a week
75 Soft Challenge Printable PDF Templates
Progress hits different when you can see and feel it on paper. Use one of these aesthetically pleasing 75 Soft Challenge printable templates to get a physical tracker and check of your tasks each day!
All-in-One Neutral 75 Soft Challenge Tracker Bundle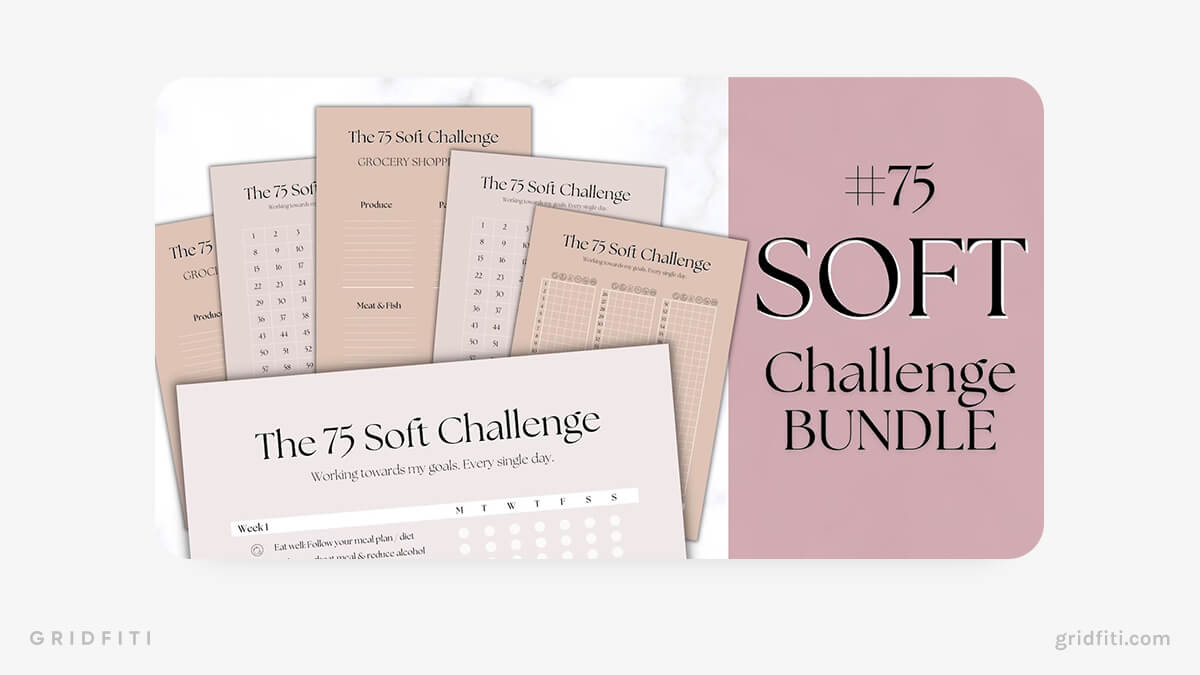 Beige 75 Soft Challenge Tracker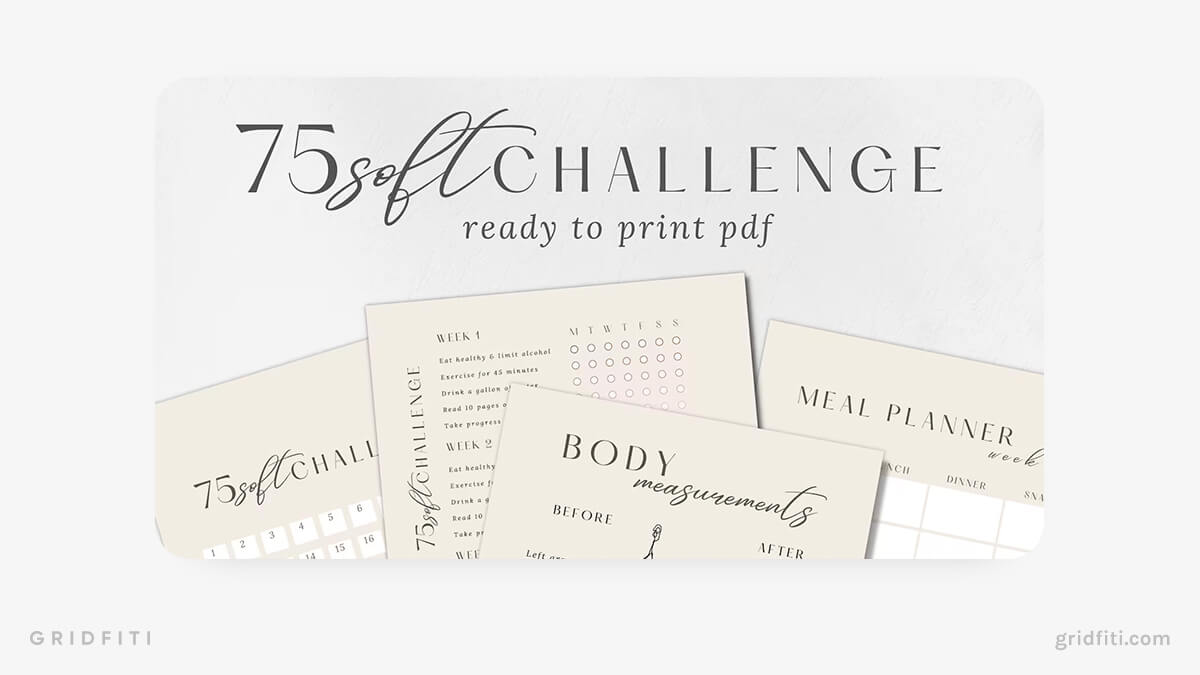 Pink & Blue 75 Soft Challenge Template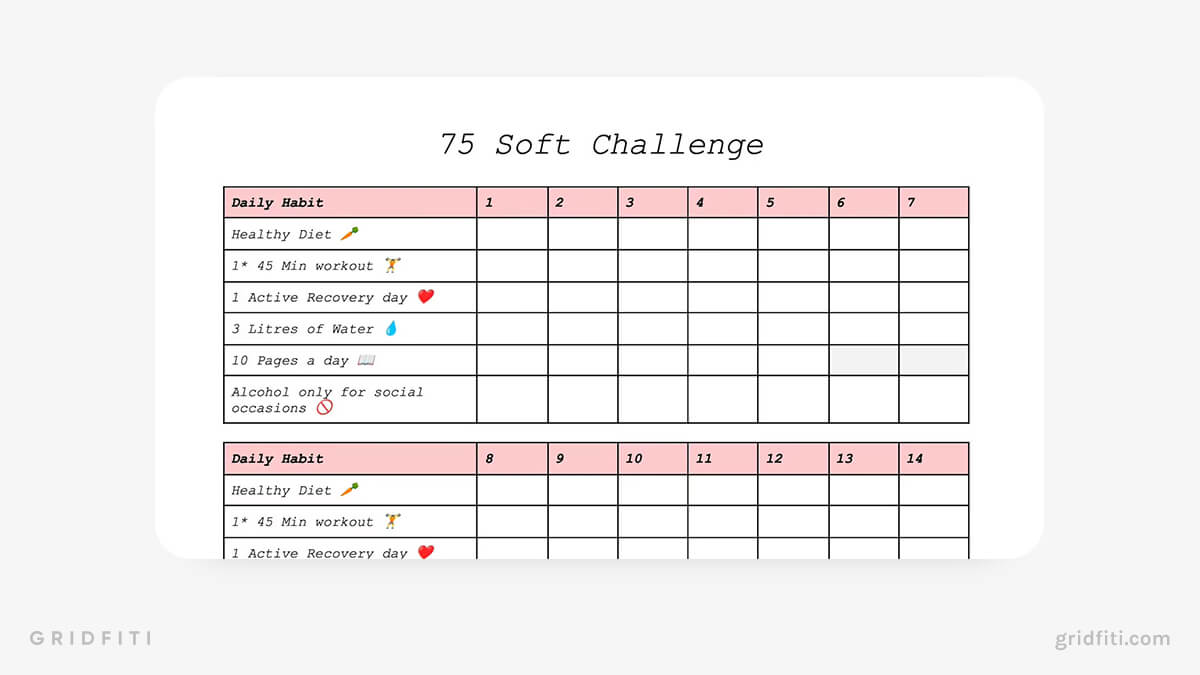 Black & White 75 Soft Challenge Tracker and Planner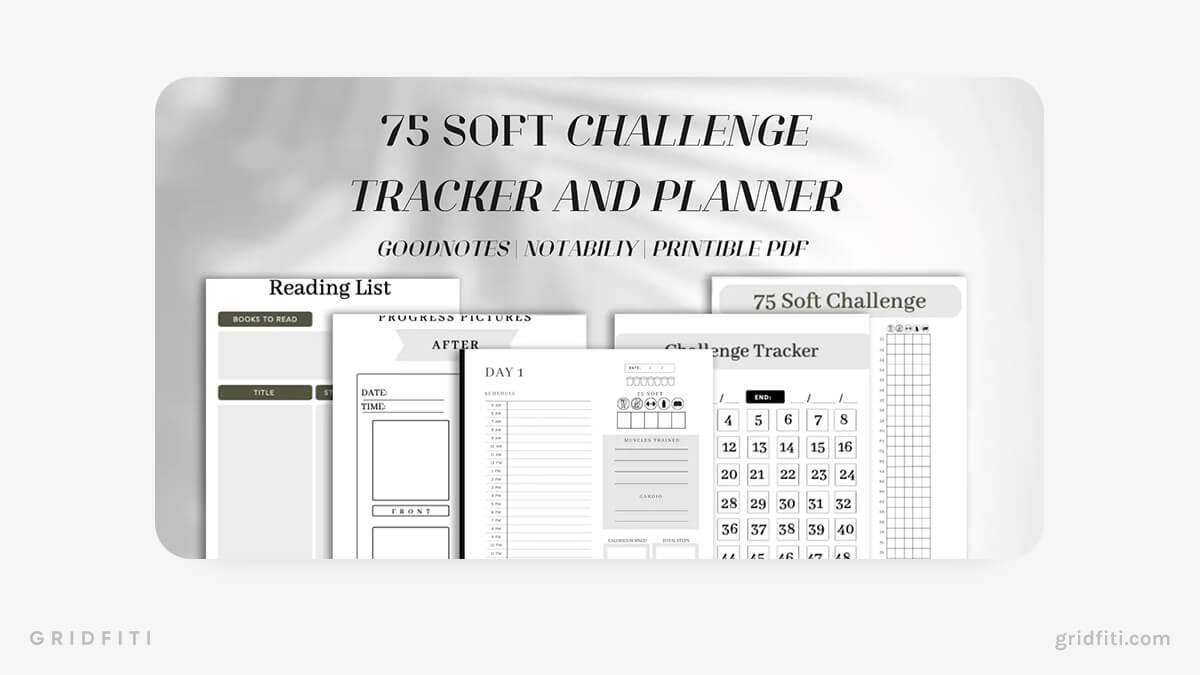 Simple 75 Soft Challenge Tracker & Journal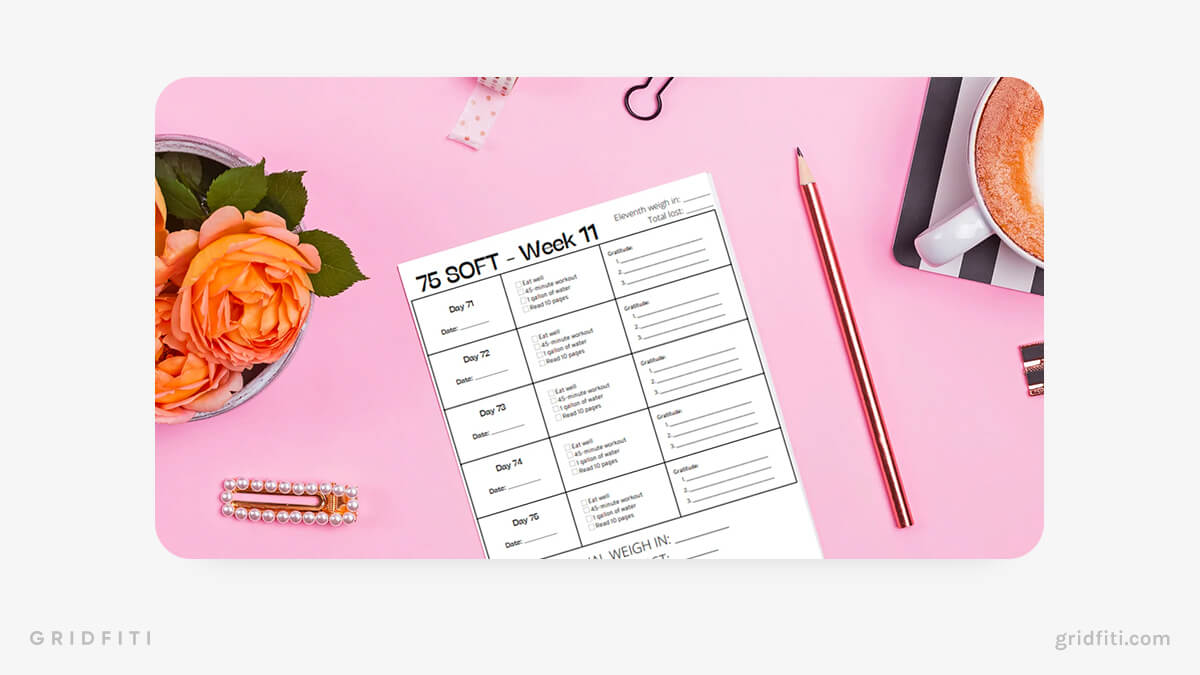 Aesthetic 75 Day Soft Challenge Tracker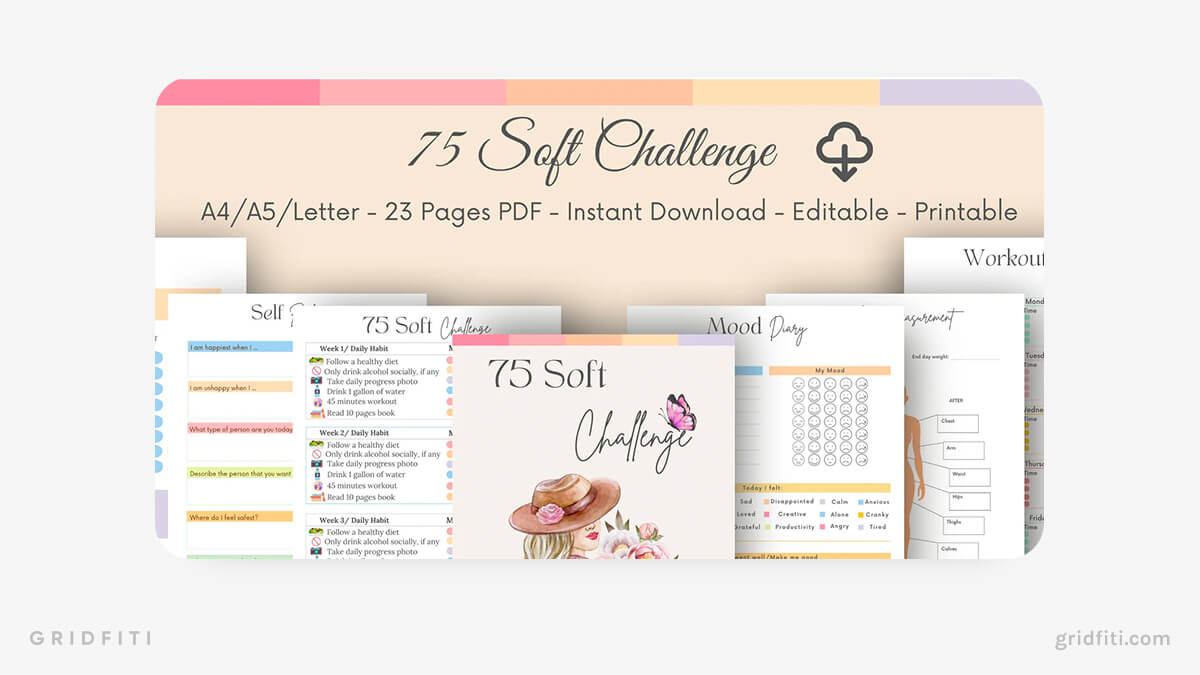 Digital 75 Soft Challenge Templates
If you'd rather have everything stored on your phone, tablet, or laptop, then you'll want a digital template to track the challenge. Use one of these digital 75 Soft Challenge templates to monitor your progression from apps like Notion and GoodNotes!
For more Notion 75 day challenge templates, check out our blog post featuring the best Notion 75 Hard and 75 Soft templates!
Minimalist Digital Planner & 75 Day Soft Challenge Template for GoodNotes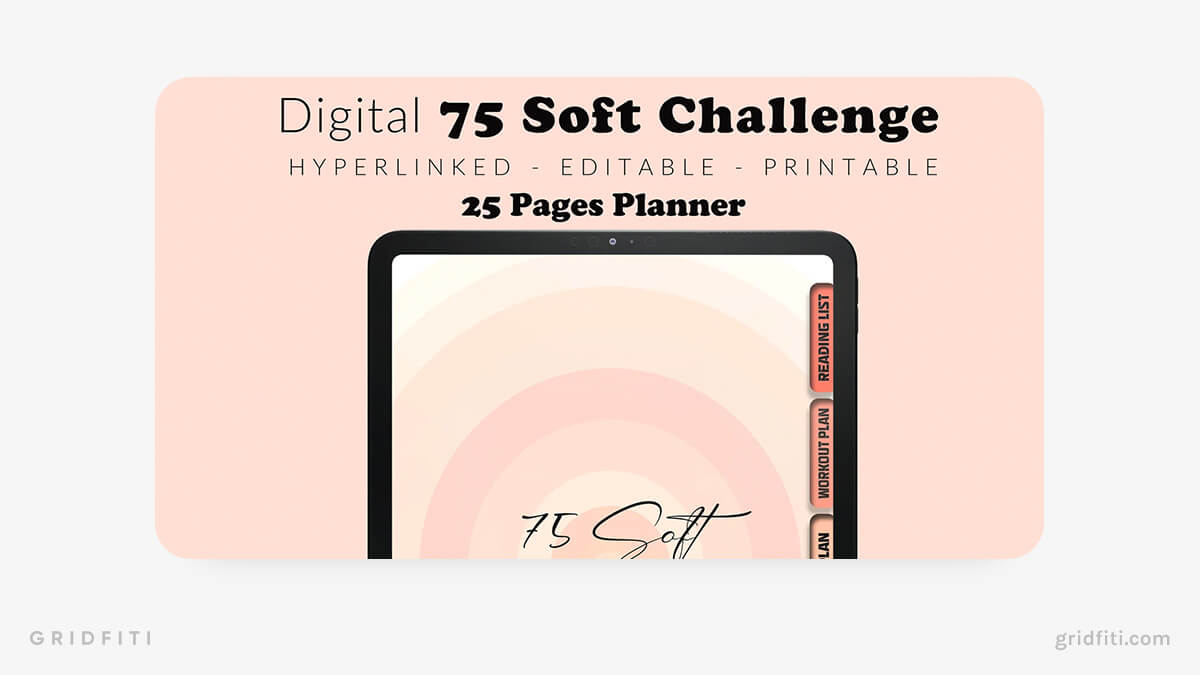 75 Soft Challenge Tracker Bundle (Notion, PDF & Canva Template)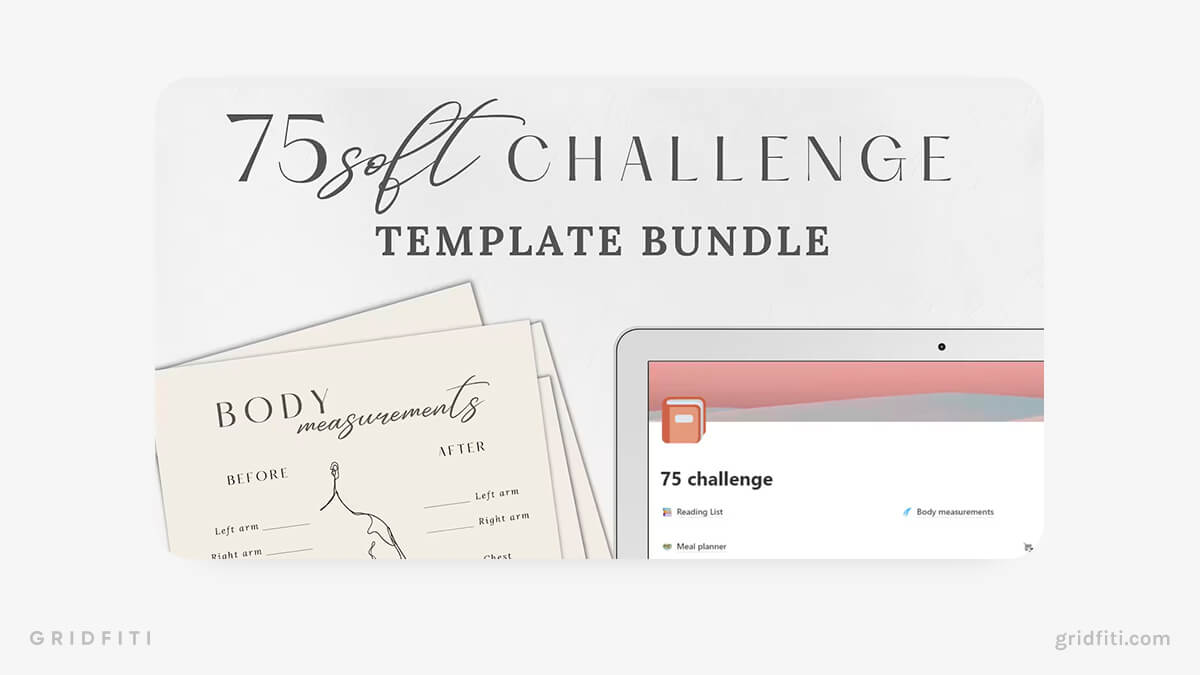 75 Soft Notion Template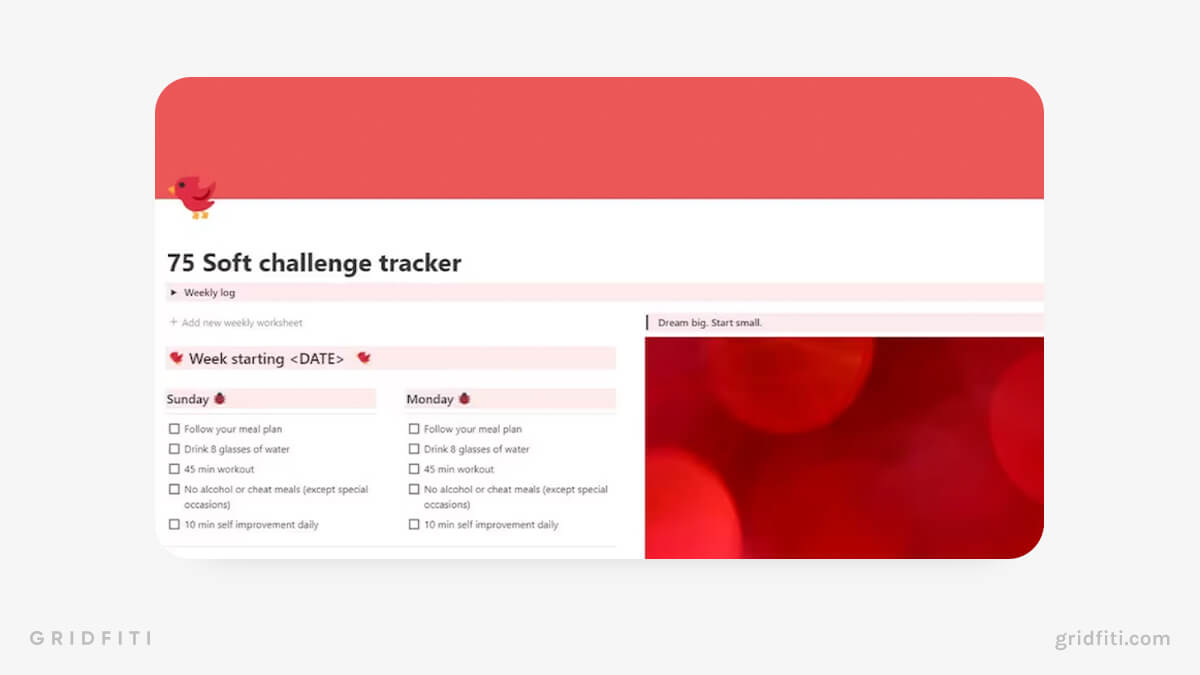 Colorful 75 Soft Challenge Habit Tracker for GoodNotes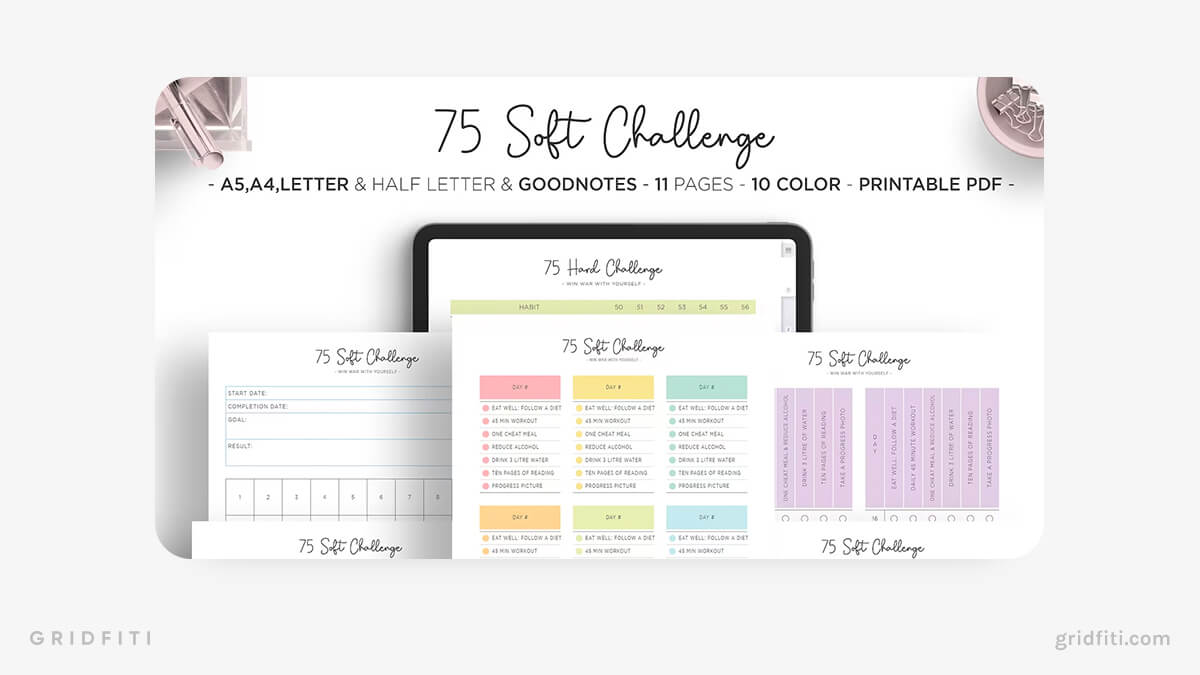 Pastel 75 Soft Challenge Tracker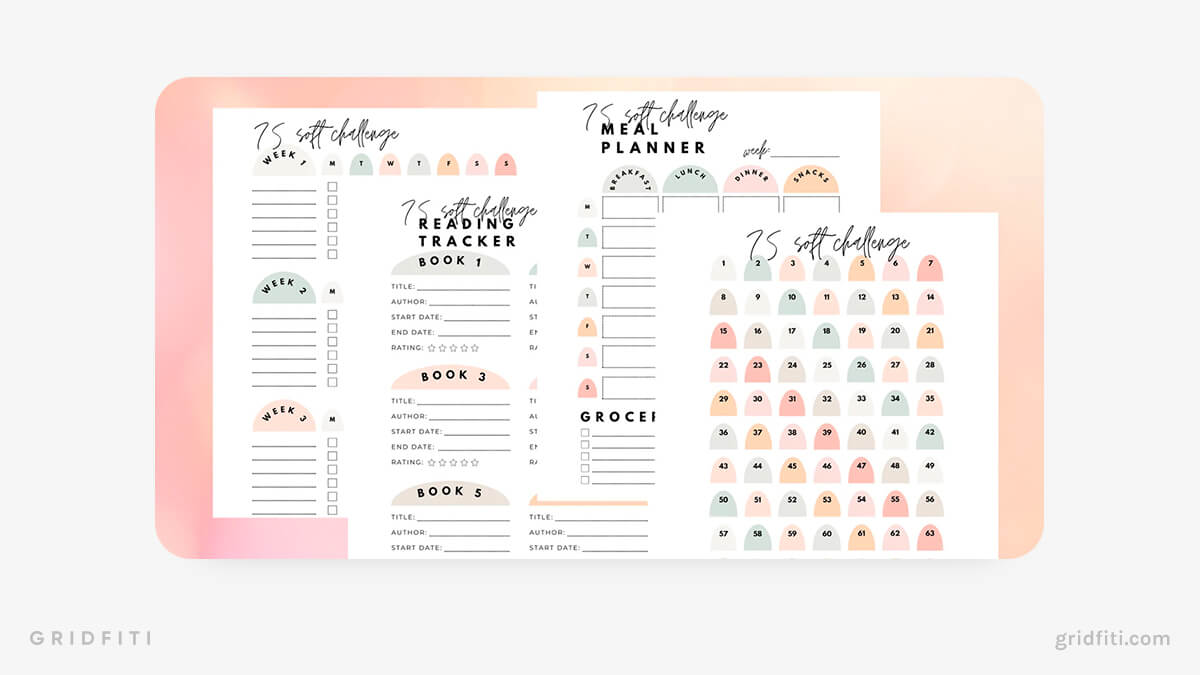 75 Soft Challenge Bundle with Meal & Daily Planner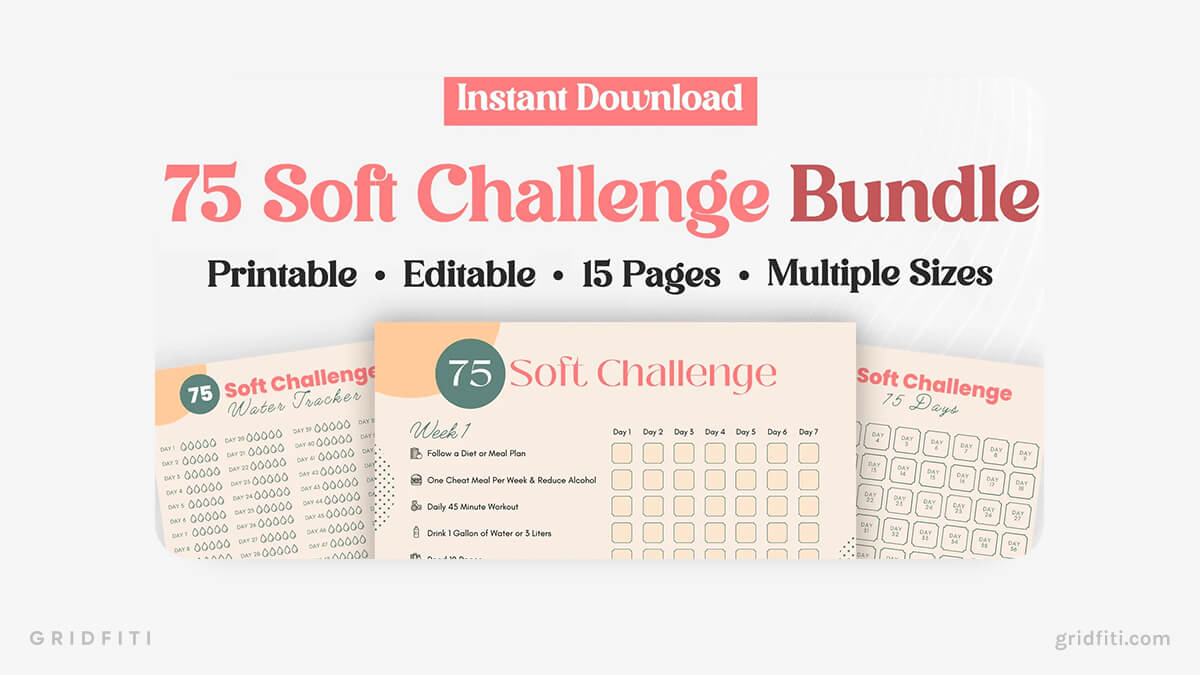 Free 75 Soft Templates
Want to challenge yourself and start the 75 Soft experience, but you don't want to pay for a template quite yet? Here are a few of our favorite free 75 Soft templates that'll help you track your progress.
75 Soft PDF Task Sheet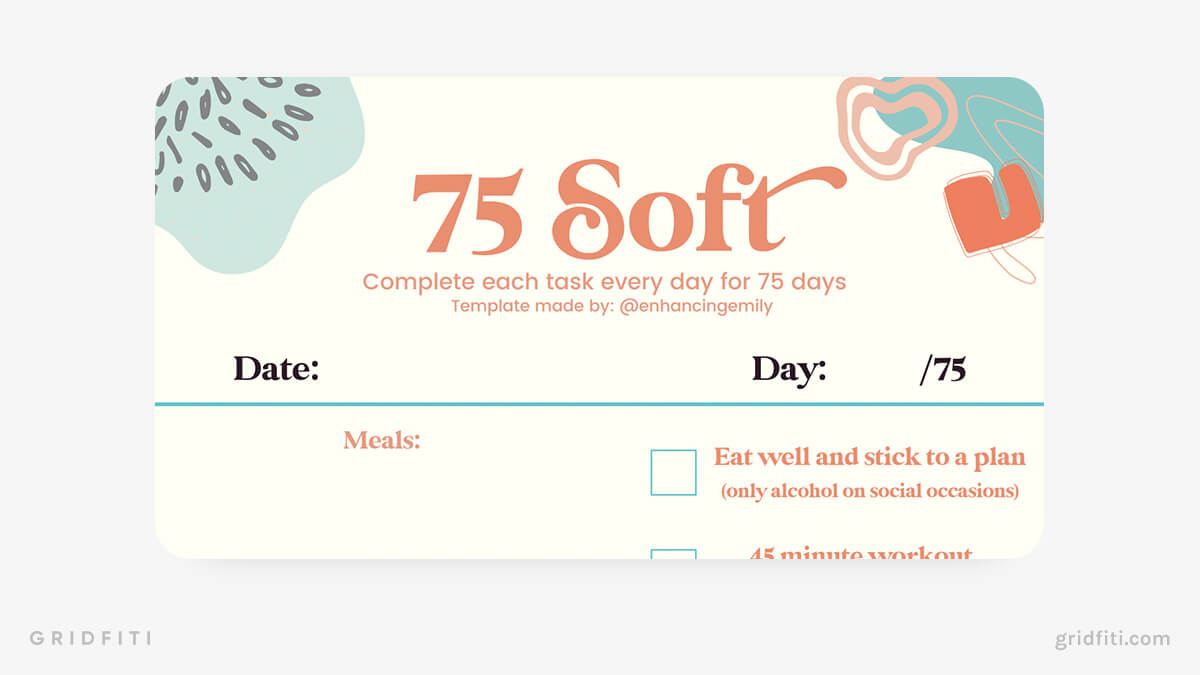 75 Soft TikTok Template (Screenshot at End)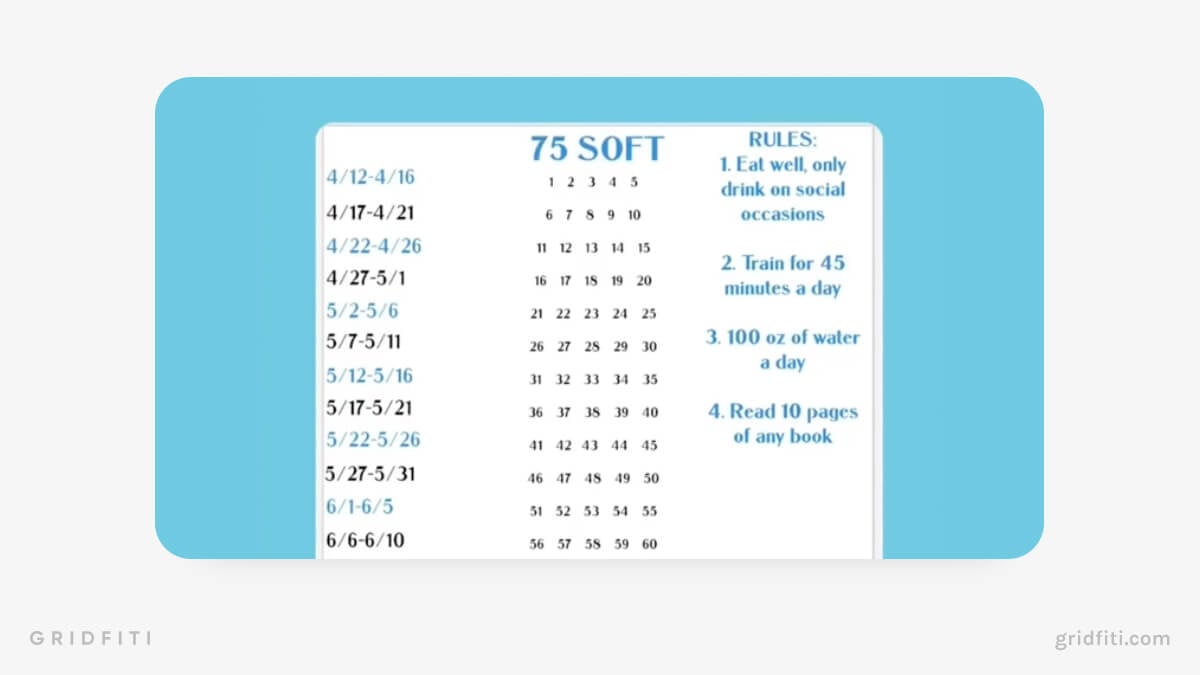 Colorful 75 Soft PDF Templates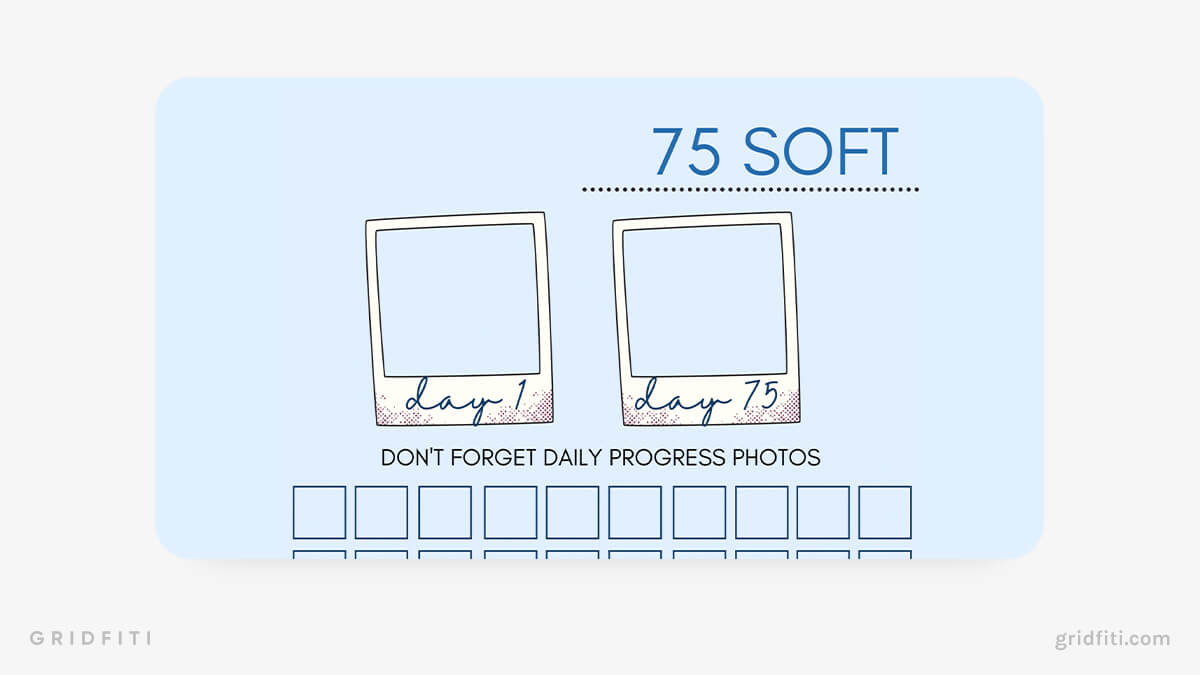 Are we missing any good 75 Soft templates? Which other templates should we include in the round-up? Let us know in the comments down below!
Gridfiti is supported by its audience – when you buy something using the retail links in our posts, we may earn a small commission at no additional cost to you. Read more about our affiliate disclaimer.