The paracord camera strap is by far my favorite adjustable strap to use. There are many benefits to having a braided camera strap and you can actually choose between an adjustable wrist strap or a shoulder strap to use. People often question whether the paracord camera straps are actually strong enough to hold larger camera bodies and from my experience they definitely are.
Paracord is short for parachute cord, which is used by the military and that's a pretty good indicator of its strength. I've had a couple paracord camera straps throughout the years and they've all held up very well – even in tougher environments. These camera straps are super versatile and you can use them on both small compact film cameras or large DSLR bodies without any issues.
The best thing about these braided camera straps is that they are pretty inexpensive to buy and even cheaper to make. I'm personally not a super crafty guy, so I prefer buying the camera strap, but the DIY paracord camera straps look pretty easy to make. When I was first in the market to buy a camera strap for my camera, I wasn't sure what to get so I created this comparison to help you decide which paracord camera strap you should buy or even DIY!
The Best Paracord Camera Straps You Should Buy
There are several braided camera straps that you can buy online or in-store. Although, if you're going down the paracord camera strap route, I would recommend buying one from a trusted brand. You put a lot of money towards buying a good camera, so it is worth investing some more money into getting a high-quality camera strap. Purchase a reliable camera strap so that you don't have to worry about dropping it while you're running around on your photoshoots.
1. DSPTCH Paracord Camera Wrist Strap & Shoulder Strap
My paracord camera strap of choice is the DSPTCH camera wrist strap with the stainless steel clips. This is a strap that I've had for a few years now and it is still in great condition. There are a couple reasons why I like this camera strap and the biggest thing has to be it's quality. DPSTCH is a well-known brand that makes amazing products and the wrist strap is no different. The camera strap is made from high-quality 550 type three paracord and has solid stainless steel clips which firmly secure the camera to my wrist. This is also ranked number one as my personal favorite camera wrist strap.
Buy the DSPTCH paracord wrist strap from B&H Photo & Video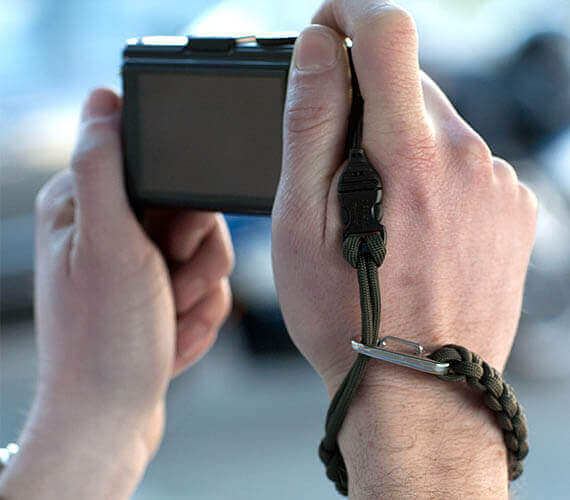 The second reason why I like the DSPTCH camera wrist strap so much is because of its ability to integrate with its braided sling strap. The DSPTCH braided sling strap is minimal and is very reliable for longer photoshoots that require more movement. All DSPTCH camera straps use flat slide buckles which firmly secure the strap to the camera. Since they all use the same slide buckle, you can leave the buckle on your camera and switch between the wrist strap and sling strap within seconds. These DSPTCH camera straps are what I use for my current setup and I've included them as my favorite Sony camera accessories!
Buy the DSPTCH Braided Shoulder Strap from B&H Photo & Video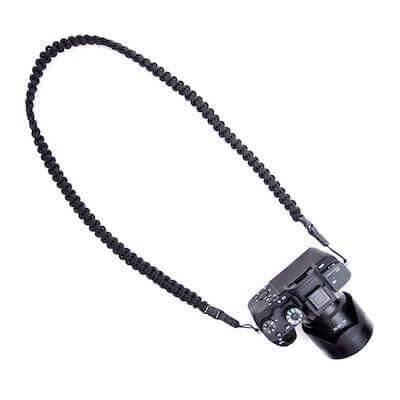 2. Langly Hybrid Paracord Shoulder Camera Strap
The next braided shoulder strap that I recommend is the Langly Hybrid paracord strap. I say hybrid because half the strap is made from paracord and the other half of the strap is made from high-grade nylon webbing and suede lining. I personally have the Langly simple camera bag and love it. Langly is a reputable brand that also produces high-quality photography accessories, so the Langly camera strap is no different. The hybrid camera strap is great because some people don't like the feel of the paracord as much on the shoulders. Having the comfort of the threaded nylon and the durability of the 550 paracord is a good balance to have in a camera strap.
Buy the Langly paracord strap from Langly.co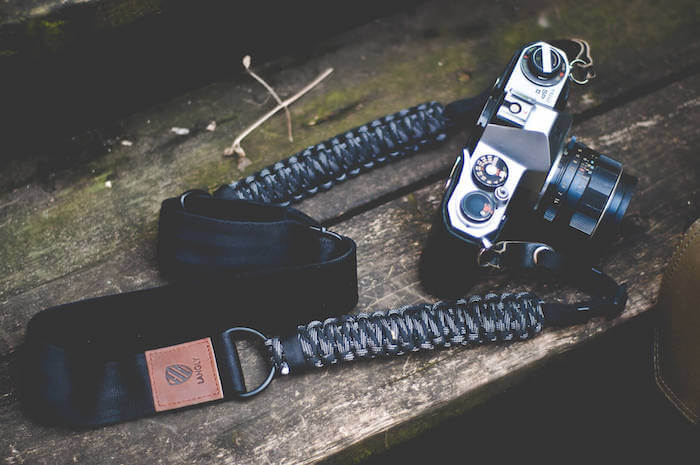 3. Techion Braided 550 Paracord Adjustable Camera Wrist Strap
For a cheaper alternative to the DSPTCH and Langly camera strap, I would recommend the Techion paracord adjustable camera strap from Amazon. For under 10$ you can get a solid braided camera bracelet and it is also built from 550 type III paracord. The only downside compared to the other two camera straps that I've recommended is that there isn't a dedicated clip to attach to the camera. So you would be using the paracord to directly loop into your camera. To make it easier, you can purchase ring camera strap hooks to make it easier to attach.
Buy the Techion strap now from Amazon
4. Helix Braided Camera Neck Strap
Last up on my recommendations is the Helix braided camera neck strap. With 34 inches of length, this neck strap is a popular paracord camera strap from Amazon. In addition, the Helix camera strap is 100% homemade and the design of this braided camera strap is very nice with minimal leather tabs on the ends. This paracord neck strap is also a solid alternative to the other types of straps. It also comes with camera ring clips on the end so you don't need to buy the strap hooks separately. All of the reviews say that the pictures don't do the camera strap justice and everyone recommends the braided camera strap.
Buy the Helix braided strap now from Amazon
How to Make a DIY Paracord Camera Strap
I've gone through quite a few paracord camera strap tutorials and picked out the best ones. The two that I picked out show you how to create a braided camera wrist strap and a braided camera neck & shoulder strap. To make both of these straps, they will require the exact same materials.
Materials Needed to Make the Paracord Camera Strap:
All of these materials shouldn't cost you too much and you can probably make more than one with all of the extra paracord string. The DIY paracord strap should be reliable enough for you to have around your camera if you make it properly.
DIY Paracord Camera Wrist Strap
DIY Paracord Camera Shoulder Strap
Should I Make or Buy a Braided Camera Strap?
Hopefully by now I've given you enough information and recommendations for you to decide which paracord camera strap is right for you. If you have the time and want to save some money then I would recommend the DIY paracord camera strap route.
If you are willing to spend some money on a quality braided paracord camera strap, then I would recommend buying one from either DSPTCH, Langly or the two Amazon recommendations. Buying one will give you a peace of mind when you go out and shoot with your expensive camera.
Have any other recommendations on a good paracord camera strap? Let me know in the comments below, would love to hear your suggestions!
Gridfiti is supported by its audience – when you buy something using the retail links in our posts, we may earn a small commission at no additional cost to you. We only recommend products we would use ourselves and recommend to our friends and family. Read more about our affiliate disclaimer.