Namaste! Online meditation timers come in handy while performing solo yoga flows or meditations, or even if you want a relaxing break between your focus sessions. Keep track of time while meditating or know when to transition to your next yoga pose.
Plus, the hum of a gong or Tibetan singing bowl can help you find a moment's peace after a long day. Find your inner zen with our selection of online meditation timers for relaxation and yoga!
---
Subscribe to our weekly newsletter, The Flow — a concise, value-packed focus and recharge digest for a balanced approach to productivity:
---
Drag & Click Meditation Timer
The Drag & Click Meditation Timer is an awesome aesthetic online meditation timer. Start by setting the countdown to your timer beginning before setting the duration of your yoga or meditation setting. Toggle the interval bell for a chime to remind you to change pose or position.
You can customize the Drag & Click Meditation Timer by setting a motivational display message and changing the background by uploading your image.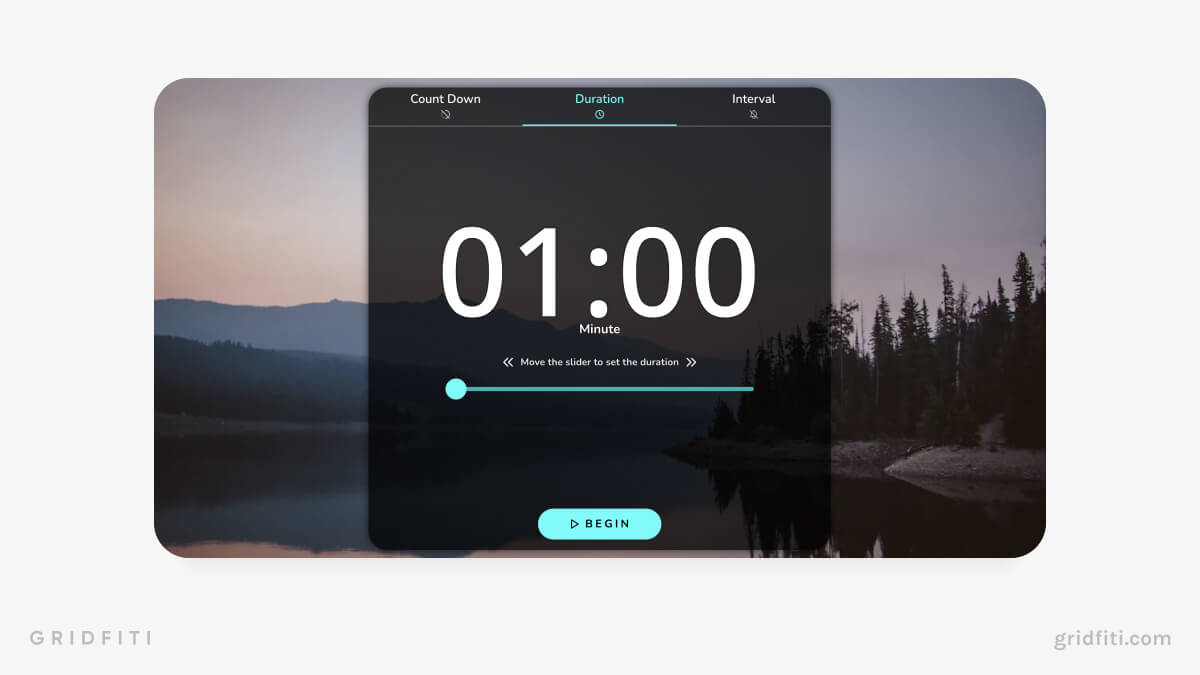 Meditation Timer with Light & Dark Mode
Meditation Timer with Light & Dark Mode features sliders for preparation, meditation, and intervals. Set a timer up to two hours long, with individually customizable bell intervals. Switch between three relaxing bell chimes, and toggle light or dark mode to match the time of day.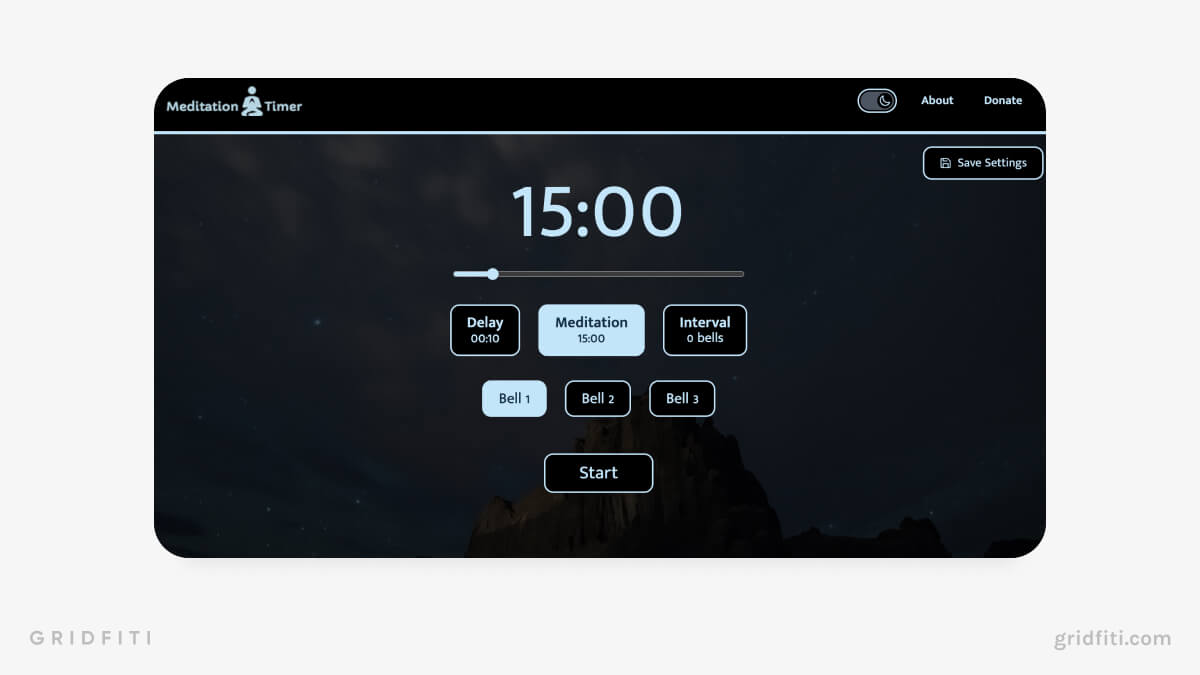 Meditation Timer with Gong Sounds
The Meditation Timer with Gong Sounds from Sage Meditation is ideal for relaxation on the go. Download six session timers ranging from five to 30 minutes and listen from your smartphone, laptop, or tablet. Three gongs signal the start and end of each session, with meditative silence in between.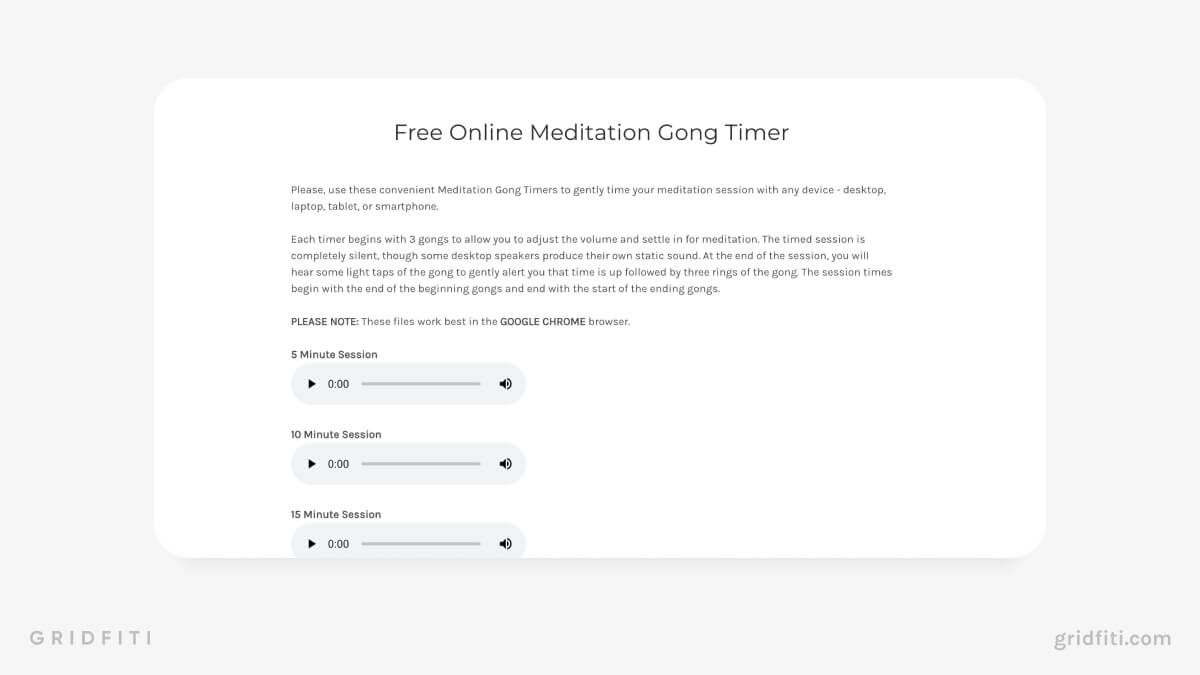 Zenmix Meditation Timer
The Zenmix Meditation Timer features six timers ranging from five minutes to an hour. Choose between bells or a crystal bowl chime to mark the beginning and end of your meditation or yoga session. Download each meditation individually to find your zen anywhere, anytime!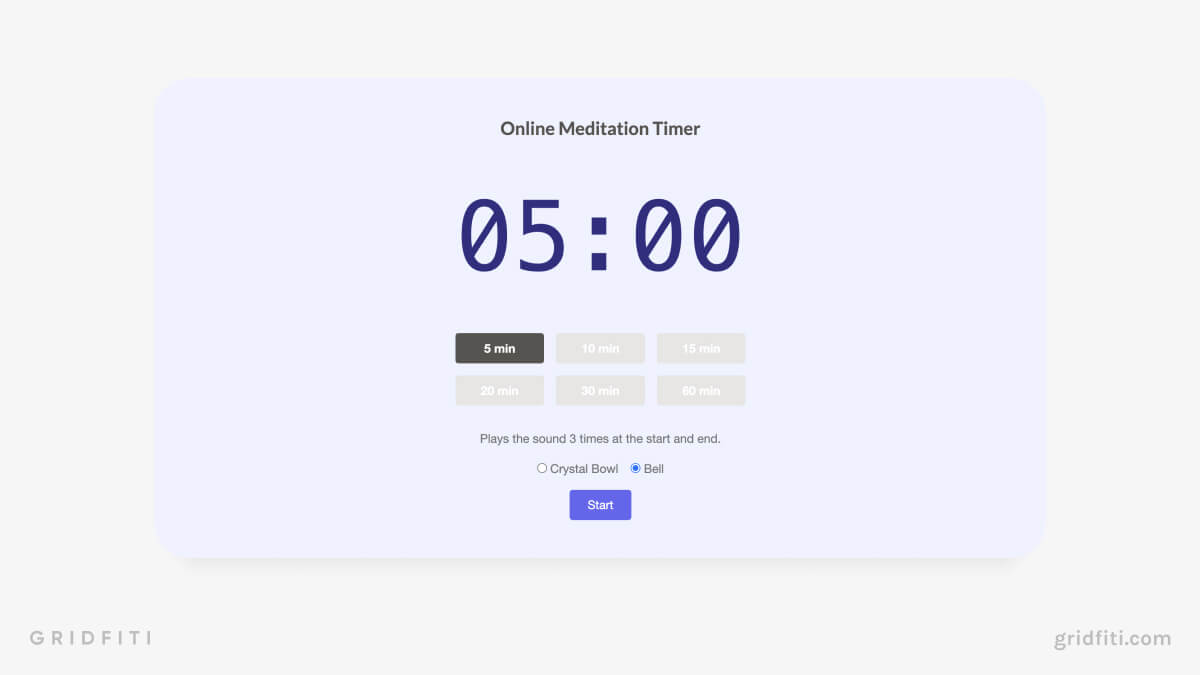 Meditate Web Timer
This free online meditation timer by SimpleTouch lets you manually customize your meditation length, prep time, and bell intervals. One of the best features is the ability to name and save your meditations for later. Share your relaxation timers with others by copying your timer's custom URL.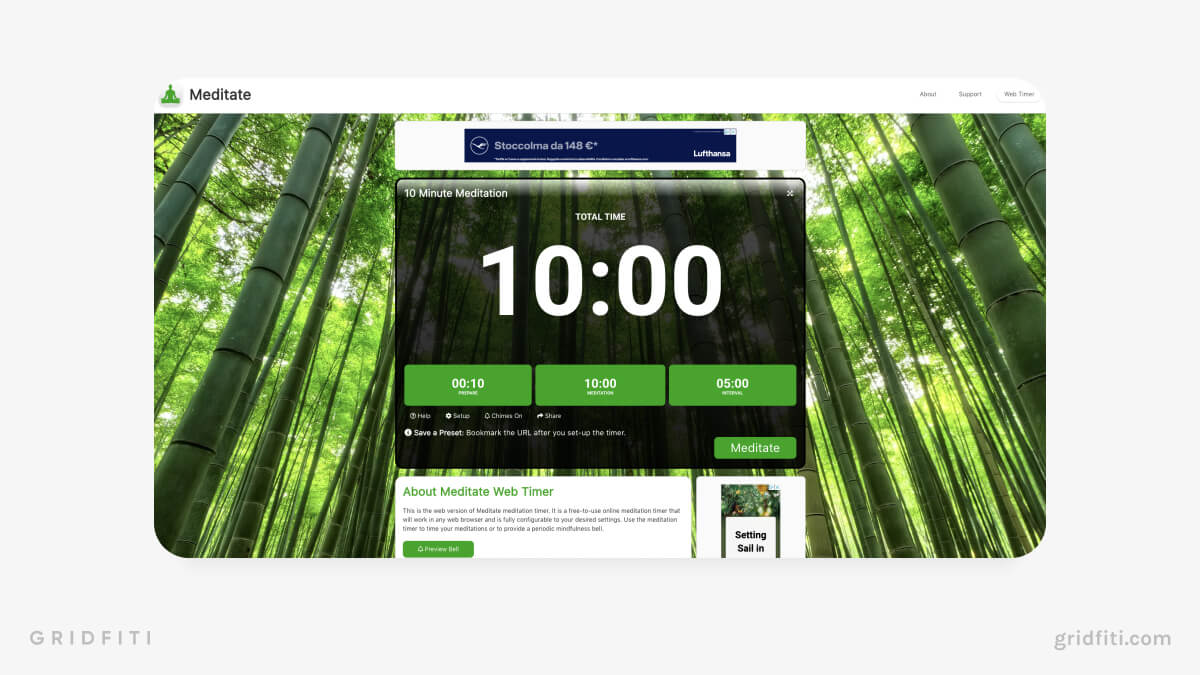 Medivate Count Up & Count Down Timer
Count down or up while timing your next meditation or yoga flow with Medivate. Set chimes to play during your relaxation session at the start, end, or in intervals. Medivate works on desktops, tablets, and phones and functions when your device is in sleep mode. Create a free Medivate account to keep track of your completed meditations.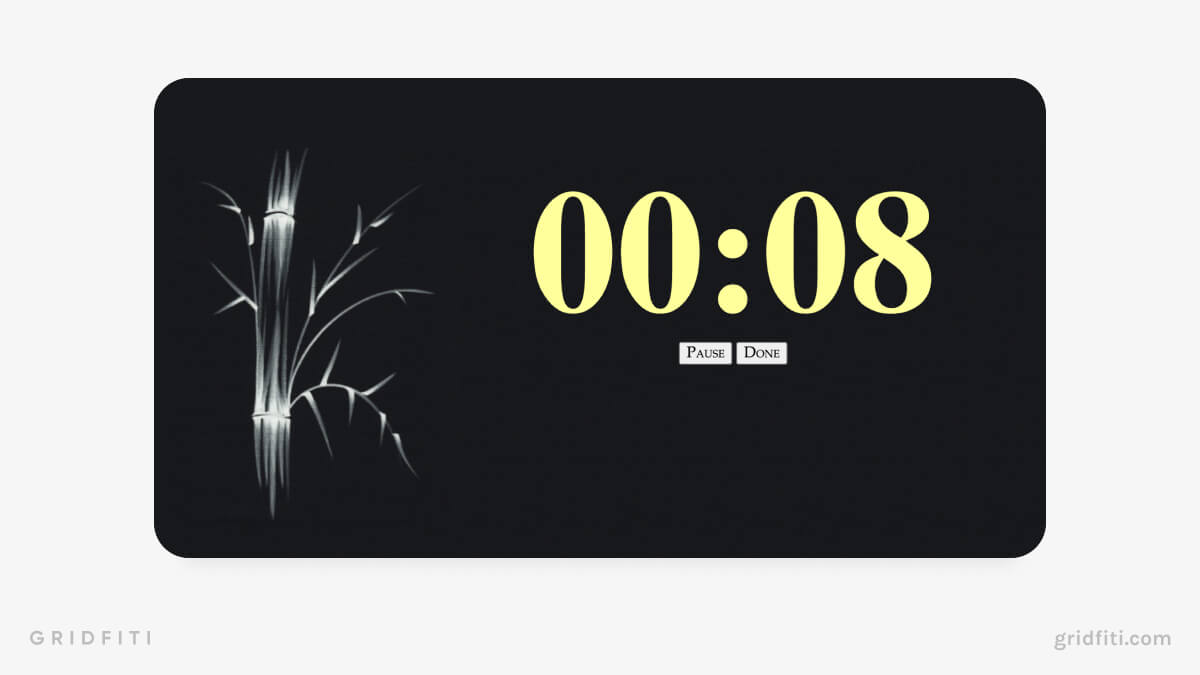 YouTube Meditation Timer Videos
A quick search of YouTube will reveal dozens of meditation videos of varying lengths with peaceful backgrounds and chimes to help you stay relaxed. Check out some of our favorite YouTube meditation vids below!
Timer Videos Here: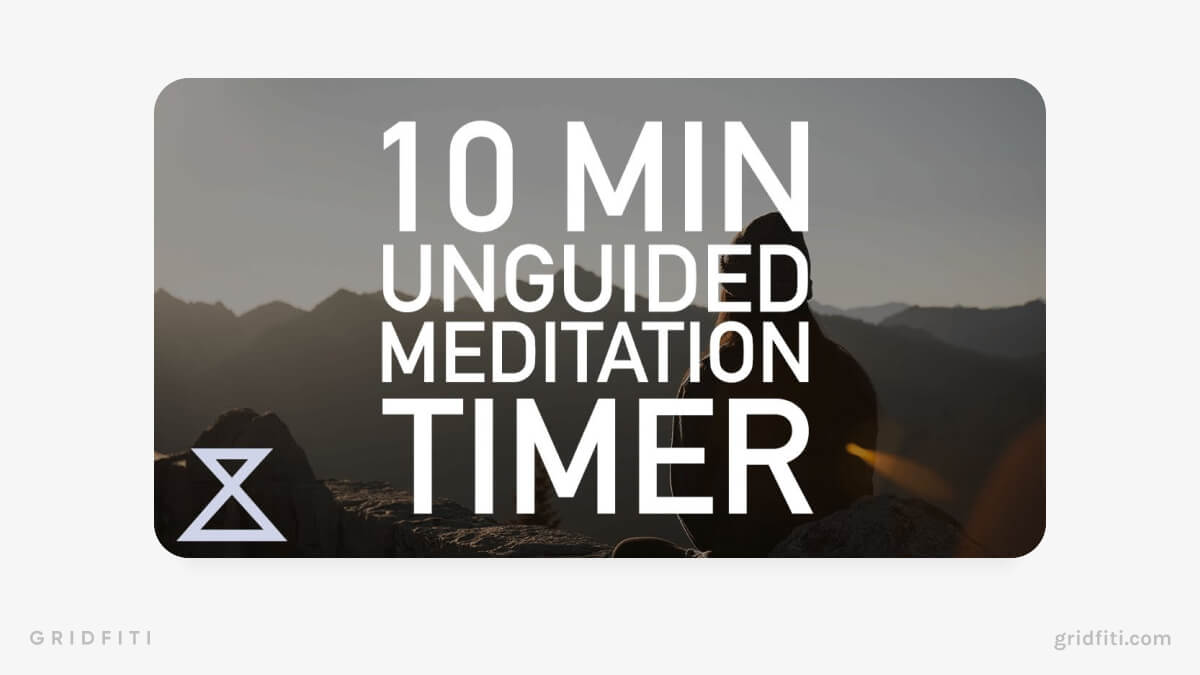 Did we miss your favorite online meditation timer on our list? Let us know in the comments below!
Gridfiti is supported by its audience – when you buy something using the retail links in our posts, we may earn a small commission at no additional cost to you. Read more about our affiliate disclaimer.