From the Lake Show to South Beach and the North to Rip City, we've seen some of the NBA's top talent dominate the court, but what are they driving in? From a mix of American Muscle and classics to rare European luxury and exotics, check out some of these star NBA players cars.
Want more automotive inspo? Join our mailing list to get the latest car content straight to your inbox 📮
Devin Booker's Car – Slammed 1972 Chevy C10 Truck & 1959 Chevy Impala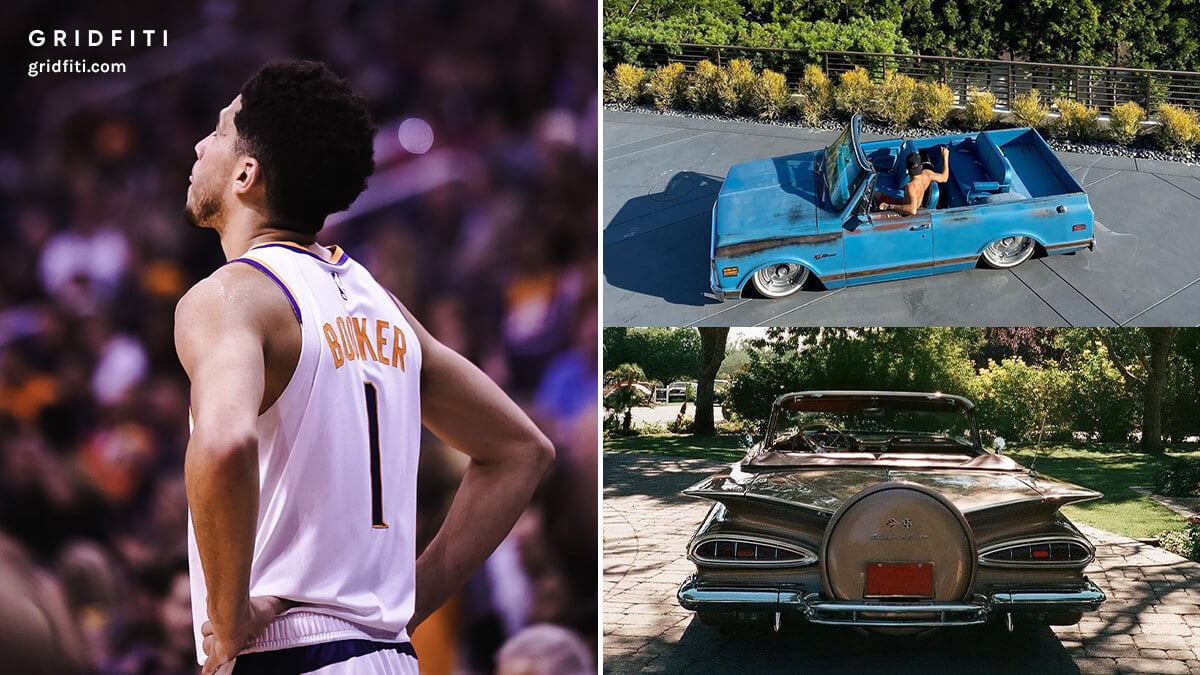 Image by Phoenix Suns via Twitter
When you think of some of the top basketball players cars, you'd think the sleekest newest possible cars that money can buy. Devin Booker does it differently with his unique low-riders. A custom 1972 Chevy C10 truck converted to a slammed convertible, where the truck bed becomes the rear seating area — and a beautiful 1959 Chevy Impala lowrider to complete the duo. Need we say more?
If you've seen all the clips on Twitter of DBook pulling up to the 2021 playoff games in a new car every day, you'll also have seen a blacked-out Buick Grand National, and a Golden Donk '71 Chevrolet Caprice!
Paul George's Car – Ferrari 458 Italia Spyder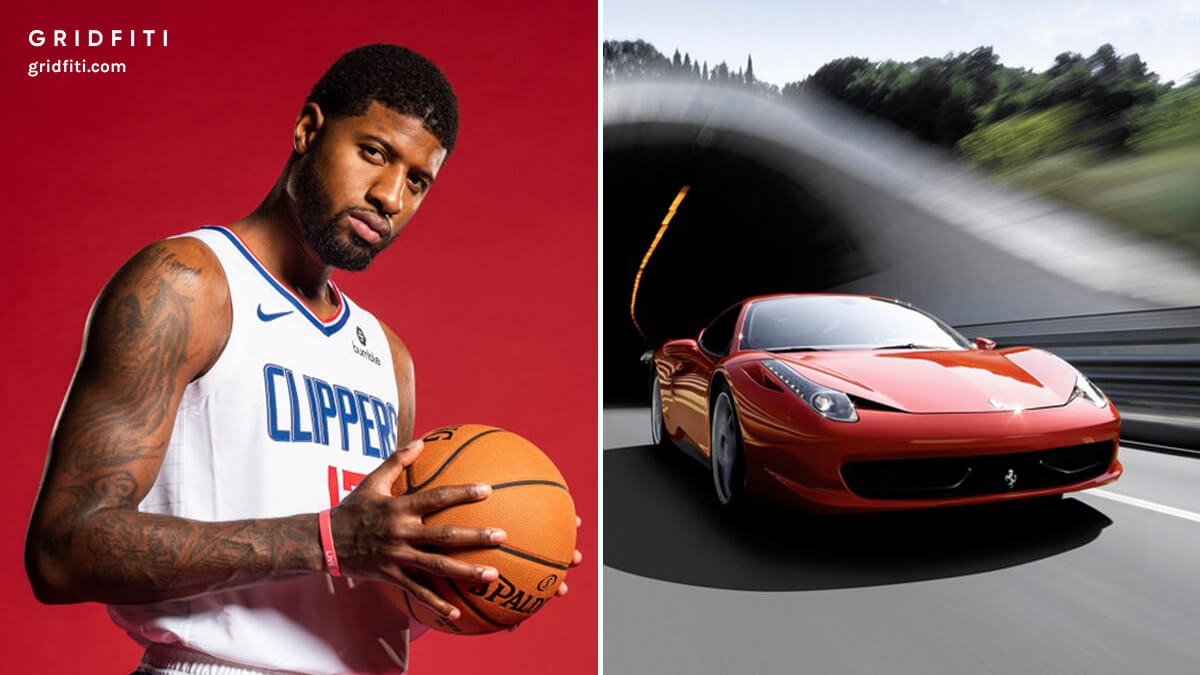 Images by Atiba Jefferson and Ferrari
The Power Forward definitely enjoys his prancing horse. Paul George sports the last naturally aspirated V8 mid-engined Ferrari, the 458 Italia Spider. A perfect supercar to cruise with its 562 horses and the top down in Indiana, OKC… or even LA.
Miles Bridges's Car – Land Rover Range Rover
The first SUV for these NBA players' cars comes from Charlotte Hornets Forward, Miles Bridges, with his Land Rover Range Rover. If luxury were to take the form of an SUV, and be sprinkled with some off-roading capabilities, the Range Rover would be it. Range Rovers have become a staple of the rich and famous, so it's not a surprise that one would land in Bridges' driveway.
Kyle Lowry's Car – Ferrari 812 GTS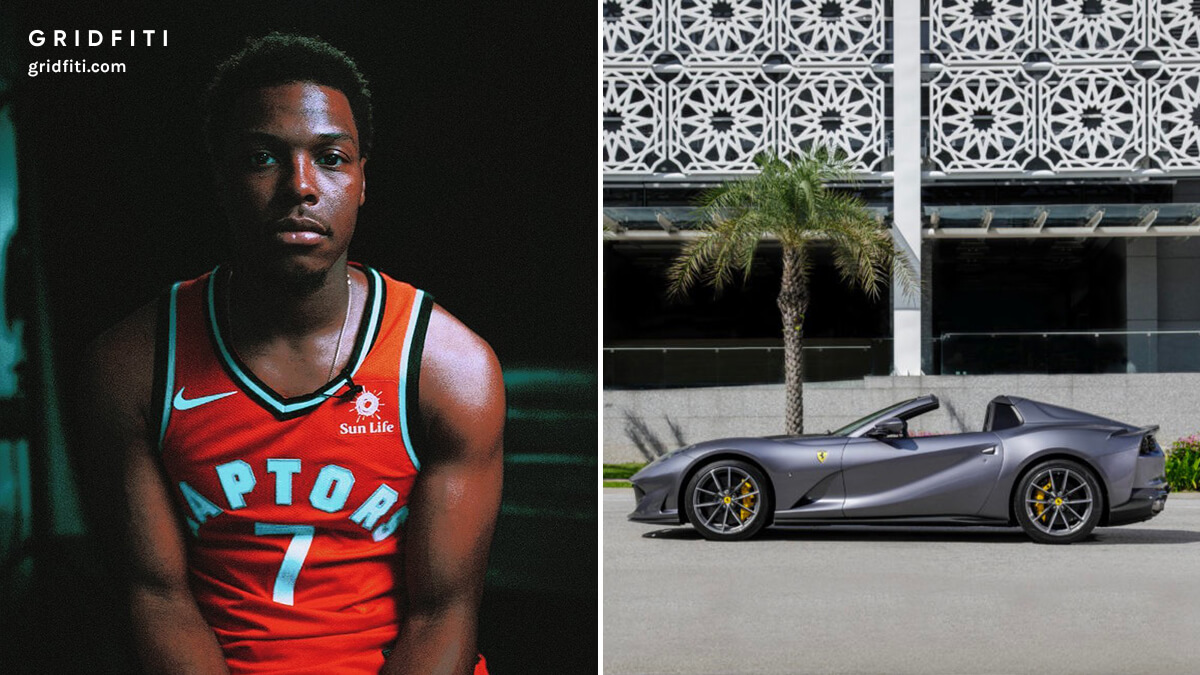 Images by Kishan Mistry and Lifestyle Asia
The Toronto Raptors Point Guard just took delivery of a brand-new Ferrari 812 GTS. A year after bringing his team its first ever championship, Kyle decided to get his hands on a prancing horse himself. Among all of these NBA players cars that are Italian, the 812 GTS's 789 horsepower V12 definitely packs a punch like no other Italian car on the list.
Dwyane Wade's Car – Mercedes SLR McLaren & McLaren 720s Spider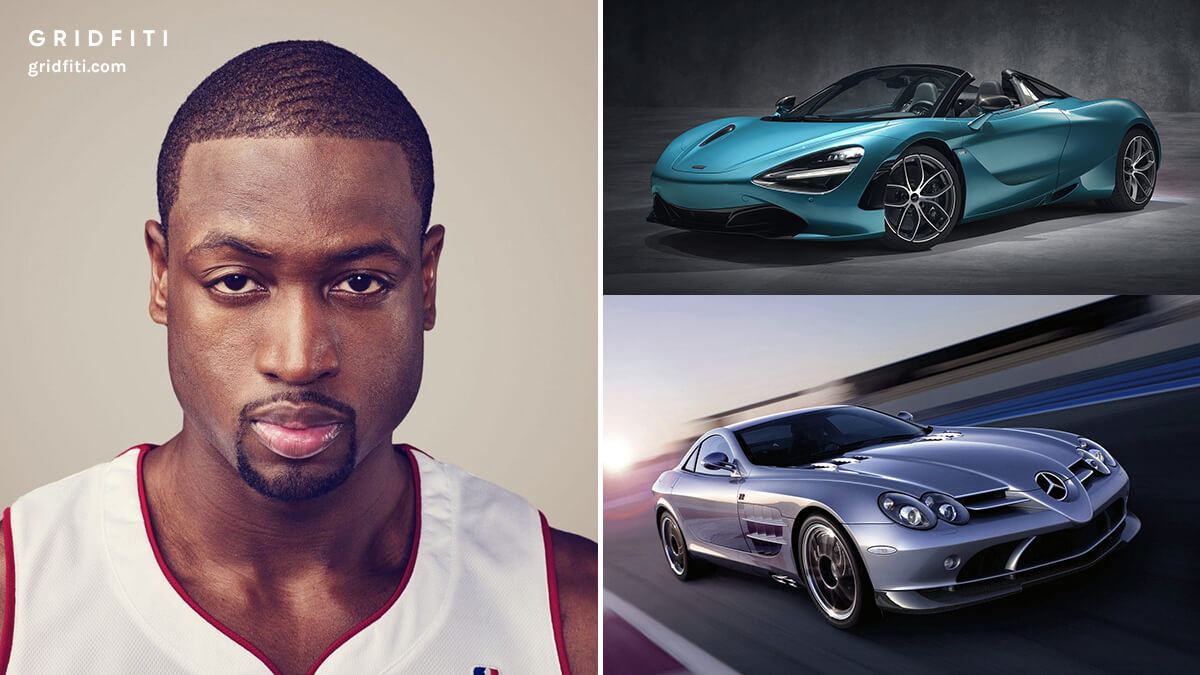 Image by Marcus Eriksson
Spending his glory years in Miami, Dwyane Wade had to show up for the many exotic and exclusive cars that you'd find on the strip. Dwyane was one of the first to own the Mercedes SLR McLaren in 2003 when the car arrived – a collaboration between the two brands, where McLaren built a lightweight Mercedes body around a 600hp engine. Many years later, Dwyane would embrace his McLaren roots and would get himself a McLaren 720s as a retirement gift after his iconic 16-year career.
Kevin Durant's Car – Mercedes SLS AMG

Images by Nick Friar and Mercedes
Kevin Durant's Mercedes SLS AMG is a modern classic, taking inspiration from the iconic 300SL Gullwing, there's no denying that! The two-time NBA champ owns one of the only cars built entirely in-house by AMG from the ground-up. Powered by a hand-built 583 horsepower 6.2L engine, the SLS AMG is truly the German muscle among all of these NBA players' cars.
James Harden's Car – Rolls Royce Wraith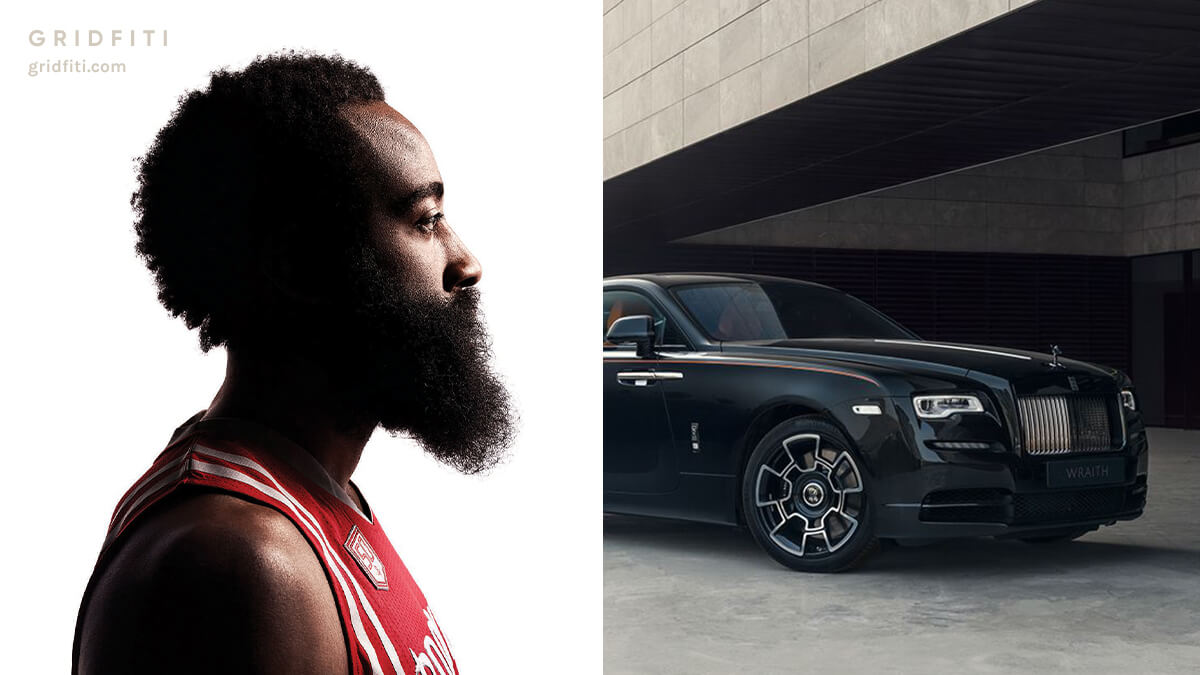 Image by Art Streiber
James Harden is not afraid to make a statement with his cars. His two-tone red and black Rolls Royce Wraith is the ultimate statement of luxury. The Wraith definitely helps the Houston Shooting Guard's presence be known. Completely bespoke, the Wraith's 623 horsepower twin-turbo V12 is enough to haul the 2 tonne behemoth of a car from 0-60 in 4.4 seconds.
Tyler Herro's Car – Mercedes S63 AMG

Images by Sean Berry and HD Car Wallpapers
How did Tyler Herro spend his first $1 million during his rookie year at Miami you ask? Well, besides the Gucci purse he got for his mom, he went straight to the Mercedes dealer to spend $200K of that mill on a brand new S63 AMG. What happens when ultimate luxury meets sheer power? You get the 603 horsepower 4.0L bi-turbo V8 S63 which we're sure Herro has no problem ripping down Ocean Drive.
Damian Lillard's Car – Bentley Bentayga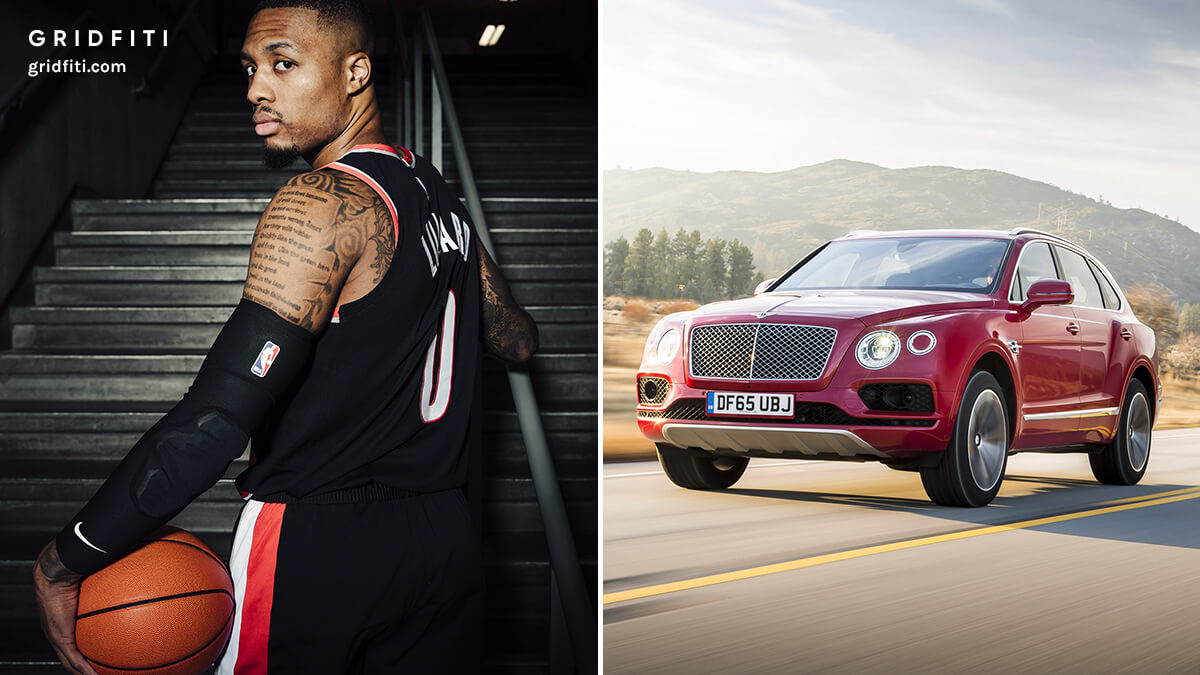 Image by David Salafia
Dame Dolla himself needed the perfect car to match with his son on the cover of his album "Big D.O.L.L.A". Together, they rock a children's plastic Bentley Continental GT while he sits atop his Bentley Bentayga – essentially a yacht for the road, with a powerhouse twin-turbo 6.0L W12 engine.
Derrick Rose's Car – Bugatti Veyron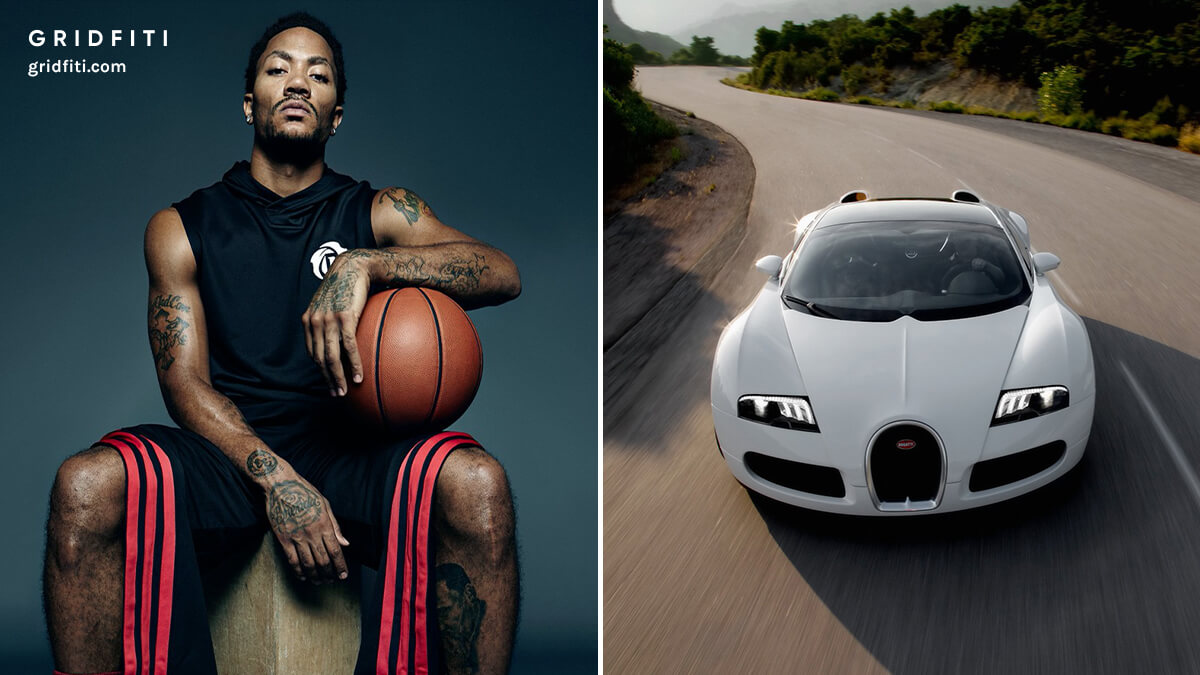 Images by Peter Hapak and Sports Galleries
Probably the highest end and most elite of the NBA players' cars, Derrick Rose owns the mighty Bugatti Veyron, which joined the ranks as one of the fastest cars ever made. The $1.7 million car's 1200 horsepower W16 engine launches the car from 0-60 in 2.5 seconds, and is capable of a 267.86 mph top speed! Not too shabby for the Pistons Guard.
LeBron James's Car – Nike Lamborghini Aventador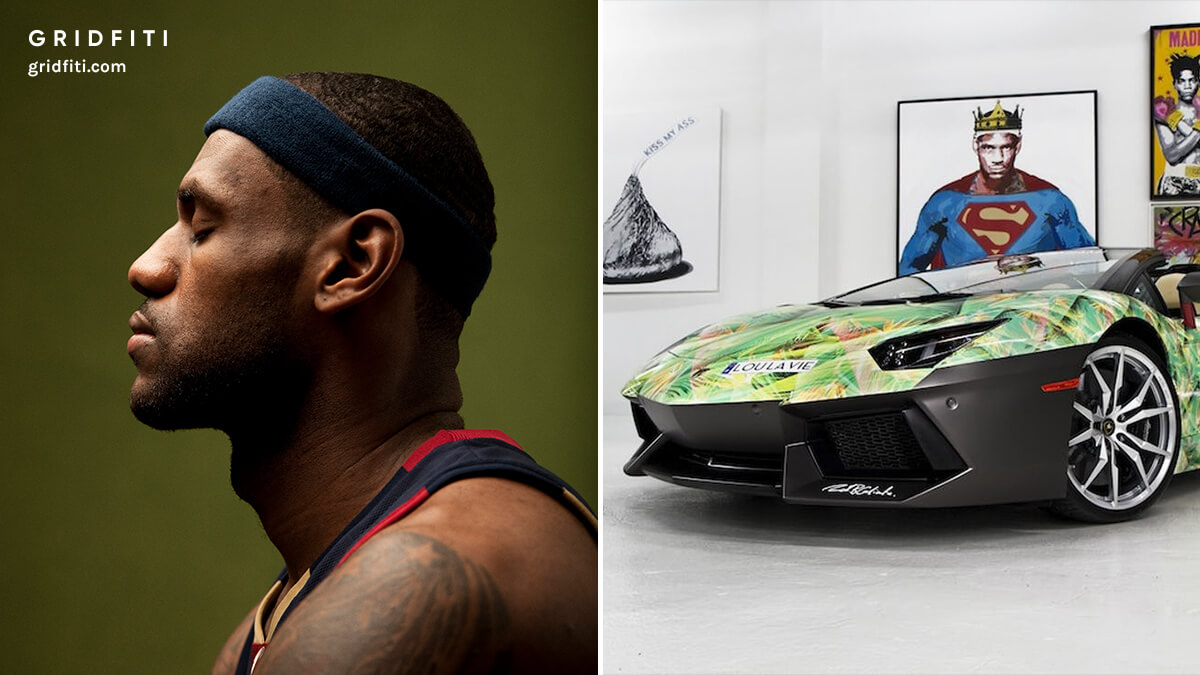 Images by Smithsonian and Sole Collector
King James was gifted this custom-wrapped Lamborghini Aventador from Nike to celebrate the launch of the King James Legacy sneakers in 2014. Not many NBA players' cars came as a gift on this list – the Italian supercar's 6.5L V12 is part of a dying breed of supercars. Its large engine displacement and naturally aspirated power feels like a thing of the past, we hope the 4 time NBA champion puts the car to good use
Which NBA star players car is your favorite? Are there any other pro basketball players that have cool car collections? Let us know down in the comments below!