Wires, cords, and cables are usually the messiest aspect of an office. Whether you work as a photographer, graphic designer, or blogger, chances are you have at least half a dozen cables snaking across your office floor.
Whether you're sick of tripping over errant cables or trying to make your workspace fit in with your aesthetic, there are many ways to declutter your cables. Keep your workspace wire-free with these tips on how to hide your desk wires, cables, and cords!
Want more setup and productivity tips? Join our newsletter!
Minimize your cable usage
Before you even think about tidying your desk wires, start with decluttering your workspace. Storing cables you never use is one of the easiest ways to tidy your desk.
If there's a pile of cables in your workspace, you might find old wires that you never use anymore. Before attempting to hide your cords, figure out which cords you need for your work each day, then decide where each one should go.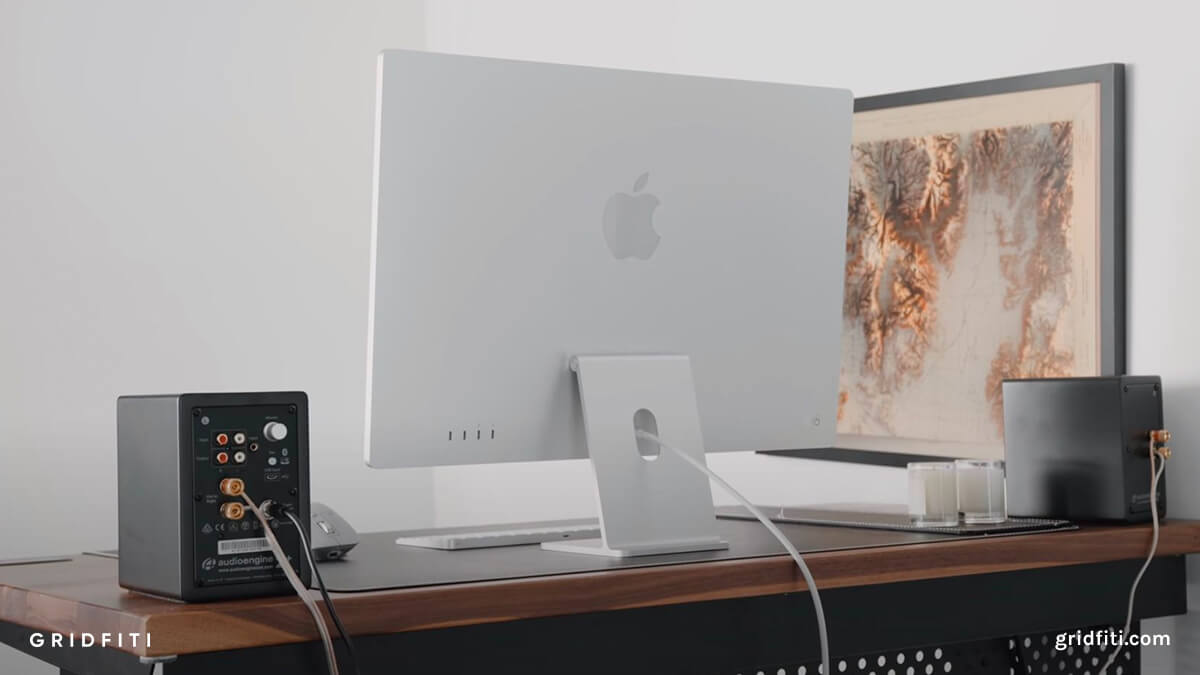 Frame via Justin Tse
Cable ties
Cable ties are one of the best tools to use when tidying your desk wires. Pick up a pack of 11-inch resealable cable ties to secure all your wires and minimize waste.
You never know when your office space will change, so choose resealable zip ties. Black or white zip ties are best as they're harder to see, but this will depend on your room's color scheme and the color of your wires.
Cable ties to try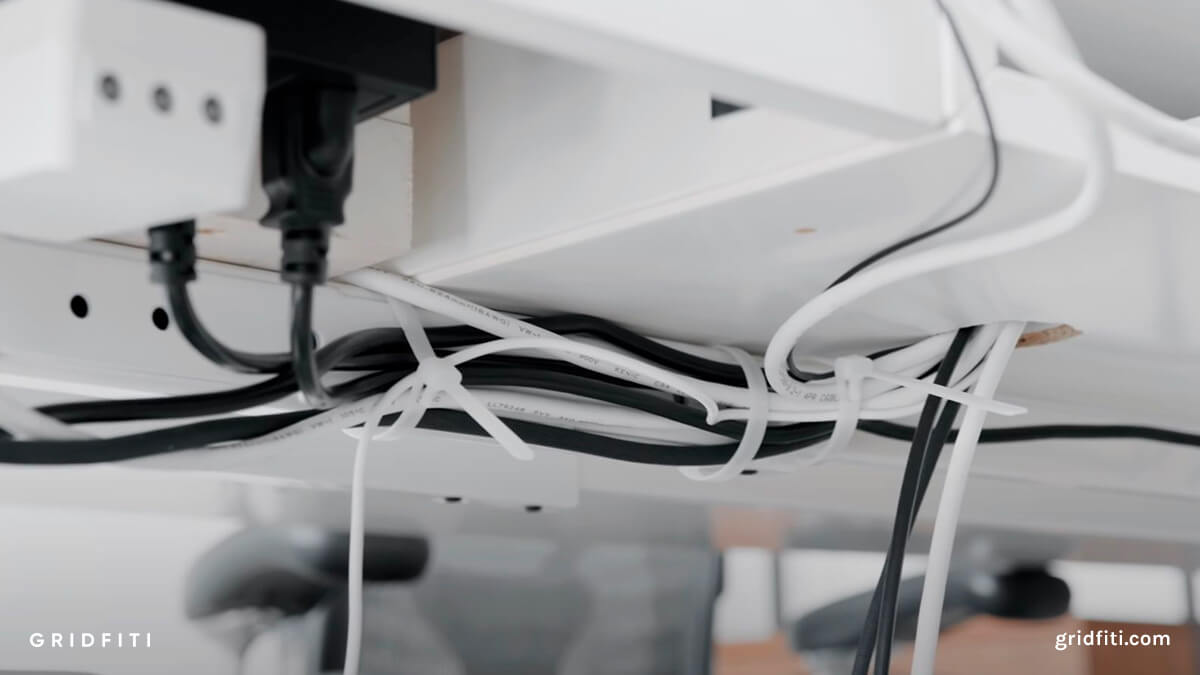 Frame via Justin Tse
Velcro straps
Velcro straps are a good alternative to zip ties as they're more pliable, and you don't have to worry about cutting off any extra slack. Just like zip ties, velcro strips allow you to fix wires in place and group together any leftover wiring. Velcro straps are reusable, so you won't need to spend more money to move cables around in your office.
Velcro straps to try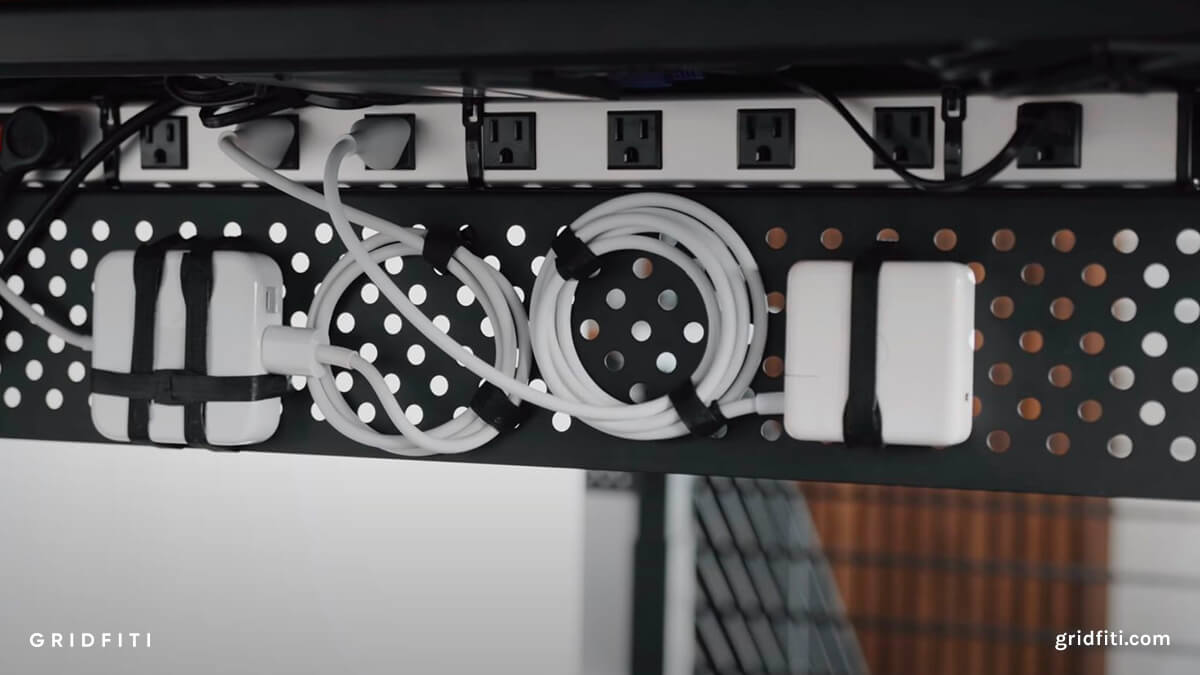 Frame via Justin Tse
Sticking your power bar under your desk
Another great way to hide your desk wires is sticking your power bar to the underside of your desk. All you need to do is clean the surface, and apply a good amount of 3M tape (or any other durable heavy duty tape). Firmly press your power bar into the tape until it adheres, and wait at least an hour until you plug anything in.
Heavy duty tape to try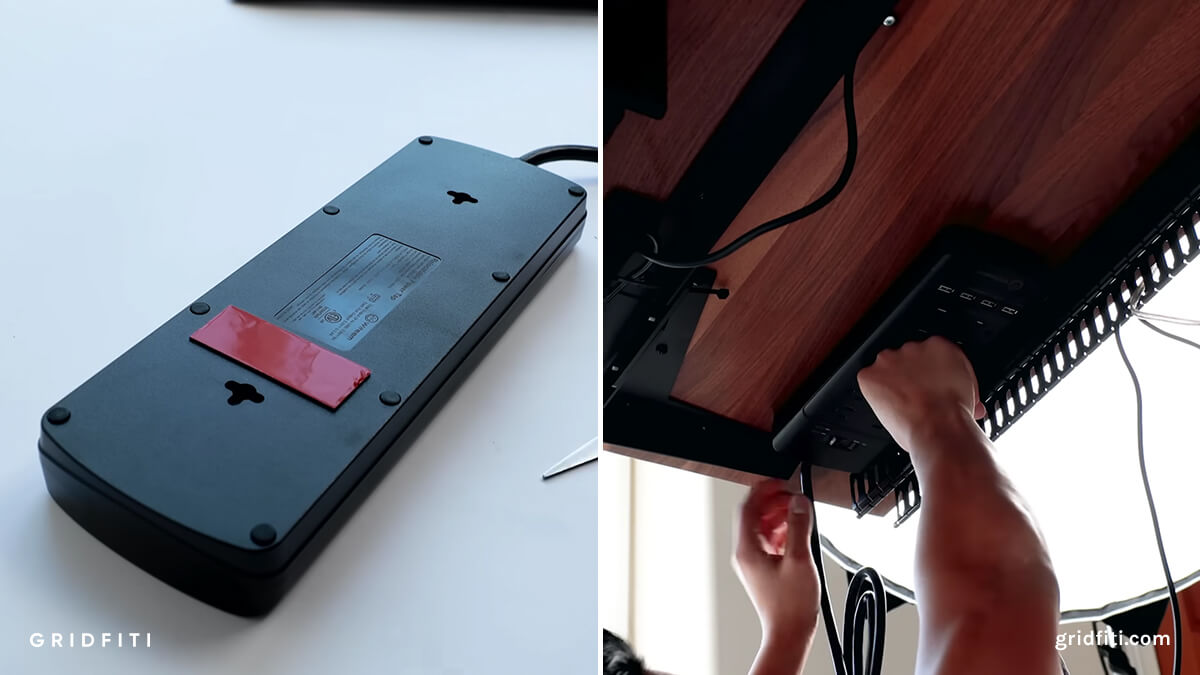 Frame via Edward Lee
Under-desk tray
Having several power cables running across your office space is messy, and there's always a chance you'll trip over a rogue cable. Under-desk trays let you thread your cables underneath your desk through one exit point straight toward a power socket.
Some under-desk trays and mounted bars have a grid plate, allowing you to attach your cables with zip ties, velcro, and hooks for a neat and secure setup. You could even attach a power strip directly to your under-desk tray, so only one wire will run out from your desk to a power outlet.
Under-desk trays to try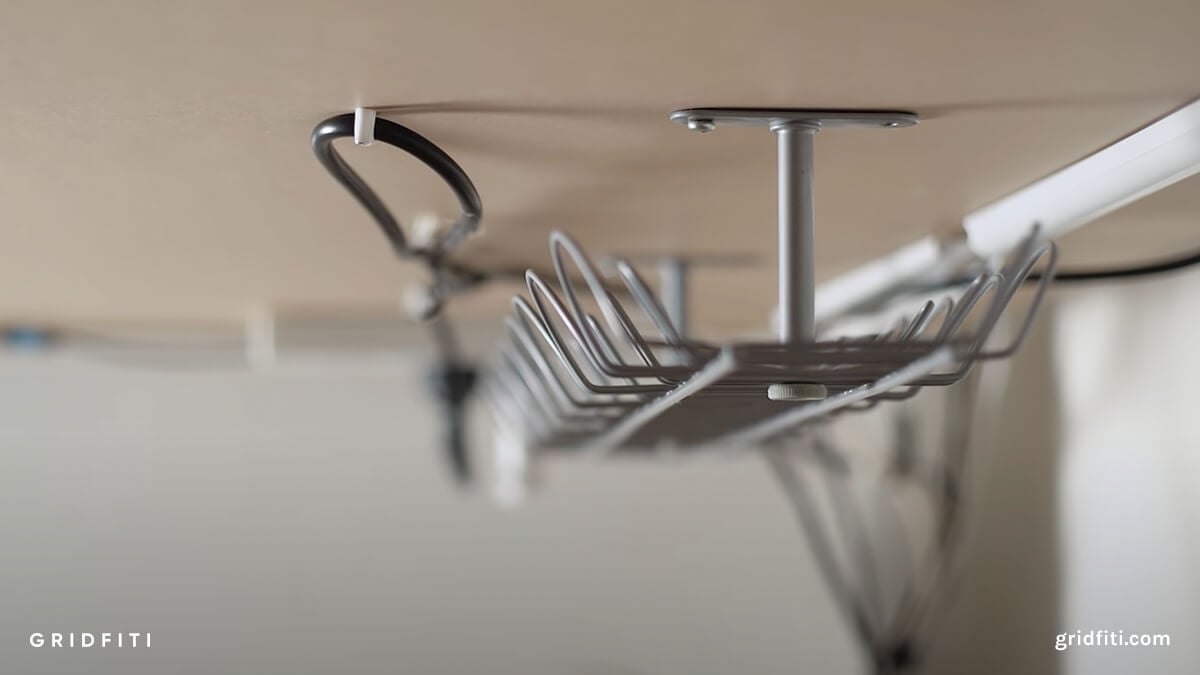 Frames via Sam Beckman
Cable covers and raceways
Keep your cables together without drilling holes in your furniture with a cable cover. You can buy magnetic cable hiders that attach to desk legs. Slot all your cords through the magnetic cover, and you'll have an easily removable cable management system. Magnetic cable covers make adding and removing cables simple for an adaptive workspace setup.
But what if your outlets are a few feet from your desk? Consider picking up some floor cable covers. With floor covers, you won't be stepping on or over your cables all the time, and they'll stay protected from potential damage.
Cable covers to try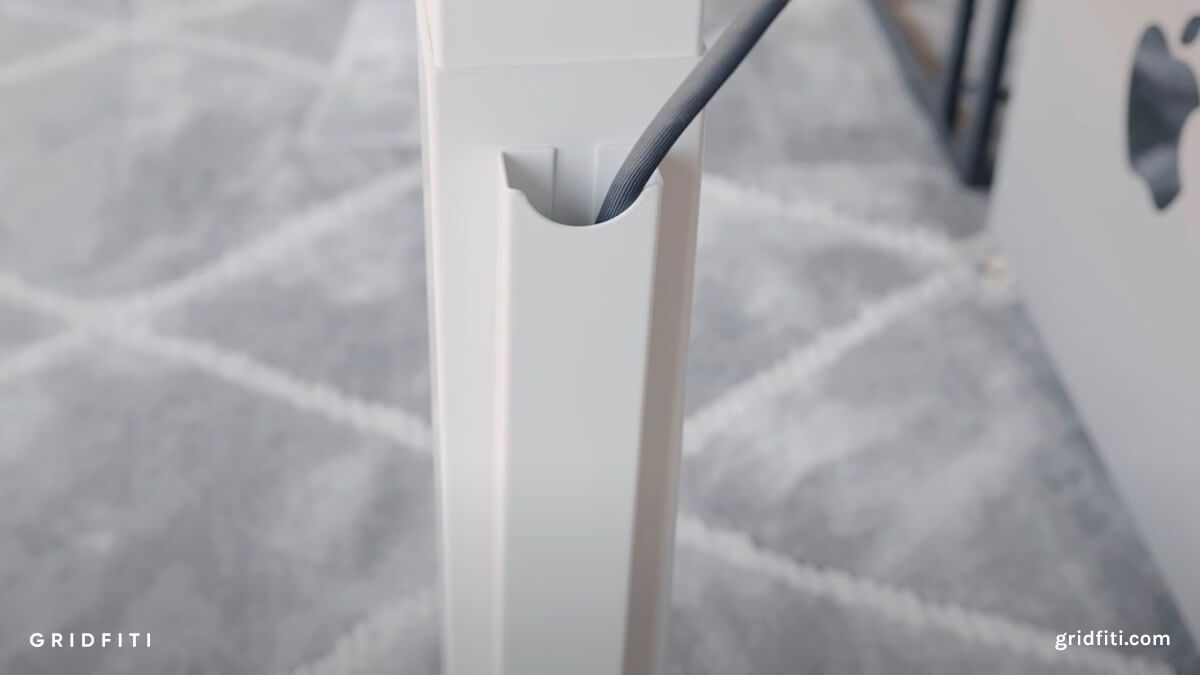 Frame via Justin Tse
Spiral wraps
Spiral wraps are cable covers that keep your cables together as soon as they exit your PC. Spiral wraps are a staple of many office environments as they're cost-effective and easy to install.
Simply cut a spiral wrap to the length you need, and then wrap it around your cables until you reach the socket. The spiral design also makes it easy to separate one cable away from the rest.
Spiral wraps to try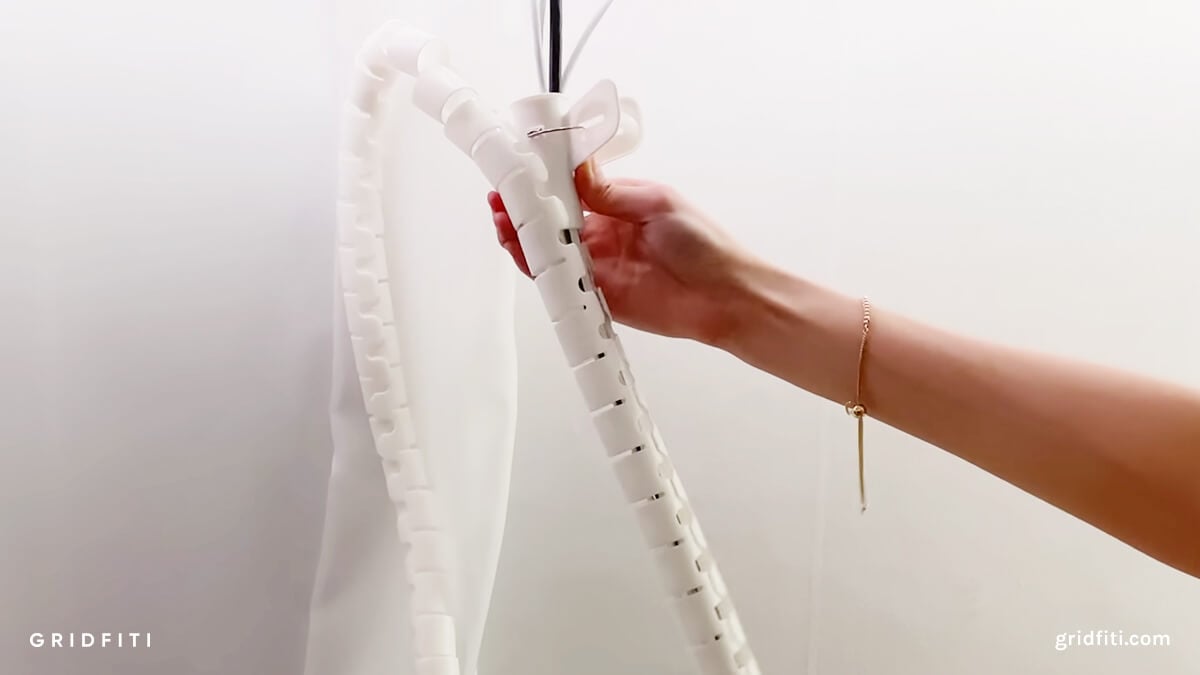 Frame via Krister Anne
Cable sleeves
Aside from spiral wraps, cable sleeves come in a variety of designs. Some sleeves can be zipped or velcroed together to make them easily removable. For other types of sleeves, all you need to do is thread the wires through.
Cable sleeves are almost always expandable, so you won't need to replace them if you add new tech to your office. Cables sleeves also come in various colors if you have a specific color palate for your workspace.
Cable sleeves to try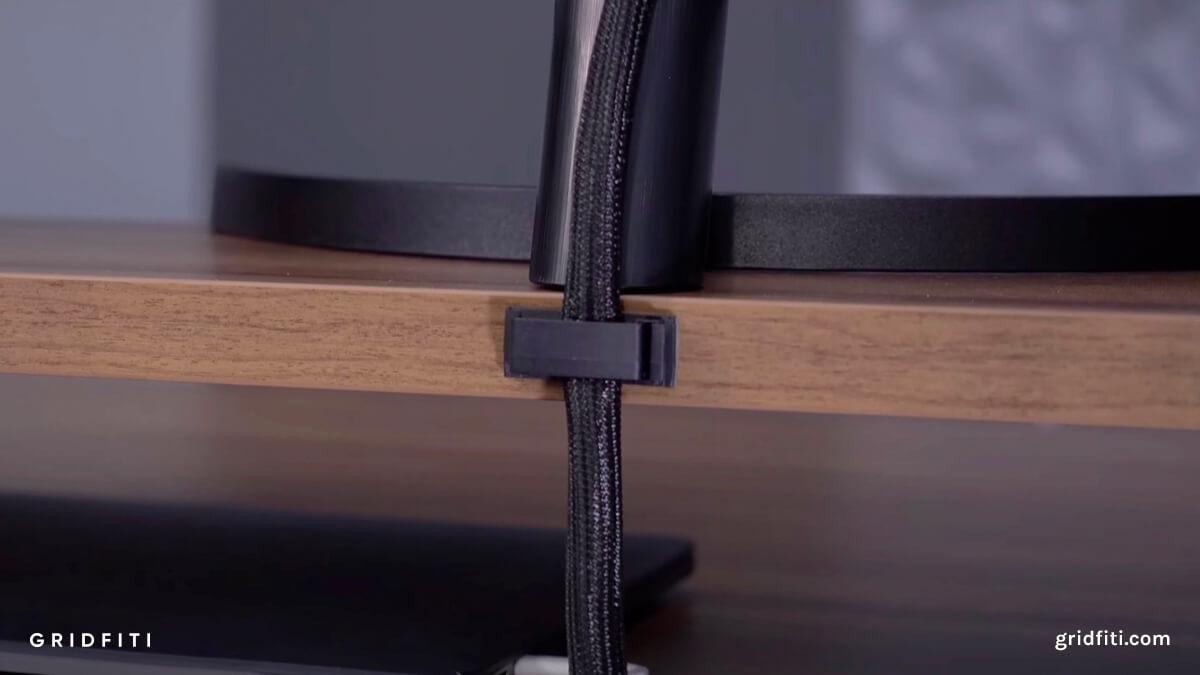 Frame via BTODtv
Cable boxes
Cables that are too long for your setup can cause a lot of headaches. All that extra slack can get tangled with the rest of your wires, making it tricky to plug and unplug different cables. Power strips can also look untidy, with half a dozen wires cluttering the underside of your desk.
Cable boxes can be placed under your desk — all you need to do is loop any cables through the slots in the box or place the cable box over your power strip. Cable boxes are aesthetically pleasing and stop your children and pets from playing directly with power outlets.
Cable boxes to try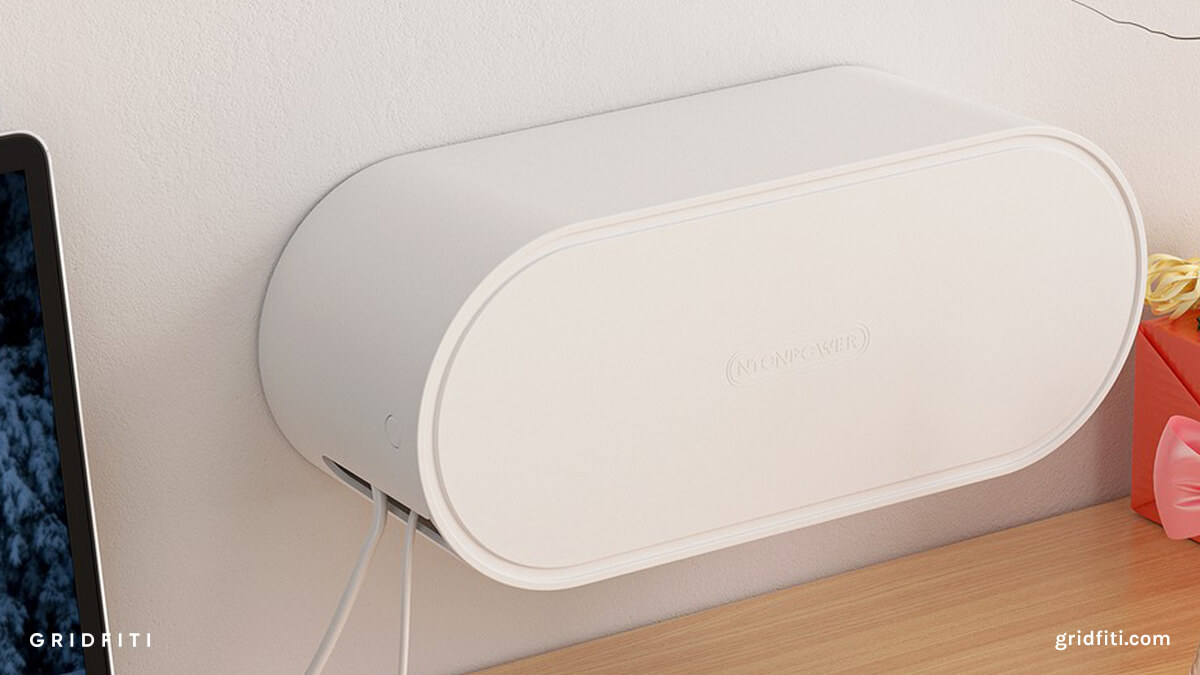 Frame via NTONPOWER
Cable holders
Cable holders are great if you're constantly charging your laptop or phone. Attach a multi-pronged cable holder to the edge of your desk with a power strip, and slot the end of unused cables into it.
Then whenever you need your phone or laptop adaptor, you won't have to root around under your desk. Cable holders also stop the fragile end of your phone chargers from getting accidentally run over by your office chair.
Cable holders to try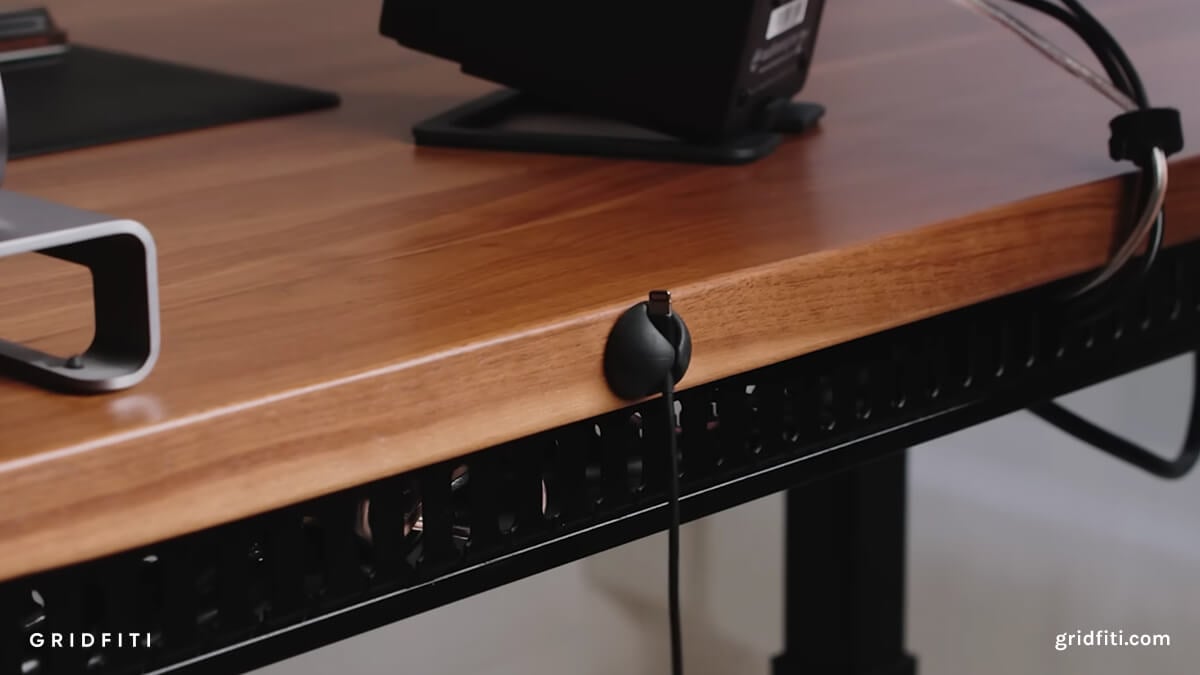 Frame via Edward Lee
Cable clips
Cable clips usually attach to desks with screws, but you can find adhesive options if you're unsure about the placement. Fix them to the legs of your desk, group your wires, and feed them through the clips to clean up your cables. Clips work well for an adjustable setup, as the wires are exposed and easily removed.
Cable clips to try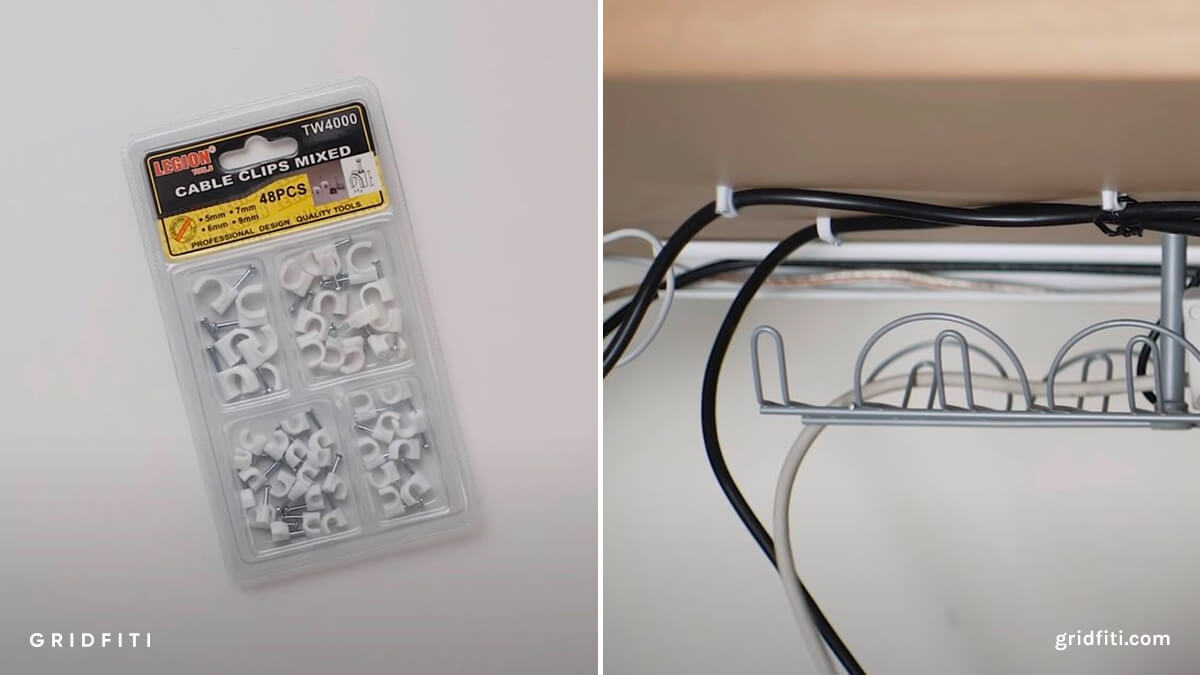 Frames via Sam Beckman
Pass-throughs
Pass-throughs are holes in your workspace that you can weave wires through. Many desks have a pass-through at the back, where you can feed cables from your PC.
If you don't have a built-in pass-through, you can get creative and drill your own pass-through. Drilling your own pass-through is a handy option as it lets you decide the best placement. Consider buying a grommet to fit into your pass-through to limit wear and tear and separate your cables.
Pass-through kits to try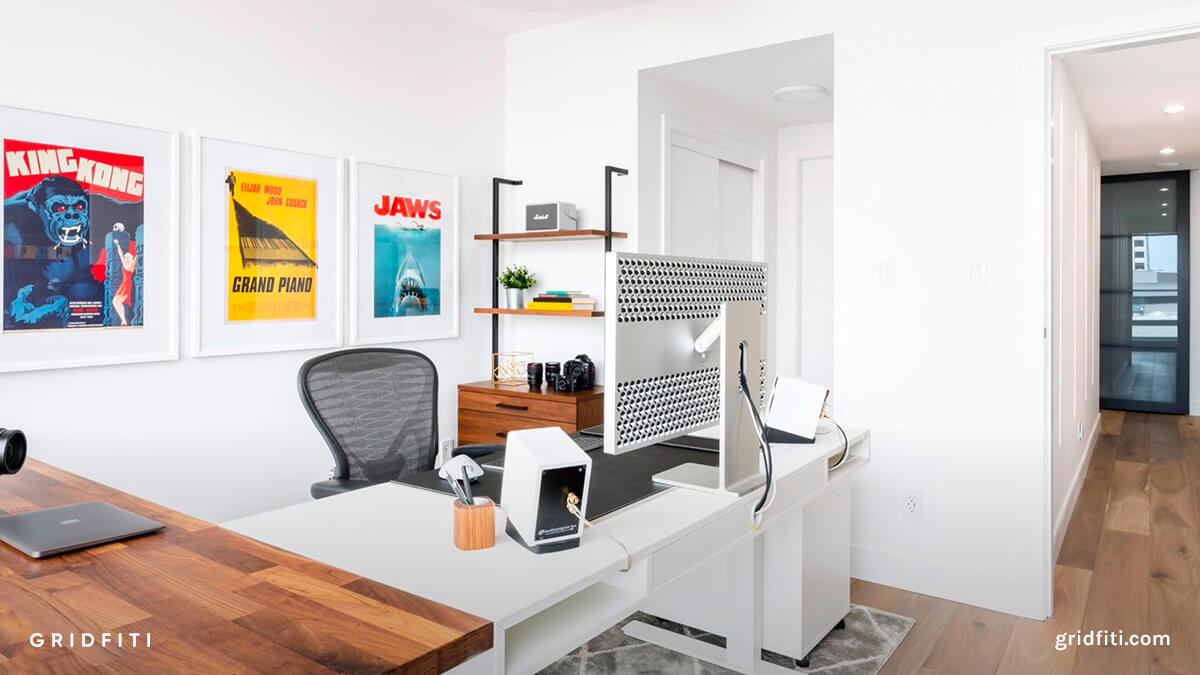 Frame via Justin Tse
Charging stations and wireless chargers
Charging pads keep your phone, tablets, and other devices all in one place. Place each device in its designated slot and plug it into its charger, which runs through the bottom of the station.
Charging stations keep your wires — and your devices — tidy and in one place. You could even splash out on a wireless charging station to remove the need for some of your chargers altogether.
Charging stations to try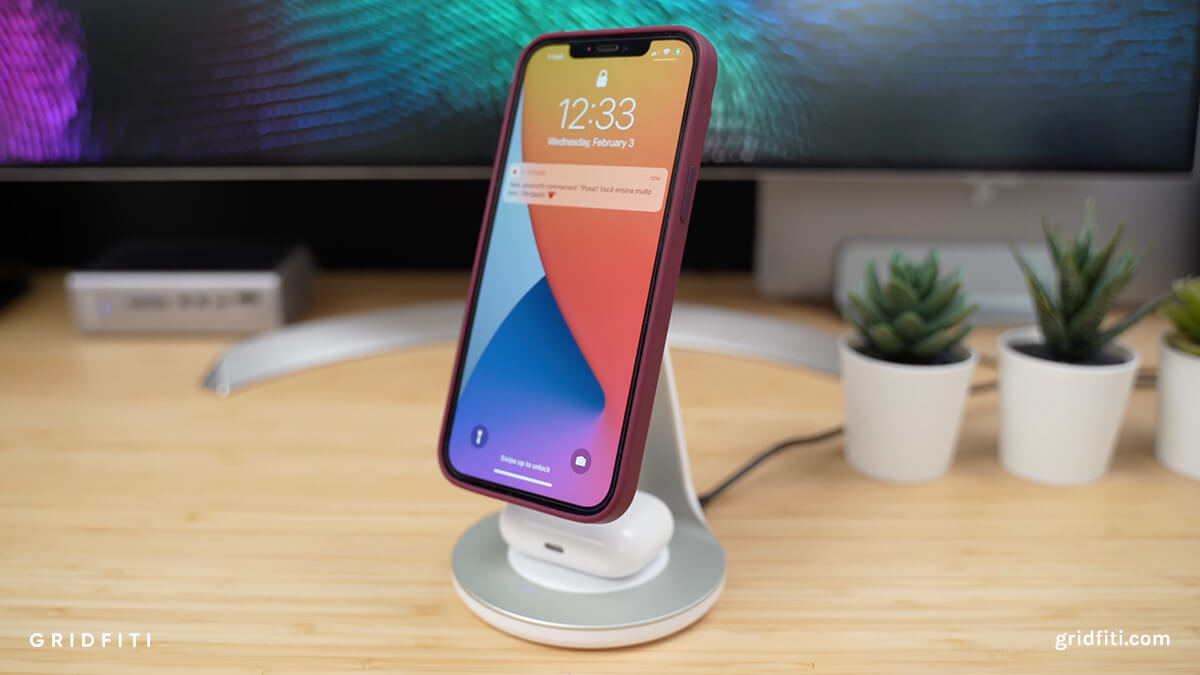 Frame via Marina Monteiro
Drawers
Unused desk drawers can conceal cables and devices. You can create a pass-through out the back of your drawer to feed your wires without them being visible.
Card readers, spare speakers, and other devices used sparingly can be placed in a drawer. Or you can place a power strip in your drawer to charge your phone, tablet, or laptop.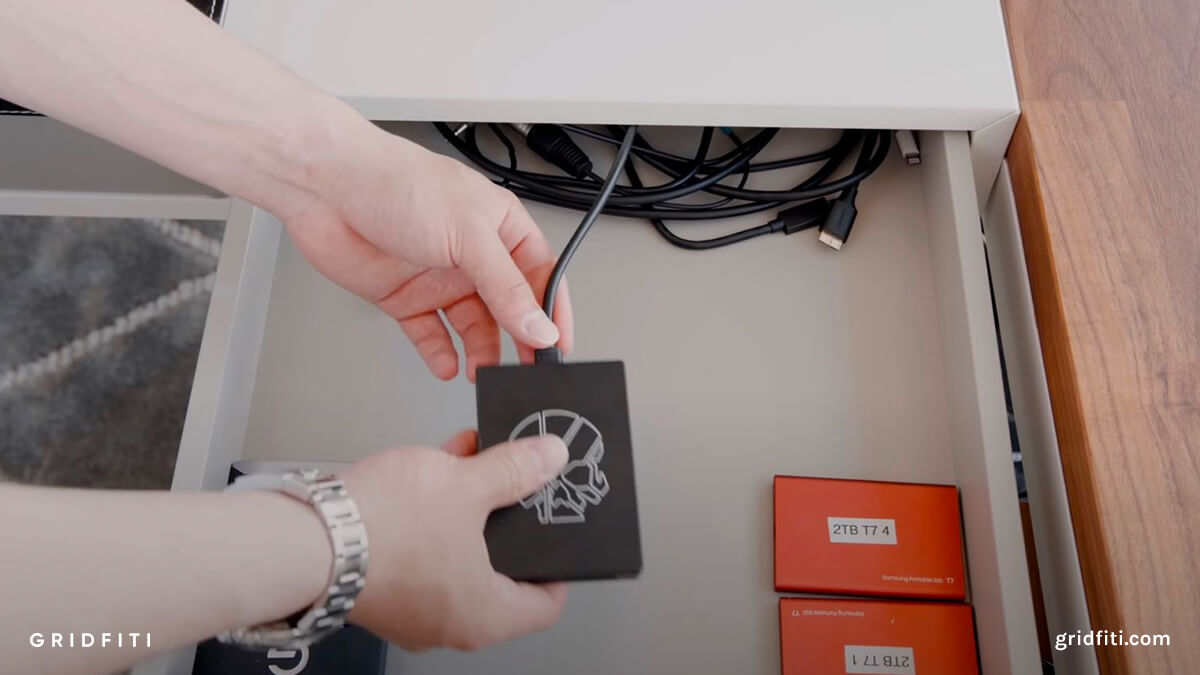 Frame via Justin Tse
Rugs
Rugs work as an aesthetic alternative to floor cable covers. Group your cables and place a thick rug over the top. It'll hide your cables and add warmth to your office space.
Rugs work well to cover cords, but there's always a chance you'll accidentally damage a wire without realizing it. It's also time-consuming to pull a rug out from under your desk to remove or add a cable.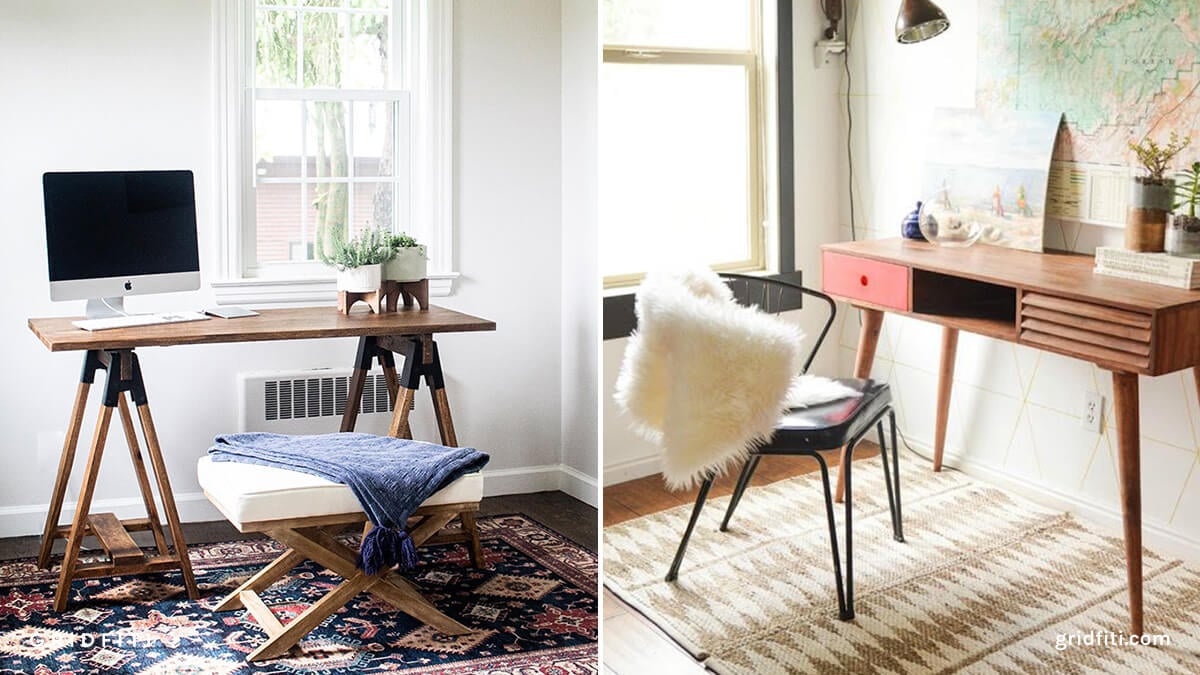 Frames via Ruggable and Vintage Revivals
Baseboards
Make your cables invisible by hiding them on top of your baseboards. Use cord covers or hooks to run your cables along the top of your baseboards to keep them out of the way. Use covers that are the same color as your baseboards to help them blend in.
Cable Concealers to try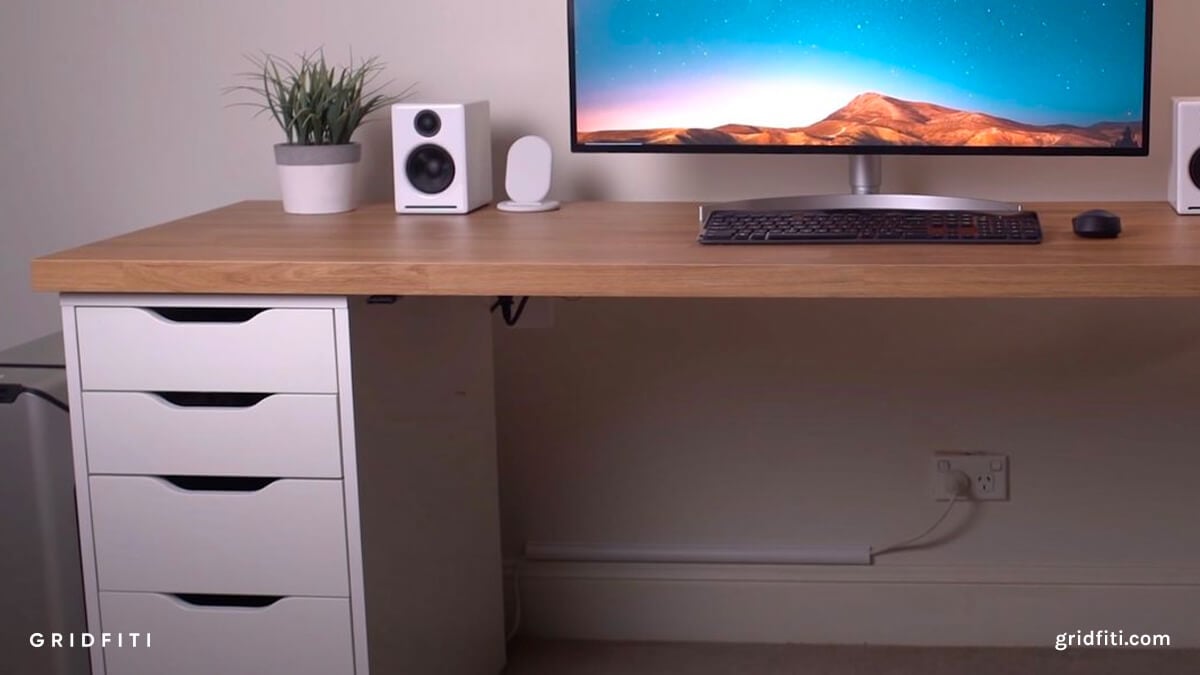 Frame via Sam Beckman
Got a unique hack for hiding your desk cables, wires, and cords? Let us know in the comments!
Gridfiti is supported by its audience – when you buy something using the retail links in our posts, we may earn a small commission at no additional cost to you. Read more about our affiliate disclaimer.