Brain.fm is one of the most popular sound and music generators for getting into a flow state while working or studying. It's a science-based service that provides unintrusive background music to help you work, relax, and get a good night's rest.
But you might find there are alternatives to Brain.fm that better suit your brain chemistry. We've rounded up 9 of the best Brain.fm alternatives to listen to while you put your feet up and get through the daily grind!
Want more student resources and tips? Join our mailing list!
MyNoise.net
myNoise is the go-to website for background and ambient noises. With hundreds of background noises and ambient sounds, you can travel back in time and study in a medieval library, improve your focus with brown noise, or relax with a Tibetan choir.
Change sound generators with presets or adjust individual levels to suit your needs. All sounds on myNoise are super high quality, and most are completely free. You can also pay a small fee to unlock access to even more generators. Choose how much you donate and keep privileged access for life.
Highlights and features
A library of hundreds of original high-quality noises
Adjustable levels and a variety of presets for every sound
Tag your favorites, comment on sounds, and download mp3s with privileged access
Pricing
Basic: free
Privileged: $5 recurring or $10 one-off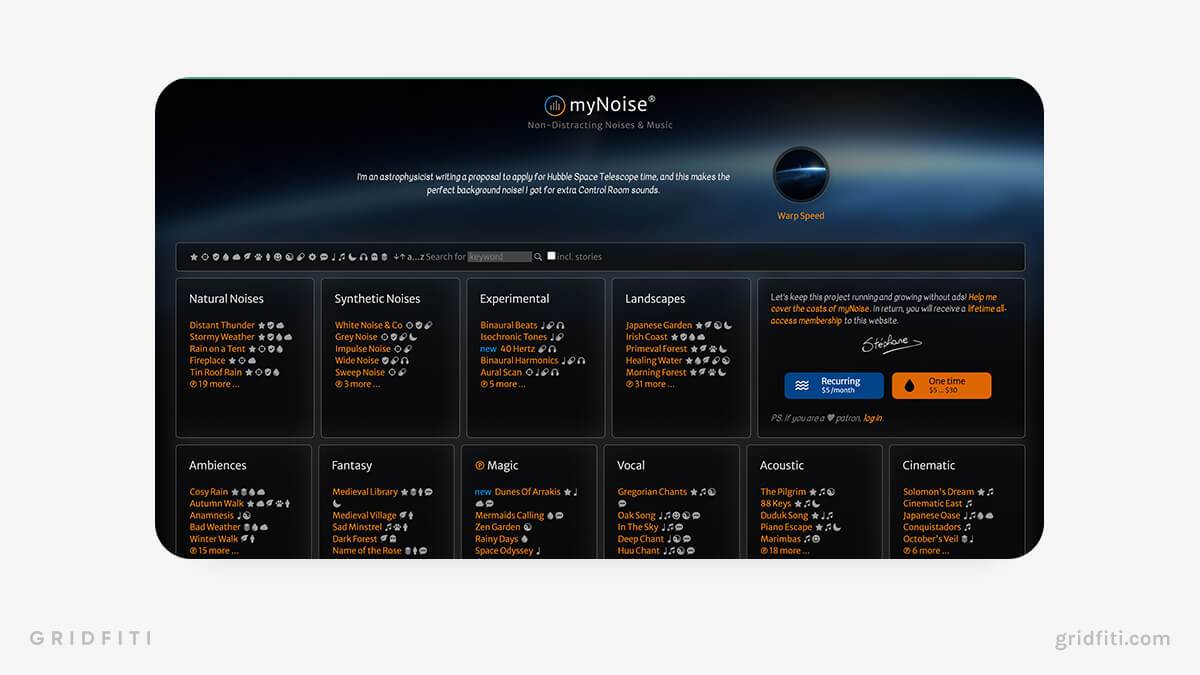 Calmy Leon
Calmy Leon is the chameleon of sound generators, constantly changing over time to create new and unique soundscapes. Steady sounds and dynamic noises play in perfect harmony, creating a rich listening experience designed to improve focus or help you relax. Choose between several soundscapes, including waterfalls, ocean waves, and nature.
Looking to unwind or take a nap? Adjust the sound spectrum to meet your needs. Change the brown noise/white noise balance to help with sleep or to soothe your tinnitus. Calmy Leon is run by Stéphane Pigeon, the creator of myNoise. A one-time donation to myNoise unlocks all features of both services.
Highlights and features
Simple slider design for instant focus or relaxation
Constantly changing sounds for a unique experience
Change white/brown noise spectrums and dynamic/static balances
Pricing
Basic: free
Privileged: $5 recurring or $10 one-off (with myNoise donation)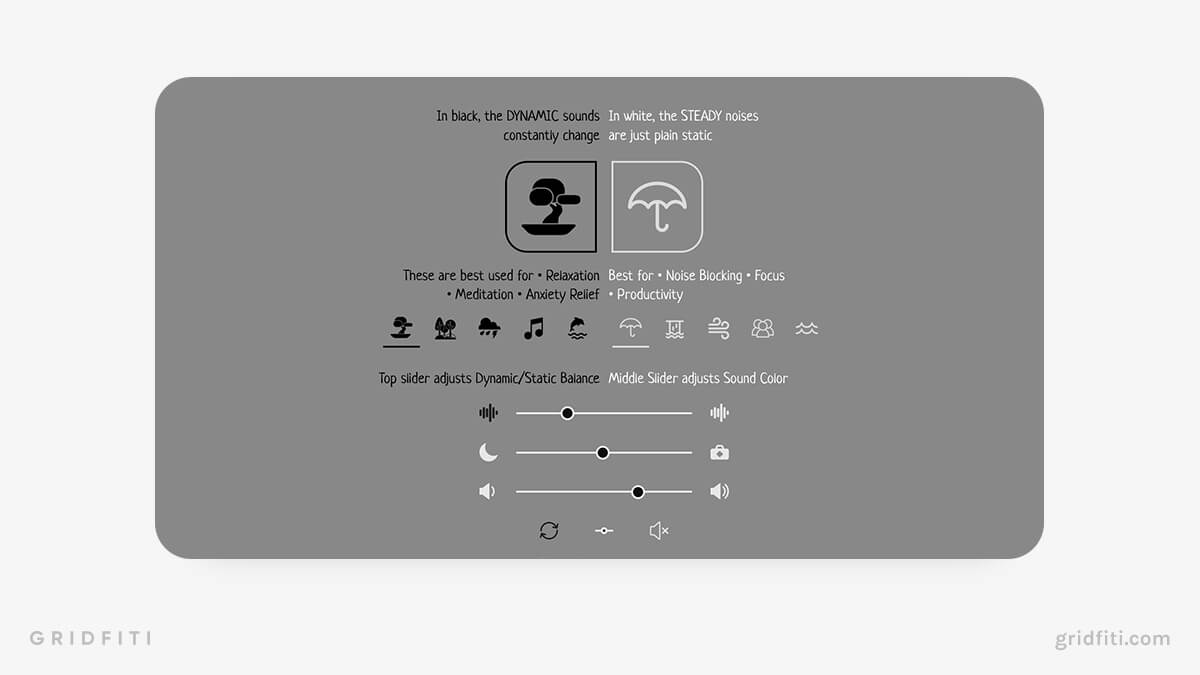 Noisli
Noisli's one of the most accessible Brain.fm alternatives, with icons and sliders that make picking the right soundtrack to your day a breeze. Layer sounds like crackling fires and thunderstorms to create your ideal soundtrack for studying or relaxing.
After signing up to Noisli, you can easily save your created playlists to access your favorite soundscapes. If you're in a hurry, choose from several premade playlists, or select "random" or a pick and mix of background sounds.
Highlights and features
Access to 28 different sounds
Mix and match different noises to create bespoke soundscapes
Choose from premade playlists
Download the Google Chrome extension for easy listening
Pricing
Basic: free
Pro: $8/month
Business: $20/month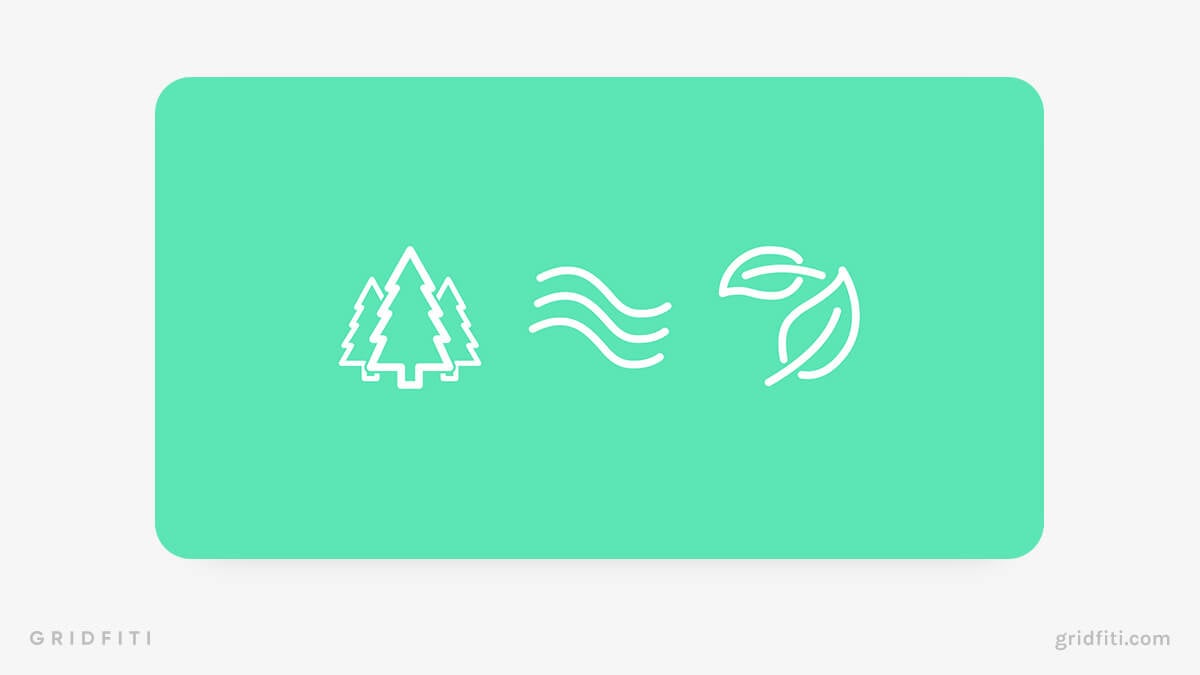 A Soft Murmur
A Soft Murmur is another background noise generator with icons and sliders to make choosing a soundtrack simple. Layer ambient and background noises, save playlists, and share them with your friends.
Additional features like Pomodoro timers and the "meander" feature — which gently raises and lowers levels of different sounds — help A Soft Murmur stand out from the crowd.
Highlights and features
Easy to use with sliders and icons
Save and share curated playlists
Timer and meander features add depth to listening experience
Apps available for iOS and Android
Pricing
Basic: free
Unlock all sounds: $1.99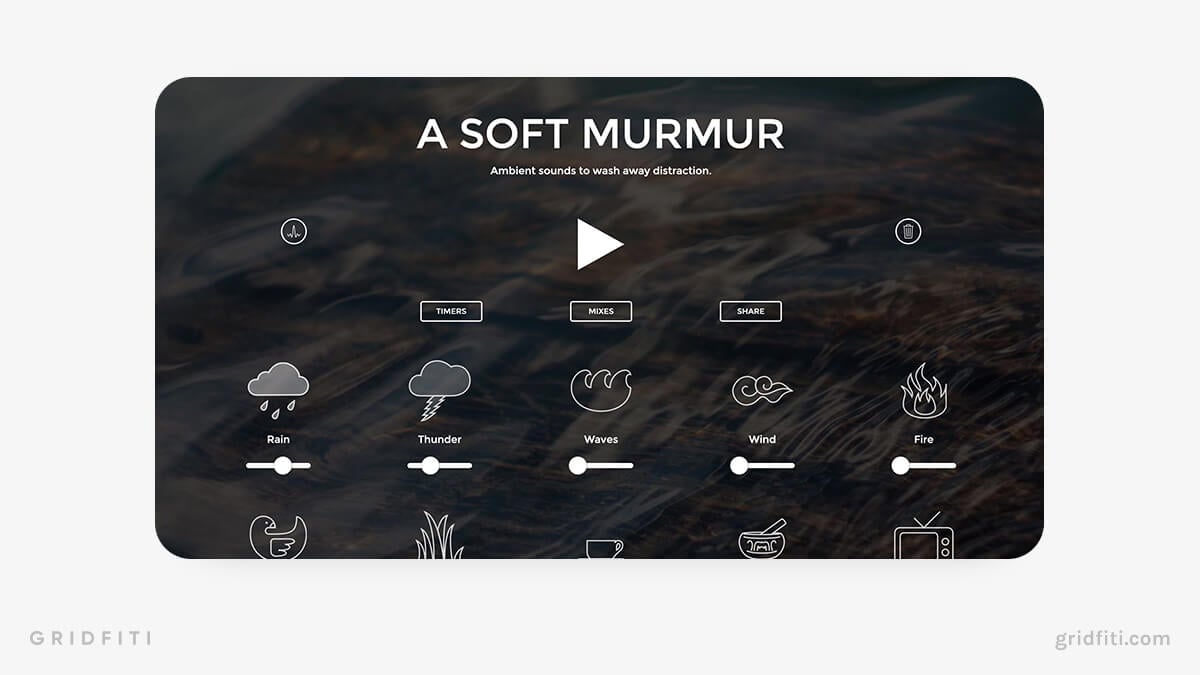 Moodil
Like many sound generator websites, Moodil also uses icons and sliders for an intuitive interface. Choose from more than a dozen high-quality noises and blend them into the perfect soundscape. Moodil also lets you save your favorites and share them with friends.
Check out the "top lists" on Moodil to see the most popular sounds of the week and year, or all time. Moodil is completely free to use — simply sign up or log in to create and share playlists.
Highlights and features
Over a dozen free-to-use, high-quality sounds
Icons and sliders for accessible soundscapes
Favorite and share different playlists
Browse popular pre-curated playlists
Pricing: Free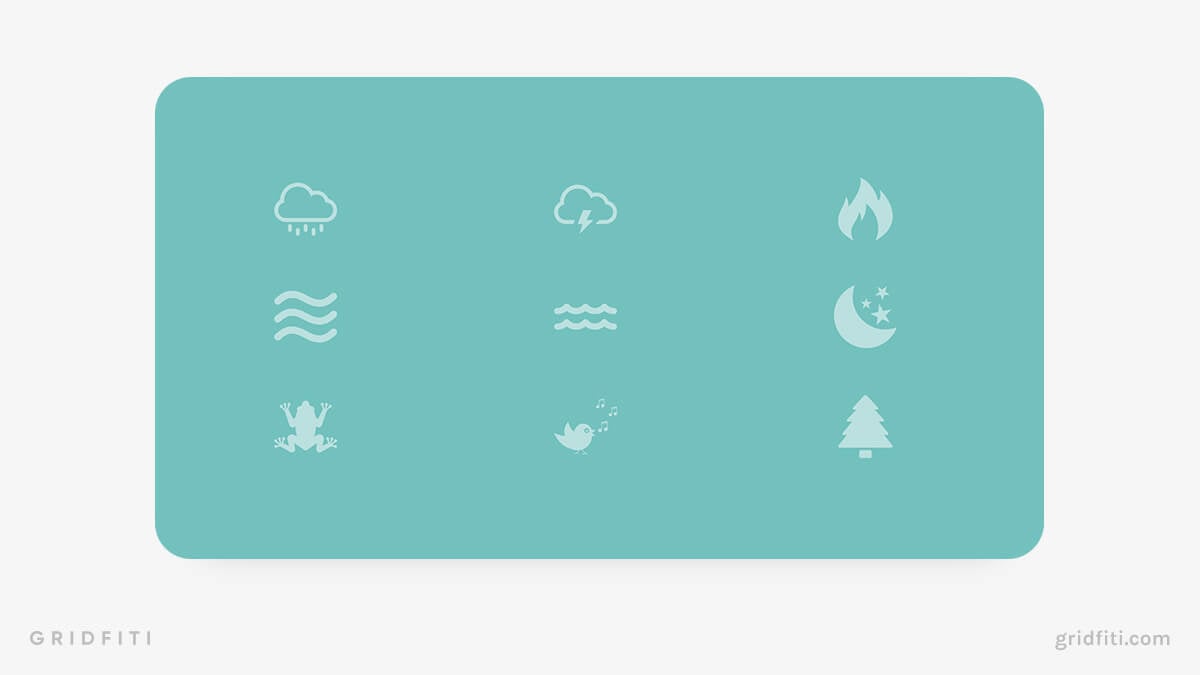 Noises Online
Noises Online is another myNoise creation that makes picking a playlist for work or relaxation as easy as possible. Click a pictogram to choose a sound, and then click again to change the volume.
In the top right corner, you'll see the soundscape "pick of the week"—the current pick (at the time of writing) is the soothing sounds of Niagara Falls! Pin your favorite sounds and copy the URL for future focus sessions.
Highlights and features
Click pictograms to choose sounds and lower volumes
All sounds are high-quality and provided by myNoise
Check out the "pick of the week" for new soundscapes
Pricing: Free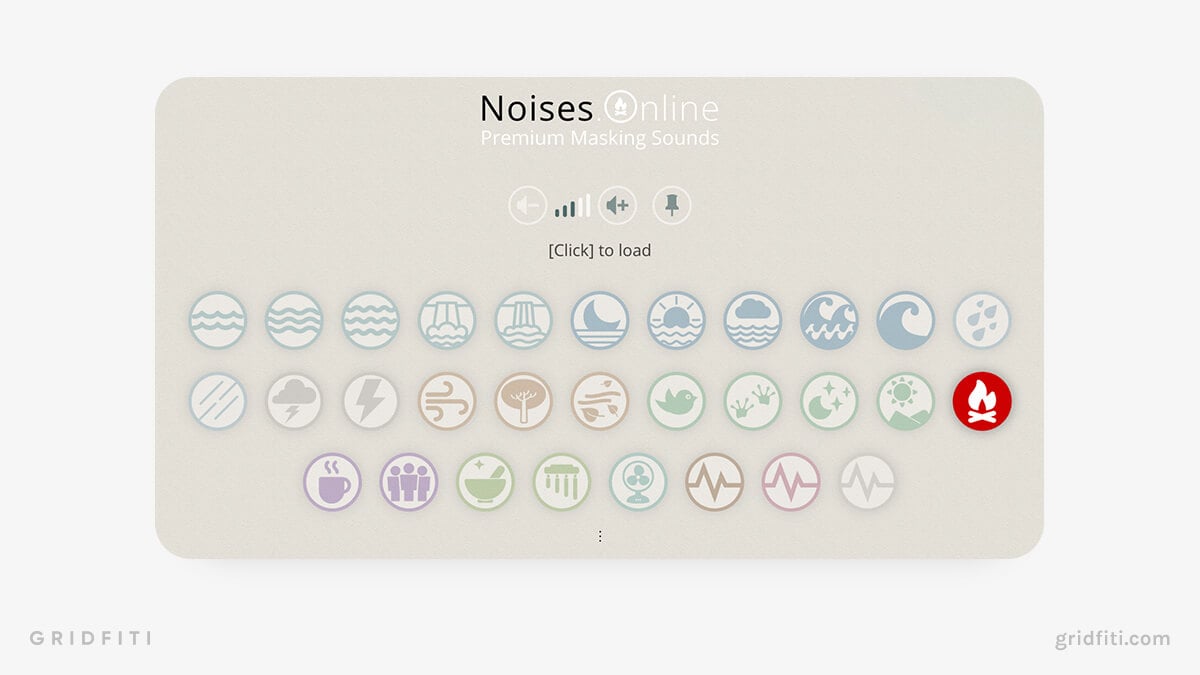 Coffitivity
Prefer a bit of background chatter while you work? Some studies show a certain level of background conversation can aid in cognition.
Coffitivity is a collection of playlists that mimic the sound of your favorite cafe. It's perfect if you're working from home and miss the hum of a busy office.
Highlights and features
Choose between several free playlists
Pick different settings, from university to texas teahouses
Pricing
Basic: free
Premium: $9/year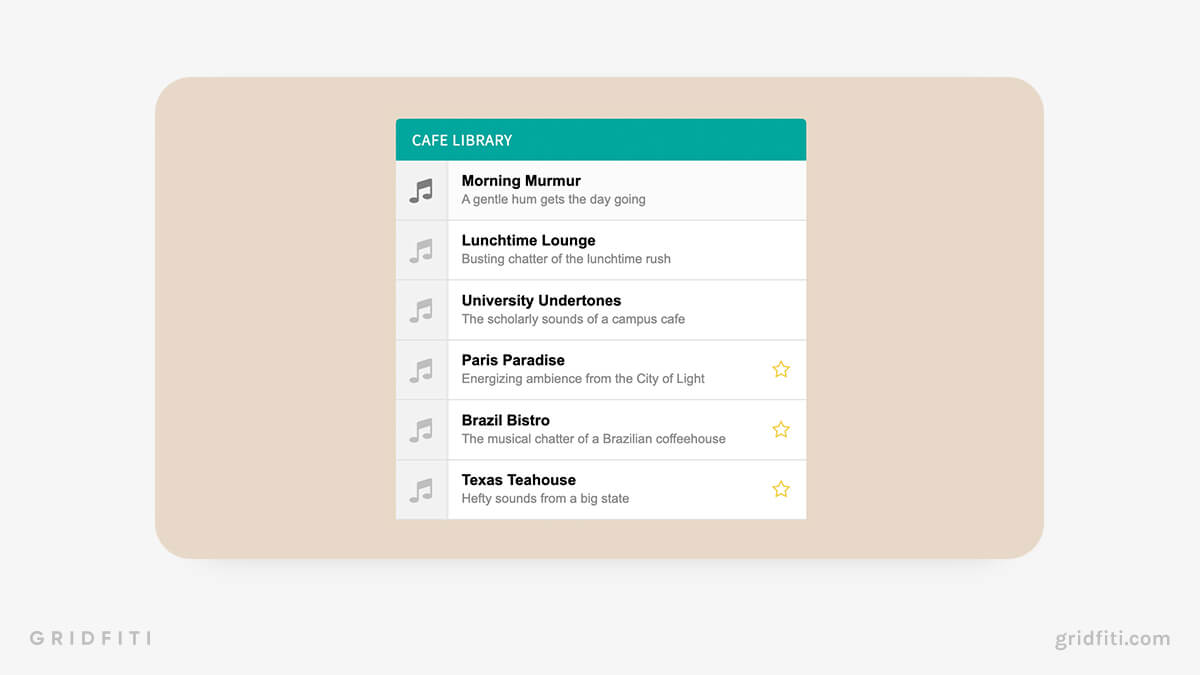 GenerativeFM
Check out GenerativeFM if ambient music is your favorite soundtrack for deep work. GenerativeFM's music generators create truly unique and endless ambient sounds for creativity or leisure.
Choose from over 50 different generators displayed in a crisp, modern music player showing new and trending generators. Pick between ambient styles like acoustic, drone, electronic, and more.
Highlights and features
Endless and unique ambient music
Over 50 music generators available
Completely ad-free
Pricing: Free – donations accepted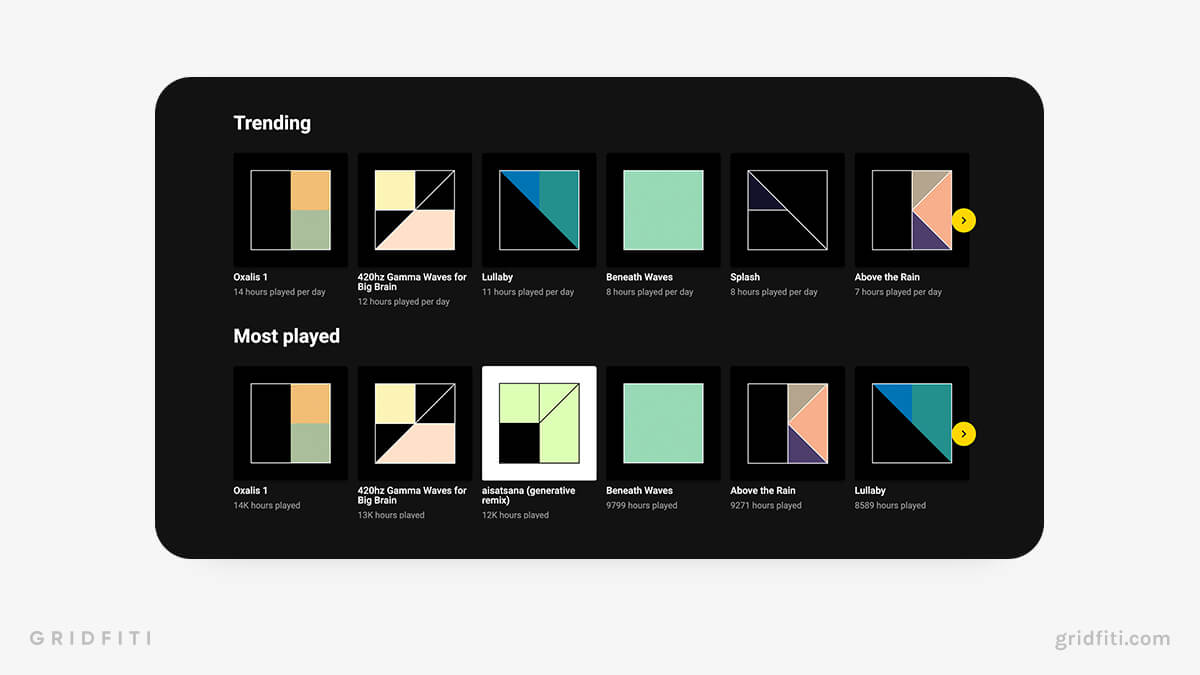 Focus@Will
Focus@Will is similar to Brain.fm as it uses science-backed research to improve focus and productivity while reducing distractions. Focus@Will states it uses seven years of research and data to create playlists to keep you focused for up to 100 minutes.
Focus@Will centers around personalization. You'll start by taking a quiz to determine your brain type. After choosing channels to suit your brain, you can skip songs that you find distracting. Focus@Will's algorithm will pick future songs based on what you skipped.
Highlights and features
Science-backed research on music to improve productivity
The algorithm works out music that helps you focus
Set work sessions to aid Pomodoro
Pricing
One-week free trial
$7.49/month
$52.49/year
$89.99/two years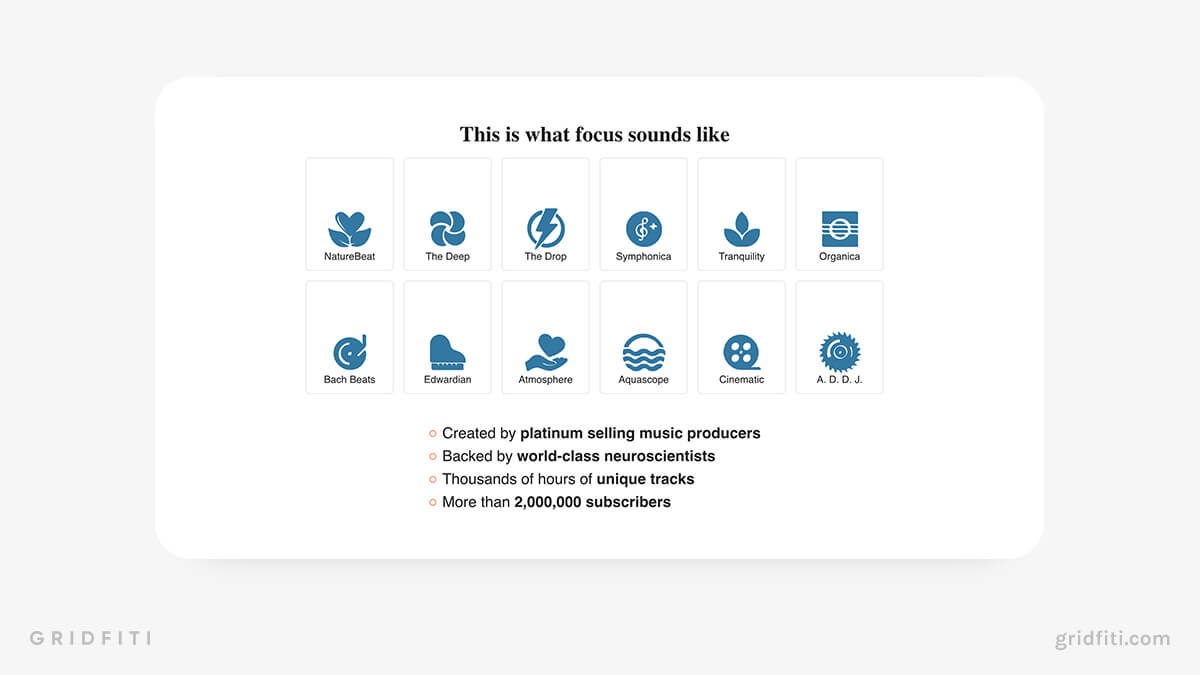 Focus Playlists
YouTube and Spotify have a wealth of playlists that can be used instead of Brain.fm. From ambient sounds to lo-fi beats, there's no shortage of curated content on both platforms that'll help you achieve that "aha" moment or drift off to sleep. There's even content created or inspired by Brain.fm on YouTube and Spotify.
YouTube Videos & Playlists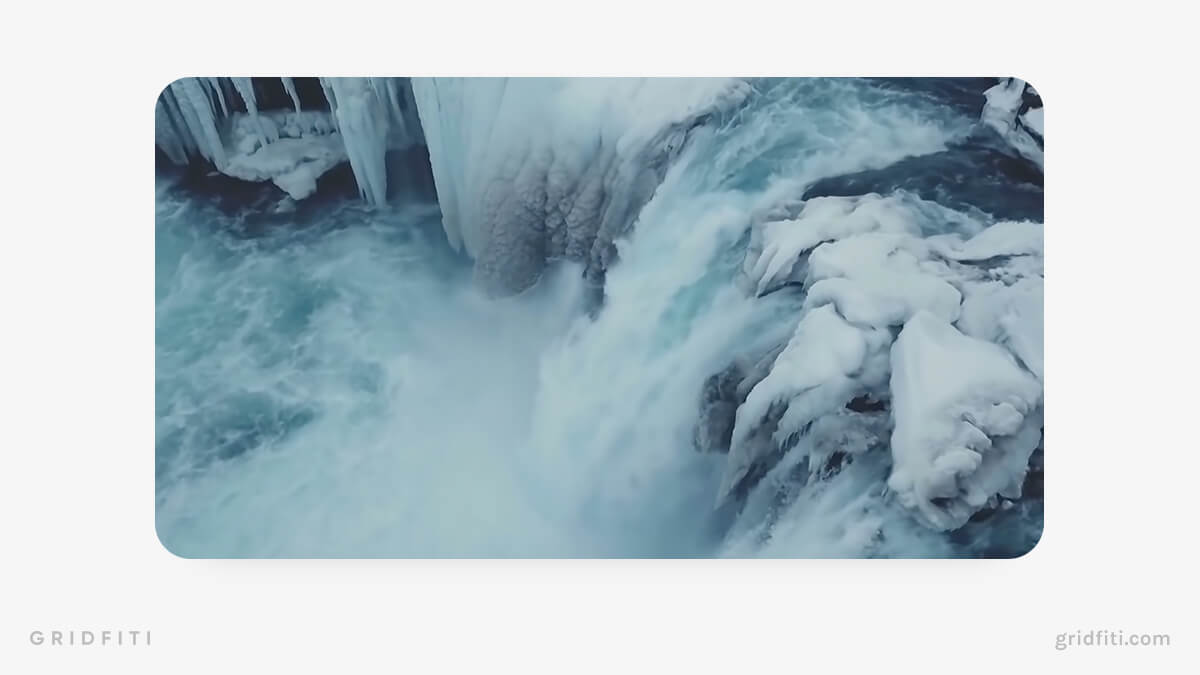 Spotify Playlists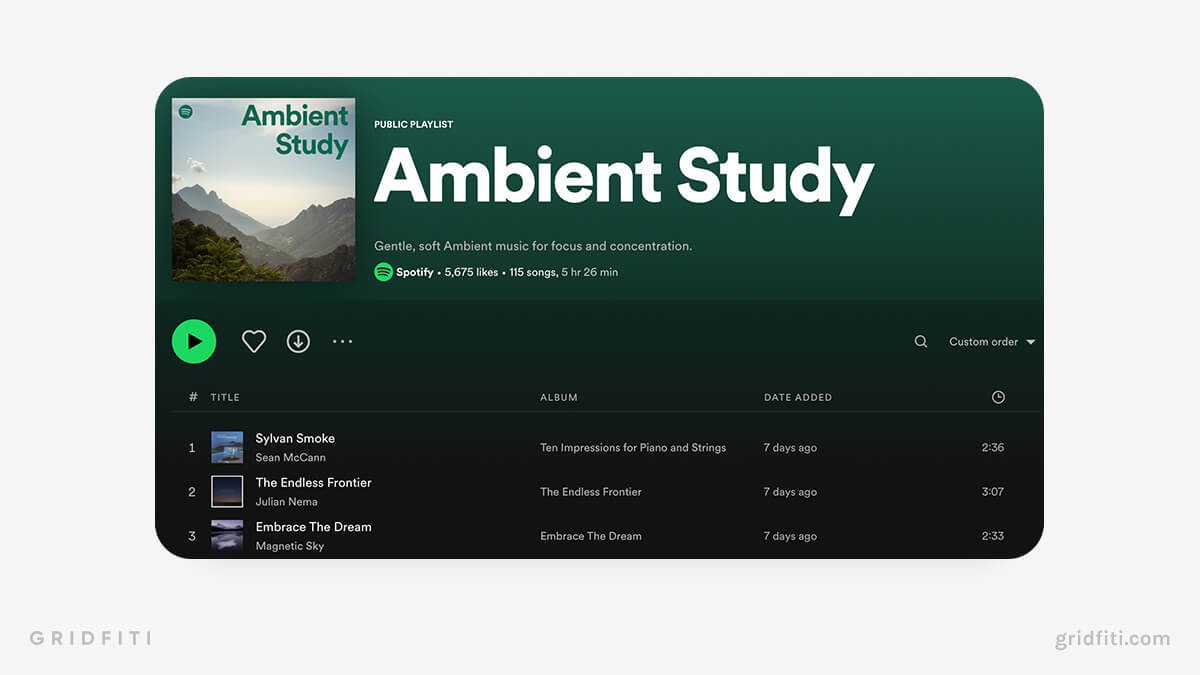 Are any of these playlists or websites your favorite replacement for Brain.fm? Let us know in the comments below!
Gridfiti is supported by its audience – when you buy something using the retail links in our posts, we may earn a small commission at no additional cost to you. Read more about our affiliate disclaimer.