Nowadays it seems like everyone is looking to start a vlog on YouTube and I don't blame them…
Vlogging has caught the eyes of so many people from across the world in recent years. The emergence of vlogging on YouTube has changed the lives of many individuals. To the point where users have actually made a career from their YouTube channel.
After years of helping YouTubers create content that attract millions of views and analyzing successful vloggers, I've decided to compile a list of the important vlogging essentials. This guide should help you kickstart your YouTube vlogging career!
What is a Vlog?
A vlog in my own definition is simply a log of your day or life in video format. A video log that documents an individual's life. Typically, most vlogs on YouTube showcase footage of someone's day or week.
There's no right or wrong answer on how to be successful on YouTube. But, the best YouTube creators bring authenticity to the platform and they are always improving and perfecting their video edits and filming. Always do your best to creativity into your vlogs.
I see a lot of people who struggle to start a vlog say, "my life is boring and I have nothing to vlog," but some of the best vloggers on YouTube create amazing vlogs from their bedroom. Regardless if you're traveling or you're stuck inside on a rainy day. There are many ways for you to create an interesting vlog – learn to think outside the box.
The Vlogging Equipment Essentials for YouTube
If you don't own any video equipment or have the money to buy new video equipment, you can still start a successful vlog. I would be lying if I said camera gear doesn't improve the quality of your vlog, but I am serious when I say that having the best camera equipment doesn't make a successful YouTube vlog.
There's a common saying that goes, "the best camera is the one that you have on you" and this is true. As long as you get the video footage necessary for the vlog and you can put the footage into a well thought-out video – you should have plenty of success moving forward.
I'm going to have three tiers vlogging essential recommendations. They will range from a beginners vlogging essentials, an intermediate vlog kit, and a professional YouTube vlogging kit. You can choose the best gear that fits your budget and needs.
Beginner's Vlogging Essentials for YouTube
Don't let equipment hold you back. Start saving up and as you begin to gain more traction on your YouTube channel, you can then begin to think about upgrading. All you need is a camera so an iPhones or any smartphone that can take video is enough for you to upload on YouTube. Start by working on getting comfortable in front of the camera and learning the ins and outs of editing a video.
Camera: iPhone or Smartphone
Intermediate Vlogging Essentials for YouTube
If you've saved up enough money, my next recommendation would be to upgrade your camera to a point-and-shoot camera. These are easy to carry around and provide high-quality video footage and great sound.
Camera: Canon G7x & Sony RX100
Additionally, you will want to get a tabletop tripod to help you carry around the camera. I would suggest getting either the basic Joby GorillaPod or the Manfrotto EVO Pixi.
Tripod: Joby GorillaPod & Manfrotto PIXI EVO
The Advanced Vlogging Essentials for YouTube
As you become more advanced, you will want to incorporate more elements in your vlogs. This will require more out of your camera and new lenses to achieve the look and shots you want.
For camera bodies, I would highly recommend the Canon 80D because of the ability to flip out the camera screen to see yourself when you're vlogging. This is a vlogging essential to make sure you are in frame and that the camera settings are right. It is also a very well built camera that produces high quality footage. Having the 18-55mm kit lens on the camera will be fine to start and you can upgrade as you see the need for it. Typically a wide angle lens is essential for a vlogger.
Alternatively, you can get the Sony A6500 which is a great camera, but the biggest downside is that the screen does not flip out for you to see. This camera can shoot 120 fps and in 4k for some crisp footage and the ability to take great slow motion video.
Camera: Canon 80D or Sony A6500
For a larger camera, you will be required to get a larger tripod, so I would recommend upgrading to the professional Joby GorillaPod. The Manfrotto EVO PIXI might be a bit smaller, but it is well built and can carry the large camera frames of a better camera. The Manfrotto BeFree is a full fledged tripod that is larger in size, but will help you achieve a more stable shot or for rougher conditions where a small tripod would not work.
Tripod: Joby GorillaPod Pro, Manfrotto EVO PIXI, and the Manfrotto BeFree
Sound is very important on YouTube. Viewers don't want to watch a video where they can barely hear what you're saying. I left this in the advanced vlogging essentials section because of the increase in budget, but in my opinion, you should invest into audio early. Better sound will make a huge difference in your YouTube vlogs. Getting a mic like the Rode Mic Pro, where you can just attach to the top of your camera will be essential for your YouTube audio.
Audio: Rode Pro Camera Microphone
What Program Should I Use to Edit My YouTube Vlogs?
Filming your day is one thing. But, putting the actual videos together is is a totally different ball game. It might be frustrating at first, but trust me – the more you edit, the better your YouTube vlogs will become. You'll begin to notice a ramp in speed and efficiency when editing future videos. The three most popular vlog editing programs include:
iMovie – Free – Beginners
Final Cut Pro – Paid – Intermediate, Professional
Adobe Premiere Pro – Paid – Intermediate, Professional
I've personally used all three of these programs and in my experience, they are all essential and are all fully capable of creating great vlogs. iMovie would be the easiest to use, but you are also limited on the things you can do with your video. If you are a beginner who is just getting into vlogging, then I would definitely recommend you starting with iMovie to get the hang of things. Here is a good tutorial on how to start a vlog using iMovie.
Final Cut Pro and Adobe Premiere Pro are both great programs that have their pros and cons. With both of these programs, you have the ability to edit your videos with advanced capabilities. You also have the ability to add cool effects such as slow-motion, text, image stabilization, advanced color-grading, and much more. Many major films have been edited with these two programs and they may seem hard to use, but the majority of intermediate and professional YouTube channels use one of these two softwares to produce their YouTube videos.
In my opinion, I would say Final Cut has a nicer user interface and is a lot easier for those getting started. But a lot of people do enjoy Adobe Premiere Pro because they are able to use it on both Apple and Windows products. I would recommend you use both their free trials to edit a vlog and see which one you like better.
Best Vlogging Tips for a YouTube Channel
Now that you have an idea of what is needed to start a successful vlog, it's now time to discuss the vlogging tips that will actually make your vlog great. Your content is important and in order for you to make good content that resonates with your audience, you need to entertain your viewers.
Here are a 6 things that you should consider when filming your vlog.
1. Plan Your Vlog Content Out Strategically
No doubt, the content of your vlog will play a crucial role in the success of your vlog channel. In fact, having a well-planned video and interesting content will get you more views and more fans. So, you want to focus on designing a captivating, original, and engaging vlog to capture the attention of viewers. For this purpose, it's beneficial to target a specific group of people such as females, kids, older adults etc. to make relatable content for. The more relatable the vlog content, the more returning views it will bring to your channel!
The family vlog channel KKandBabyJ are a great example of quality daily vlogs with family friendly content! Keren and Khoa are super entertaining and their their three boys Jackson, Landon, and Sutton never fail to make you laugh. KKandBabyJ definitely focus more on their family day-to-day so they are targeting family oriented fans!
2. Be Consistent and Schedule Your Vlogs
Uploading your vlogs consistently and frequently is a fruitful way to keep your audience connected with you. It's also essential for keeping your YouTube channel active. For this reason, upload vlogs with a schedule in mind and make it public. Keep yourself accountable and set certain days and times to post. The more consistent you post, the more memorable your channel will be when your video appears in the subscriber's subscription box!
David Dobrik is pretty popular amongst the YouTube community for his entertaining 4 minute vlogs. What's impressive is how consistent David has been since he has started YouTube. David has scheduled vlogs every Monday, Wednesday, and Friday night. I've been following David for quite some time now and I have not seen him miss a vlog. Dobrik's frequent vlogging has definitely helped him hit 10 million subscribers this year!

3. Interact with Your Audience
Social media is a great platform to interact with your viewers and receive their feedback. In fact, interacting with your viewers is a great way to keep them engaged with your YouTube brand. Use your other social channels to link back to your YouTube page.
Additionally, be sure to answer questions and to reply back in the YouTube comment section. This is a great approach and will show that you're an actual person to viewers rather than just a video. Try to create a community of raving fans instead of a community of numbers!

4. Promote Your Videos on Other Social Channels
You are not restricted to upload your vlogs solely only on YouTube! You can make the most out of your vlog content by uploading them on other social media platforms like Instagram, Facebook, and Twitter. You should share each and every vlog that you post on other social platforms and link back to your YouTube channel. Posting on other places should actually give your viewers and sub count a boost with all of the cross promotion.
Sam Kolder is a travel vlogger who started on YouTube and began to take off on Instagram as well. Sam does a great job of distributing his YouTube videos on other platforms such as Instagram. By doing this, he drives more users to his YouTube videos and also provides a trailer like video for his Instagram followers!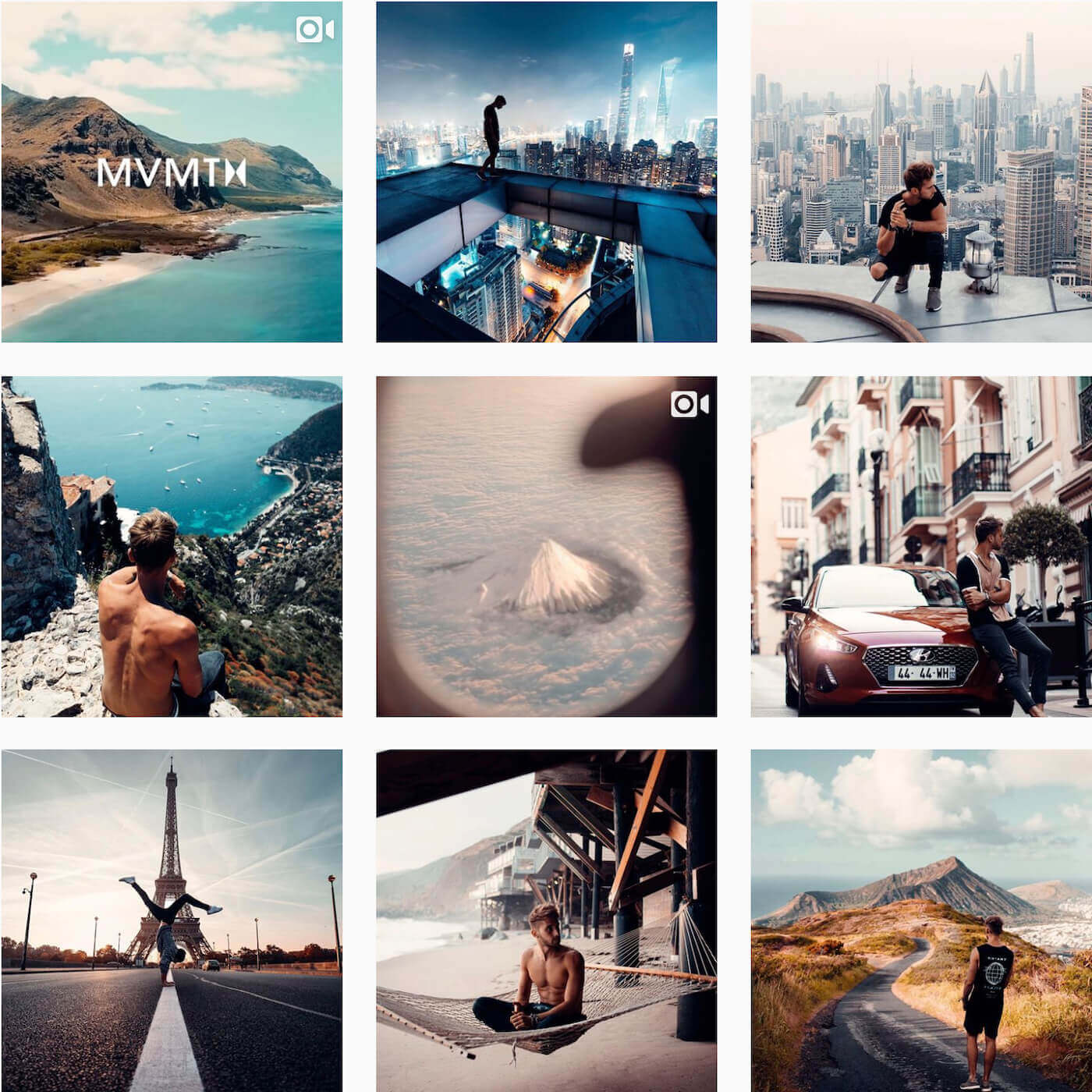 5. Always Improve on Your Vlog Edits
Never be satisfied with your vlog edits. You should always be looking to perfect your vlogs. Figuring out what you can do next to improve your future YouTube videos. A sophisticated video editing software can help you achieve more advanced edits, but you would be surprised what a basic editing program can achieve. When editing your vlog, focus on the "less is more" saying. Include the best clips in your vlog and make sure the video progresses well. Try to have everything in chronological order and to include transition and great music throughout the video. Always find new creative ways to spice up your vlogs!
6. Stabilize Your Footage with a Tripod
In addition to your other vlogging essentials, don't forget to use a tripod when making your vlog. This is an important vlogging tip because stabilized footage makes a huge difference. A compact tripod is a great tool to stabilize your camera to avoid unnecessary shakiness. Tripods come in various sizes and I would recommend getting a table top tripod because it is a lot easier to carry around.
Some other essential vlogging tips you want to consider when filming and editing your vlogs include:
Being confident in your speech

Avoid being camera shy

Keep your YouTube videos short and concise

Read your YouTube analytics and learn from your viewers

Focus on progression over perfection
Of course the first several times that you vlog and talk to a camera, you will be camera shy. But, as you continue vlogging you will get used to it and it will become much more natural. When I say be confident, I mean add a bit of enthusiasm and project your voice. The last thing your audience wants to hear is a boring monologue from you. Speak loud and show some emotion like you care in your YouTube vlogs.
We're all growing shorter attention spans so be sure to keep your YouTube videos short and sweet. A lot of the best vloggers on YouTube keep their videos around 4 to 10 minutes long. You also want to make sure that you use the YouTube analytics to figure out what is working and what is not. Using the Creator Studio in YouTube, you can see your viewers' demographics (gender, location, and more information about your audience). You also have the ability to see what videos are doing better than others and this is a good way to figure out what content you should do more of.
Last, but not least, you want to continuously create regardless if you get 1 view or 1 million views. YouTube tends to rank videos better when they see that there is more consistent content on a channel. You never know, your next video might be the one to go viral.
Vlogging Mistakes Most YouTubers Make
Now before you get started with your YouTube vlogs, here are some mistakes that you should avoid as a vlogger:
1. Including irrelevant footage
As I mentioned before in the best practices. You want to make sure that you include the absolute best quality footage in your videos. A long video with increase the number of people that click away from your vlog and if you have unnecessary footage, viewers will be bored and they will find something else to watch. With the 4 minute to 10 minute vlog time, you want to make sure that you have the viewers attention for the full video.
2. Focusing too much on the numbers (subscriber count and views)
Forget the subscriber count and the views on your YouTube video. Those numbers will come with GOOD content. Make sure you're putting out the best videos that are well optimized for YouTube's platform and the numbers will make an appearance.
3. Disregarding the audio quality
Audio is a major component to any YouTube vlog. A vlog usually consists of a lot of talking, so having poor audio quality will have an effect on your storytelling and will cause for viewers to click away or not get the full experience that you would like subscribers to get. It will also leave a bad first impression on new viewers.
4. Not posting consistently
Have you ever subscribed to an email list and don't receive an email from them until months later? I sure have and I click unsubscribe right away because I don't remember who they are.
This is exactly the same with YouTube. If you have someone subscribe and you don't continuously make videos. The honest truth is that they will forget you and the moment you have the great video that is released, they will just unsubscribe from your channel if they forgot who you are.
Examples of the Best Vloggers on YouTube
1. Casey Neistat
Casey is one of, if not the greatest YouTuber to vlog. His passion for filmmaking, his unique personality and style make for one of the best vlogs on YouTube. If you've seen any vlogs on YouTube or if you've been on YouTube, then you have probably already heard of this man.
A legend at his craft and his 11 million plus subscribers can vouch for his storytelling vlogs that keep you coming back day-after-day. Here is one of my favorite vlogs from Casey and we wrote a full article on Casey Neistat's camera setup!
When I talk about adding creativity to vlogs, you will recognize this while watching Mr. Neistat's vlogs.
2. Justin Escalona
PlayTheGameFilms aka Justin Escalona is a young kid who grew up in the suburbs of Chicago. Justin Escalona started a series called Daily Docs where he vlogged and documented his days for over 400 days straight before taking a break. Pretty damn impressive for a young freshman who just moved to USC to pursue film school.
If you've ever watched one of Justin's vlogs, you would appreciate the amount of work he puts into each one. His thumbnails could easily double as a great Instagram photo with the quality and the editing, but most importantly, his video edits are very very professional. The cinematics that he adds into his videos are breathtaking and his music choice is always new and refreshing and sometimes from artists that he is friends with. The overall production on Mr' Escalona's vlogs are amazing and his ability to turn his college experience into a well documented story each day will always keep me as a huge fan.
3. Arlin Moore
Arlin is a student at Boston University who started off doing 100 days of daily vlogging and he has grown from 0 subscribers to over 60 000 subscribers in that span. Arlin is a perfect example of someone who just went out and started creating. He didn't have fancy camera equipment. All Arlin used to film was his iPhone and he successfully vlogged each day and uploaded his videos onto YouTube.
Don't go out enough to vlog everyday? Arlin has days where he creates videos straight from his bedroom. He talkes about things he believes in and different college experiences. Arlin also loves to share the resources that have helped him through college. Videos like college advice, story times, or even just recommendations on books that he has read over the years.
4. Monica Church
The Millennial Crisis is what Monica Church brands herself and her vlog as. A vlog of her life and the "millennial" things that happen in her life on a day-to-day basis. A channel where viewers can watch to understand what a day in a millennial's life might look like. Similar to Justin Escalona, Monica is known for some great cinematics in her videos. She is genuine with her viewers and you can tell that by the way she talks to the camera.
I've also created a list of my favourite YouTube Travel Vloggers who are fairly advanced and take amazing cinematics of their travels.
Final Thoughts
There is no right time to start vlogging. If you're interested in making videos about your daily life and building a following off of it, then just start. It doesn't take much and you probably already have the necessary resources to start a vlog on YouTube. Focus on perfecting your storytelling and focus on upgrading your equipment later. Learn from the best and continue to develop as you create more and more vlogs!
Ready to start vlogging? Leave your channel links below for everyone to check out! Also let me know if I missed out on any vlogging essentials! Would love to hear some of your tips and essentials to vlogging on YouTube. So drop a comment below and let me know what you have to say!