Having a functional and quality camera strap brings many benefits. You want a solid camera strap to help protect your camera gear from any potential damages or drops. A trait that's often overlooked by photographers and videographers is the look of your camera strap. I want a camera strap that is stylish and looks good when I carry it around with me during photoshoots.
Call me a Hypebeast if you will, but I recently saw a photographer wearing an Off White camera strap and I couldn't help but to find one myself. The price of an official Off White camera strap was pretty high, not to mention that it is sold out everywhere or sold for a very high resale price.
So after some research online, I've found the perfect replica Off White camera strap at an affordable price. Here's a guide I wrote about purchasing the best Off White strap for your camera.
Best Place to Buy an Off White Camera Strap?
There are so many different variations of Off White camera strap replicas out there online. The best one I found was this one here from Amazon. What I like about this camera strap is that it's actually very well built and it comes with the two small buckles that make it so much easier for you to fasten the camera strap to the camera body.
This camera strap is the perfect length for a shoulder camera strap, but if you're looking for a wrist strap, you can still wrap it around your wrists without an issue. The Off White camera strap is so much more affordable from Amazon and for the price it is so worth it. What's nice is that it actually comes in a couple colours if you're not a fan of the yellow Off White design, you can choose the black Off White camera strap instead.
Off White Camera Wrist Strap
If you don't like the excessive strap around your wrist while holding your camera, I would recommend this shorter Off White camera strap from Amazon as well. This length of camera strap is perfect if you're looking for a pure camera wrist strap and it fits well for smaller camera bodies. It's a compact wrist strap and isn't as clunky as other shoulder camera straps.
Off White Bag Strap
Alternatively, you can use these Off White camera straps as an Off White bag strap. I've linked a better bag strap, but it has the same design and you can attach this to a bag of your choice. I actually think this Off White camera lanyard would work great for a disposable camera or a smaller film camera.
The strap comes with a couple lanyard buckles and make it super easy to attach to a bag or camera. This is another alternative depending on what the hooks on your camera looks like.
Alternate Hypebeast Camera Straps
If you're still not a huge fan of the Off White camera strap, here are some alternative Hypebeast camera straps.
Gucci Camera Strap

The first alternative Hypebeast camera strap is the Gucci inspired camera strap. It doesn't have the typical Gucci monogram design, but it uses the same colors with the iconic red and green design. This is an affordable alternative and will look great for any Hypebeast looking for a nice camera strap.
Bape Camera Strap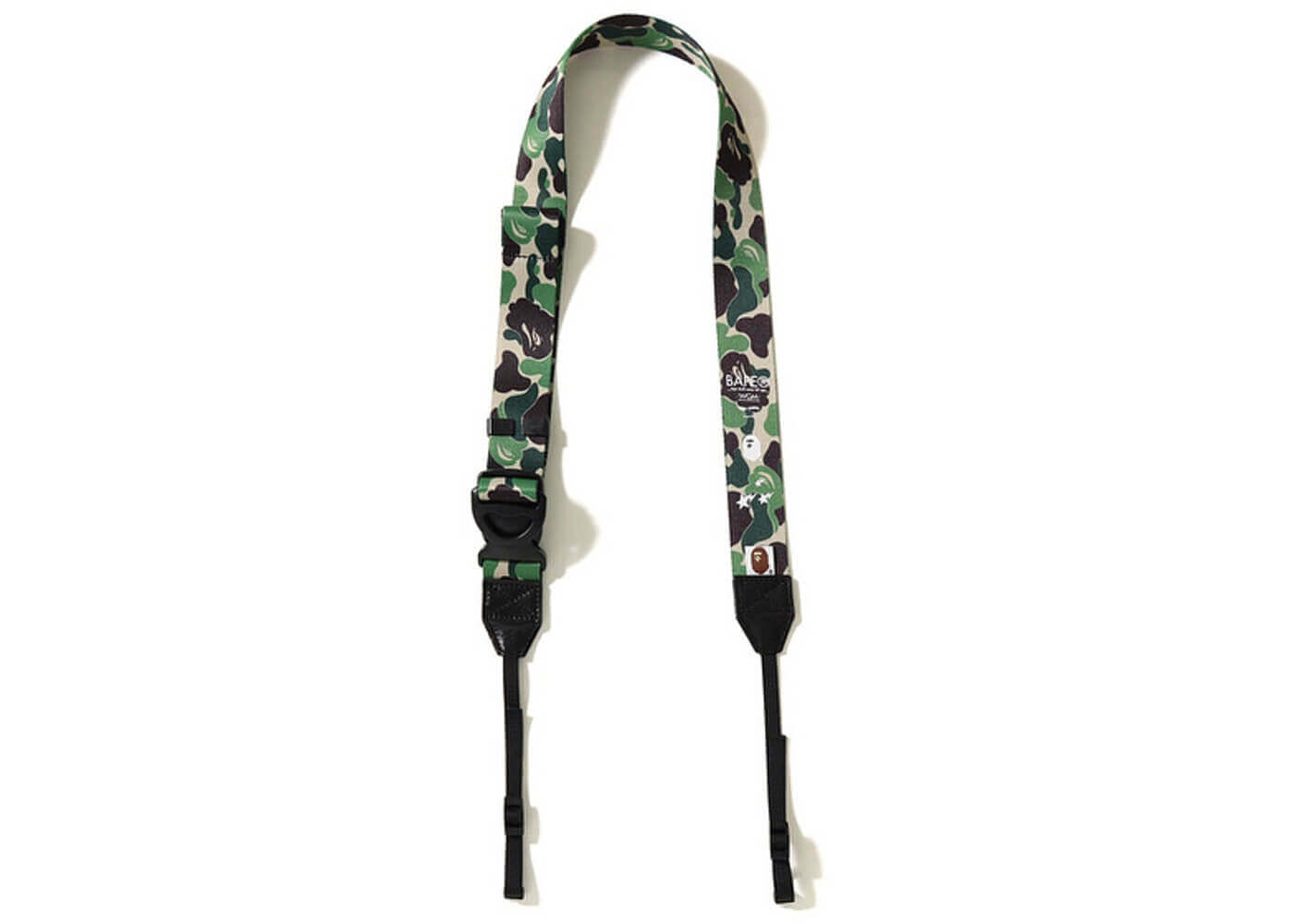 The second alternative is the Bape camera strap. Bape typically releases camera straps once in a while, but they sell out quickly. The only place you can get your hands on a Bape camera strap would be from StockX and it is not cheap. You're going to be paying quite a bit over retail for them.
Supreme Camera Strap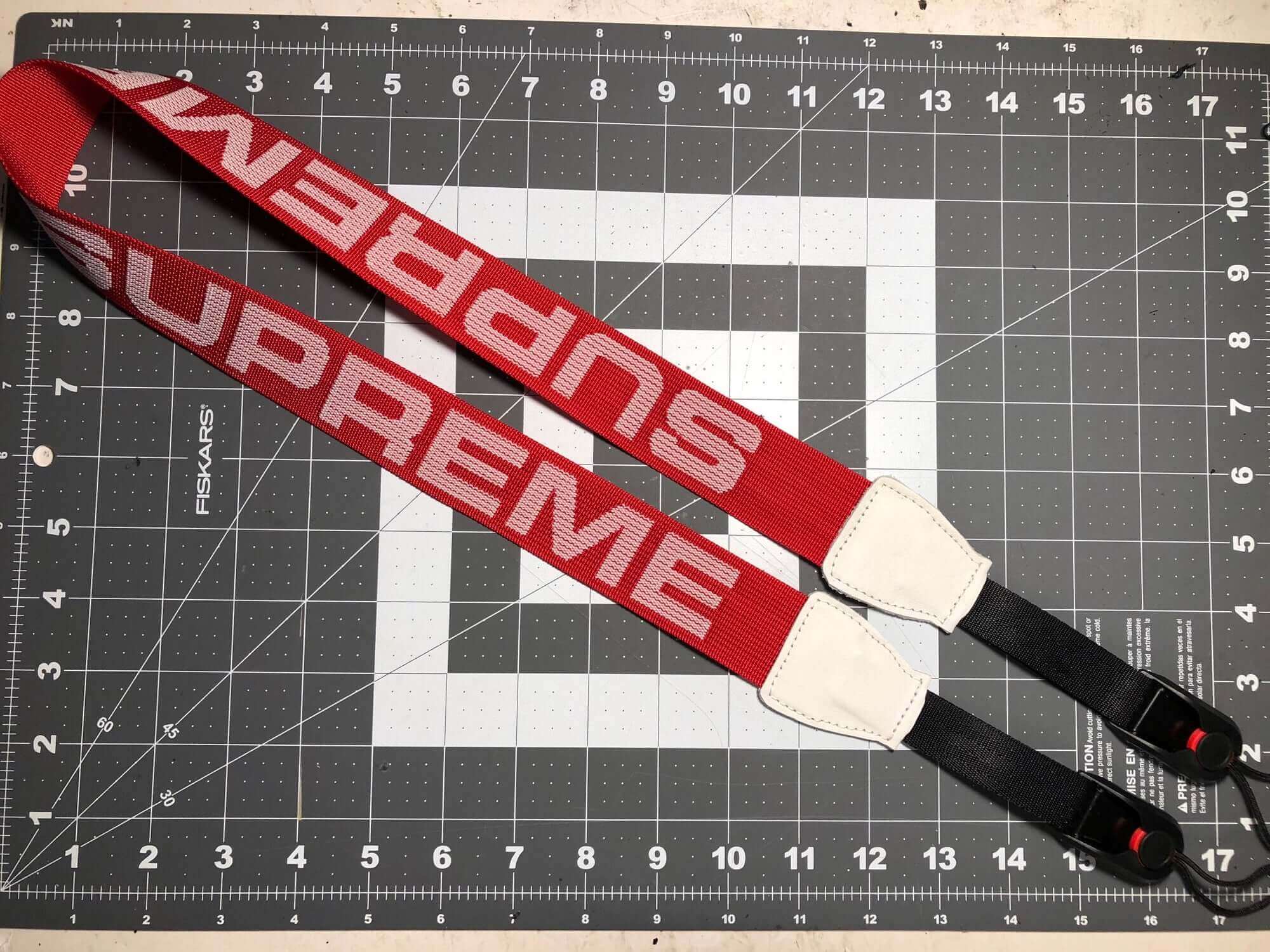 Last, but not least is the Supreme camera strap. Although Supreme doesn't sell an official camera strap, you can find custom Supreme camera strap online with some people actually using authentic Supreme items to create these camera straps. But, these are not cheap and you can find yourself spending a couple hundred on a Supreme camera strap, but could be worth it to add to your Hypebeast essentials!