Music festival photography is something I randomly got put into and have loved ever since my first festival shoot. Festival photography challenged me. Most concert shots I found online were direct shots of artists on stage. These photos are great, but I wanted to do something different. I wanted to capture artists from perspectives that aren't typically done and from perspectives that portray the festival goer in a much better way. I wanted people to look at my photos and think "wow, I was there" and they can remember their experience through the photo.
Here are some things I've learned from my experience with music festival photography. I've included the different camera gear that I've used over the years and my music festival camera gear recommendations for the future!
Music Festival Photography Tips
To date, I've taken photos for about 4 music festivals, which isn't a lot compared to professional concert photographers, but I'm here to share my experience. There is still a lot to learn, but these four festivals have taught me a tonne. The biggest takeaways so far:
1. Be hungry for the shot, but know your place.
There are many times where I could've taken a good portrait of an artist backstage, but I didn't have the balls to go ask. I've seen other photographers go in and get photos that I wish I got. But you need to read the situation and make a good judgement call. But remember in most situations like this, the worst case is they say no and you move on. Here is a photo of Machine Gun Kelly I took backstage at Bluesfest 2018.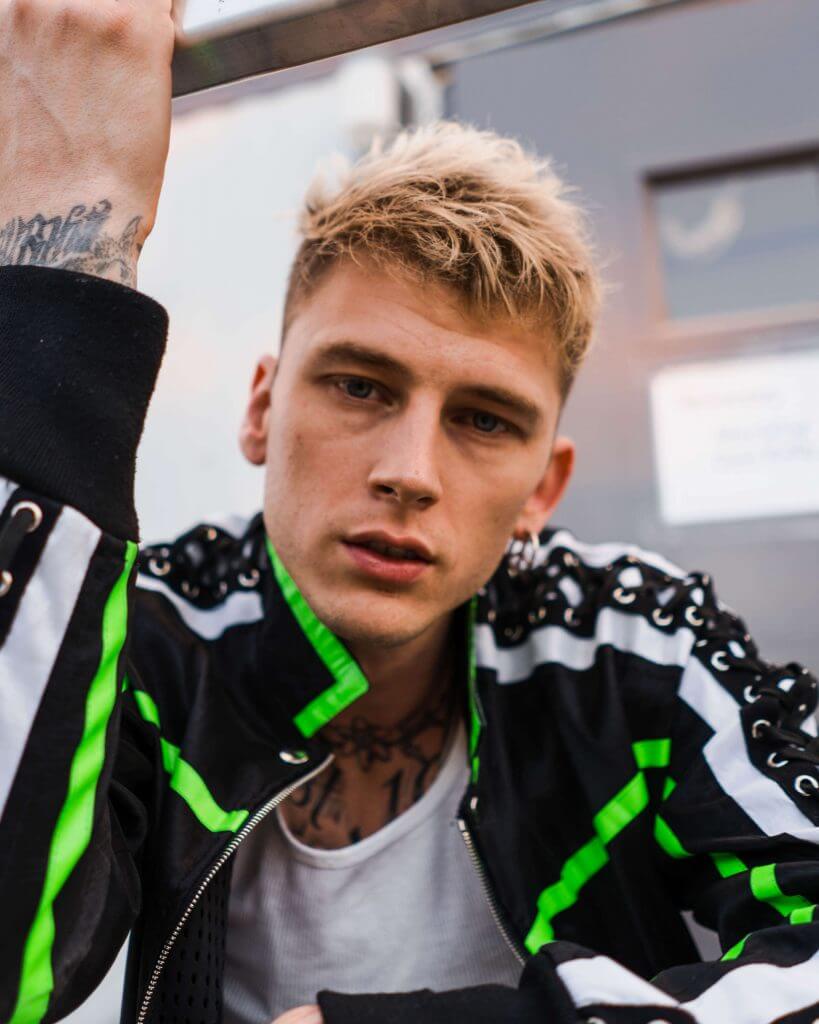 2. Diversify Your Photos.
Keep moving throughout the set. Just because the three songs are done, doesn't mean you are. Go out, get crowd shots. Get photos of the artist from the crowd, but also get photos of the crowd. The people make the show, so it's important to capture the overall atmosphere. This shot was taken from the rooftop of the venue with the Sony G-Master 70mm – 200mm f/2.8 on the Sony A7iii.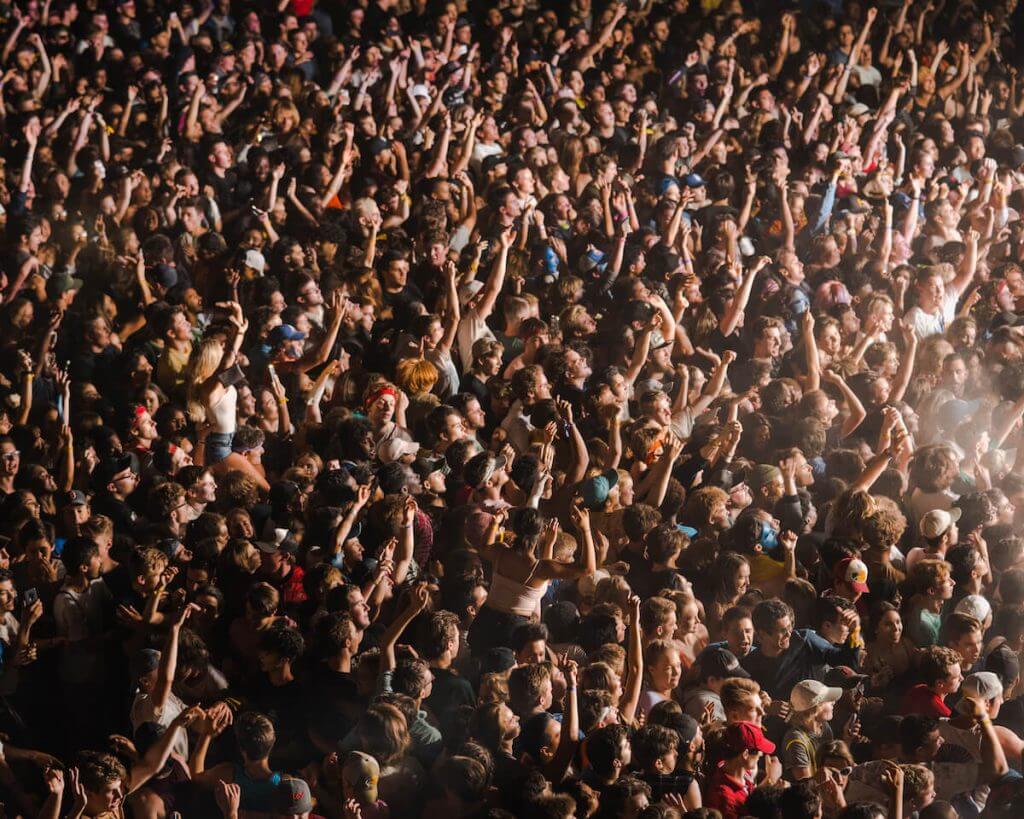 3. Rent Lenses, It's Worth It.
My typical photography camera spread would have prevented me from getting the shots I ended up with. If I just used a 28mm prime lens, my photos would be cool, but the lens would have limited the diversity in my shots. I rented the Sony G-Master 70mm – 200mm f/2.8 for my latest music festival and it was well worth it. If it's a big event or a rare opportunity, having the best gear on you will definitely help. If you use the rental camera gear properly – it will be worth it. 
---
Music Festival Photography Camera Gear & Photos
1. Ottawa Bluesfest Music Festival 2018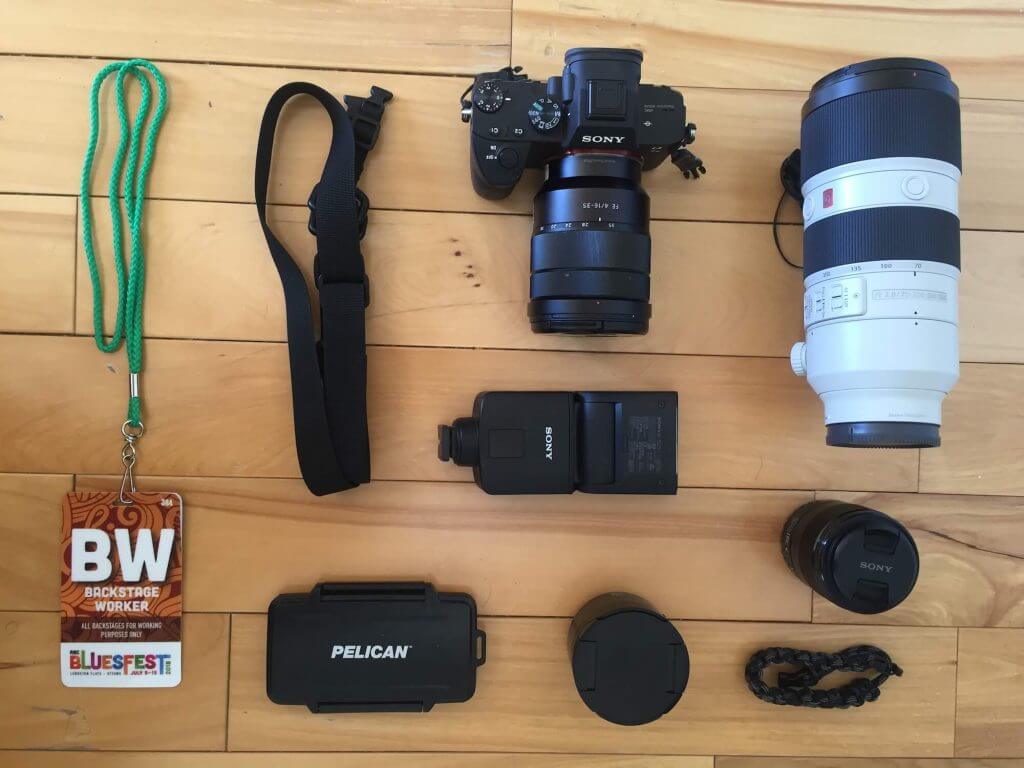 Camera Body: Sony A7iii

Lens:

Flash: Sony HVL 32M
SD Card Holder: Pelican Professional
Camera Straps:
2. Coachella Music Festival 2018
ELE Music Festival 2017
View this post on Instagram
Ottawa Bluesfest Music Festival 2017
Music Festival Photography Gear Recommendations
The past few years have taught me a lot in terms of how to take photos for music festivals and I've learned a lot about what gear to carry. Moving forward, these would be the upgrade to my kit which I think would make a positive difference in my work.
Instead of using the Sony 28mm or the 16-35mm F/4 Zeiss lens, I would switch them out for the 24-70mm F/2.8 G-Master from Sony and pair it with the 70-200mm G-Master that I rented. The 16-35 was nice, but it was too wide and I found myself shooting mainly at 24mm to about 28mm.
Additionally, I would get the extra Sony 2.0X teleconverter and have that for the 70-200mm G-Master. This would help for the bigger shows and crowds where I would be at the back. The 2.0X teleconverter would make the lens 140mm – 400mm and would give me incredible range.
Last but not least, I would also want to have a low aperture prime lens. The festivals typically have a carnival and a ferris wheel that light up, so having a low aperture lens could really bring out some nice bokeh at night. I think either the 24mm F/1.4 Sigma Art or the 35mm F/1.4 Sigma Art would be perfect for night shots.
If you've ever taken concert photography or music festival photography, I would love to hear what you would recommend or any advice that you would give to others including myself about festival photography. Leave a comment down below!