Hi my name is Anton and I'm a director from West London and I produce video in the sports and music industry. I've worked with large clients such as Google, Apple, Red Bull, Canon, and many more. I run under my own company called AHTOH.
The Equipment and Everyday Carry of London Director: Anton Nelson
Anton's everyday essentials include:
Soviet Zenit B that has been rotting in a box somewhere for ages.

Playing with M42 mount lenses

The mighty Chinon 50mm F1.4

A trusty Pentacon 28mm F2.8

Vivitar 135mm F2.8

An obscure old 35mm

Also stashing some Adidas shoes

a hip flask of Glenfiddich whisky

Mizulife bottle to enjoy with my copy of Labyrinths by Borges
What made you choose being a director as your career choice?
I ended up working as a Director after bouncing around within a variety of creative roles. I studied Illustration – so my background is as a draftsman; painting and drawing from a blank page.
In my younger (more foolish) years, I used to perceive photography as less challenging than my original calling and it wasn't until I moved to Apple Corporate in Europe to work as a business development manager for pro photography and later pro video products that I started to take it seriously. I started directing in the music industry, touring and filming on the road with DJ Paul Oakenfold and later Britney Spears, Nervo and some artists for Armada.
Recently I started working on action and outdoor pieces including a piece for RedBull shot in the Namibian desert last October. My show reels can be found here.
Anton's filming essentials include:
The lenses are all Canon Primes

a 24mm L F1.4

14mm L F2.8

a 50mm F1.4

I use a Metabones adapter to connect to my Sony (in fact all my camera systems, RED, BlackMagic Design URSA, Sony and Canon all use the same lenses: EF mount Canon L Series)

The bag is an old prototype urban pack from a company I used to work at.
If you weren't doing what you were doing today, what occupation would you have chose?
I can't imagine doing anything that isn't some sort of visual communication, so I struggle to answer this one..
What is your favourite part about travelling and documenting your experiences?
Absorbing new cultures, seeing new sunsets and meeting new people – the usual stuff that people who travel a lot enjoy. A big element of it for me is in the capturing of an image, whether it's a broken down Soviet-era building (like in my 'Republics' parkour film) or rusting ships stranded in the desert in Africa – and then trying to share how I see it, how it felt to be in that place and get people excited about wanting to see it and experience it for themselves. I think ultimately I am still searching for something out there – but I'm not quite sure what it is yet.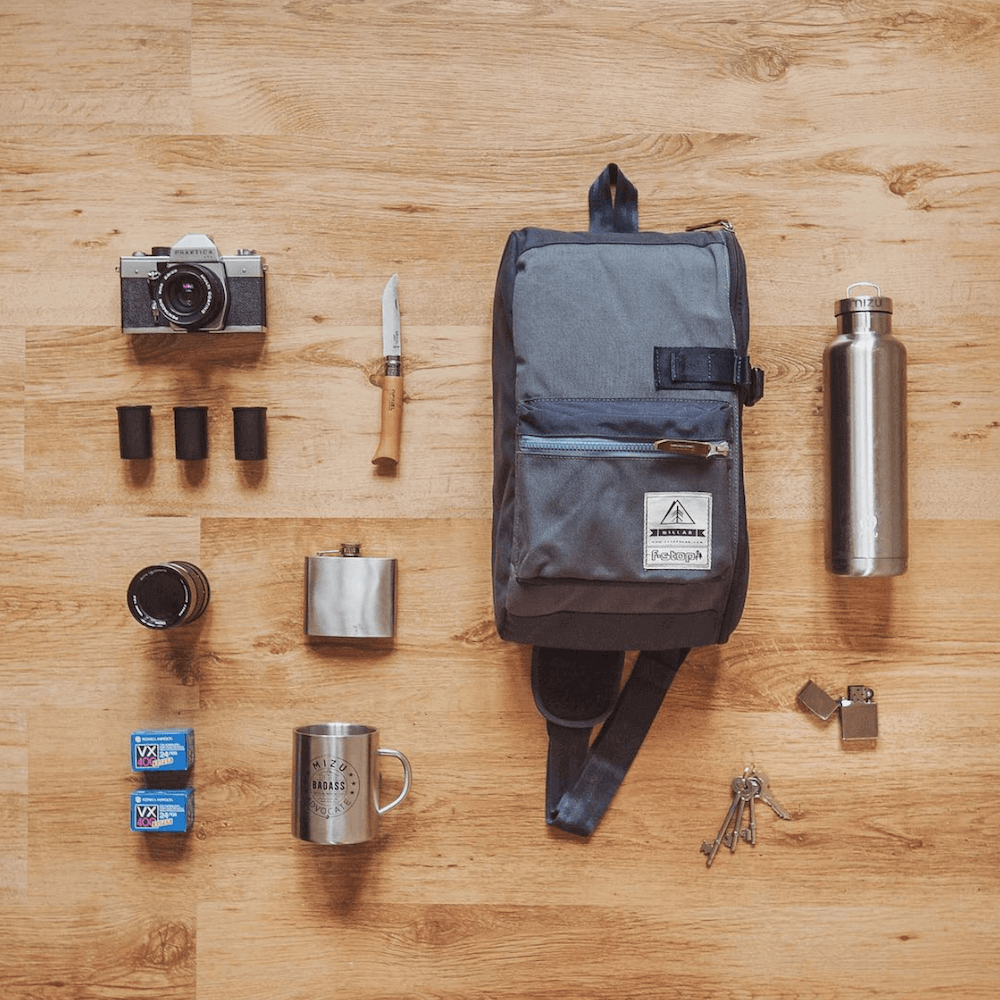 Anton's urban exploring essentials:
Praktica LTL film SLR

Pentacon 28mm

Vivitar 135mm Tele

Chrome hip flask of Nikka Whisky USA from the barrel Japanese Scotch

Mizulife badass mug and M12

Zippo lighter

Konica Minolta ISO400 film (expired)

Opinel knife
What is the most difficult and what is the best part about your profession?
The distance created between those and yourself and the important people in your life that are left behind when you travel. It's a fairly solitary existence and something that is at odds with my personality.
Anton's rock climbing (bouldering) essentials:
Recently got into bouldering at my (sort of) local gym in London and here are my favourite and oddly colour co-ordinated gear for a session:
Arcteryx mid layer for if it gets cold

Mizulife bottles for hydration

La Sportiva shoes

Science in Sport gels for that extra push after a tough day

Black Diamond for a nice casual chalk bag I can stash my phone in
What's one piece of advice that you would like to give to others?
Say yes to as many things as possible, as long as it's not morally objectionable (to your own internal compass) then try as many things as possible. Life is infinitely more interesting this way.
Here is some knolling done by Anton and the key cards that he has collected over the 5 years of travelling and touring.
---
Website: www.ahtohcine.com
Twitter: @antonnelson
Redbull Edit: Video
Republics promo: Behance link
Instagram: @antonsnelson