Hi my name is Colin Herrington and I am a 17 year old Canadian finishing up my final year of high school overseas, in Saudi Arabia. In 2009, I moved from my birthplace of Dubai to Saudi, where my parents continued to pursue their international teaching careers. Growing up in the Middle East has given me countless opportunities to travel the world and experience culture in a completely unique way. I feel very lucky to be someone who has visited over 20 countries before their 18th birthday. have visited at least 25 countries before turning 18 Although life as an international student can have downsides, I believe that I have learned just as much from my travels as I have my academic education.
When the school year ends in June, I hope to return to Canada for a little longer than the normal two month summer vacation I usually have; I hope to be accepted to University of British Columbia in the Media Studies program. "Returning" to Canada for university will be almost as if I am entering another foreign country, a very unusual feeling. I know that I will enjoy my time being back in my home country, but I know my love for travel won't hold me there for very long.
The Camera Gear and Inspirations of Photographer Colin Herrington
Colin Herrington's Gear List:
Canon 6D with Battery Grip
Canon 70D
Canon 24-70 f/2.8L II
Canon 135 f/2L
Canon 50mm f/1.8
Canon Rebel Ti
Canon 430EX II Flash
4x Canon LP-E6
2x Peak Design Sling Straps
2x Peak Design Capture Clips
Peak Design Capture Lens
Sandisk Cards
Benro A650F Tripod with ball head
Lacie 2TB Rugged Thunderbolt Drive
WD 1TB Passport Drive
What inspired you to get into photography?
While playing around with my family's somewhat old Canon 400D Digital Camera one summer night, I unknowingly put the camera into manual mode and basically just hit all the buttons and twisted all the dials I could, and whenever I pressed the shutter I was getting a super long exposure. Eventually, I figured out what knob controlled the shutter speed, and I was able to comprehend the control that a person could have of a camera. I spent the next few months learning more and more about this camera, whether it was through YouTube videos or random experiments, but I knew that it was something I truly enjoyed. After purchasing my own 70D another few months later, I began to take photography to another level, and haven't stopped since then.
What is one photo that you are most proud of and why?
"Tangible Memories" – While in Bali, Indonesia on a school trip, my brother took a photo of my good friend and some Balinese kids down at a small harbor, using his instant camera. What made this moment special is that immediately after he showed the kids the photo, one of them came up to me and I was able to capture him holding up the photo of him and his friends, with his face in the background. For the kids, they were able to keep the instant photo as a tangible memory of that afternoon, and for me, I was, and still am, able to have the photo that I took as a reminder of that experience.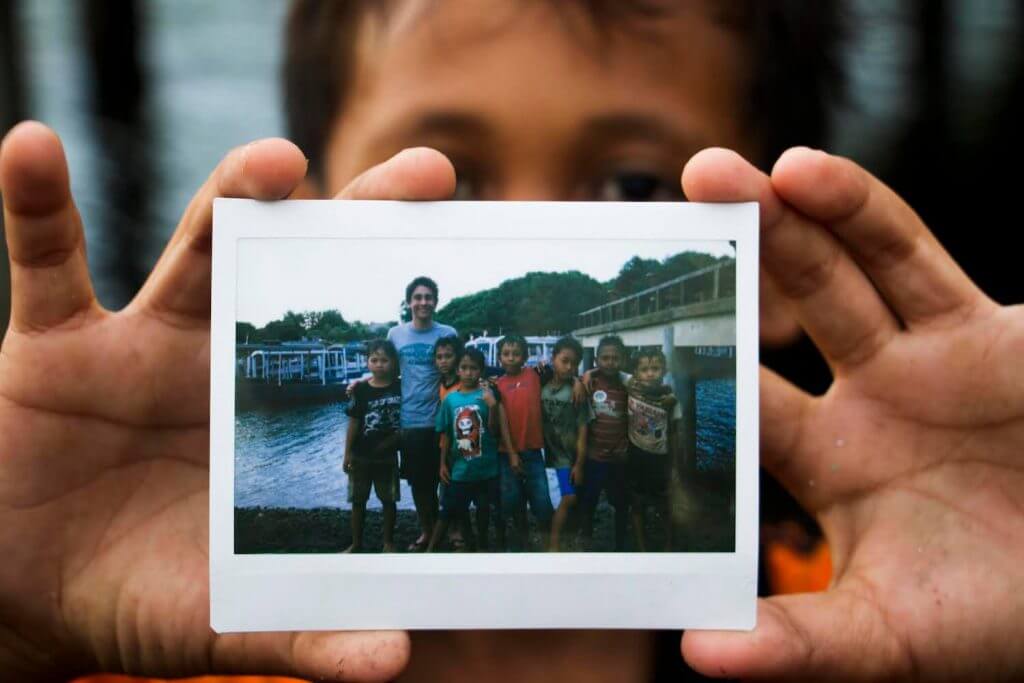 Do you have any advice for any creators out there reading this?
As Devin Graham, a filmmaker I highly regard, says, "It's all about the shot." I have taken this to be my motto in the past few years, and holding true to it has yielded some images that I am extremely proud of. In the end, what comes down to it, is whether or not you feel satisfied that you captured the moment that you wanted to. Time will pass, cameras may break, stories will be forgotten, but the shot will remain.
---
Social Media:
Instagram: @herringtoncolin
Website: colinherrington.com